T-33 Shooting Star
From PlaneSpottingWorld, for aviation fans everywhere
The Lockheed T-33 Shooting Star is an American-built jet trainer. It was produced by Lockheed and made its first flight in 1948, piloted by Tony LeVier. The T-33 was developed from the Lockheed P-80/F-80 starting as TP-80C/TF-80C in development, then designated T-33A. It was used by the USN as the intially as TO-2, then TV-2, and after 1962 T-33B. Despite its vintage, the venerable T-33 still remains in service worldwide.
Design and development
The T-33 was developed from the Lockheed P-80/F-80 by lengthening the fuselage and adding a second seat, instrumentation and flight controls. Initially designated as a variant of the P-80/F-80, the TP-80C/TF-80C.
Design work for the Lockheed P-80 began in 1943 with the first flight on 8 January 1944. Following on the Bell P-59, the P-80 became the first jet fighter to enter full squadron service in the US Army Air Force. As more advanced jets entered service, the F-80 took on another role - training jet pilots. The two-place T-33 jet was designed for training pilots already qualified to fly propeller-driven aircraft. It was developed from the single-seat F-80 fighter by lengthening the fuselage slightly more than three feet to accommodate a second cockpit.
Originally designed the TF-80C, the T-33 made its first flight on 22 March 1948 with US production taking place from 1948 to 1959. The U.S. Navy used the T-33 as a land based trainer starting in 1949 as the TV-2, these were redesignated T-33B in 1962. The Navy operated some ex-USAF P-80Cs as the TO-1, changed to TV-1 about a year later. A carrier capable version of the P-80/T-33 family was subsequently developed by Lockheed, eventually leading to the late 1950s to 1970s T2V-1/T-1A SeaStar. A total of 6,557 Shooting Stars were produced, 5,691 by Lockheed.
Operational service
The two-place T-33 proved to be a suitable advanced trainer and, in addition to its primary use as a trainer, it has been used for such tasks as drone director and target towing, and some T-33s retained two machine guns for gunnery training. In some countries, the T-33 was even employed as a combat aircraft. The RT-33A version, reconnaissance aircraft produced primarily for use by foreign countries, had a camera installed in the nose and additional equipment in the rear cockpit. T-33s continued to fly as currency trainers, drone towing, combat and tactical simulation training, "hack" aircraft, electronic countermeasures and warfare training and test platforms right into the 1980s.
The T-33 has served with over 30 nations, and continues to operate as a trainer in smaller air forces .Canadair built 656 T-33s on licence for service in the Canadian Forces as the CT-133 Silver Star while Kawasaki manufactured 210 in Japan. Other operators included Brazil,Turkey and Thailand which used the T-33 extensively.
In the 1980s, an attempt was made to modify and modernize the T-33 as the Boeing Skyfox, but a lack of orders led to the cancellation of the project. About 70% of the T-33s airframe was retained in the Skyfox, but it was powered by two Garrett TFE731-3A turbofan engines.
Variants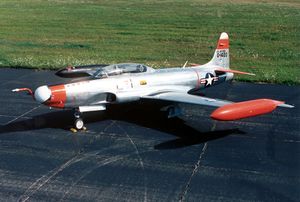 USAF
T-33A: Two-seat jet trainer aircraft.
AT-33A: Two-seat attack version of the T-33A.
DT-33A: This designation was given to a number of T-33As converted into drone directors.
NT-33A: This designation was given to a number of T-33As converted into special test aircraft.
QT-33A: This designation was given to number of T-33As converted into target drones.
RT-33A: Two-seat reconnaissance version of the AT-33A.
TO-1/TV-1: U.S. Navy designation of P-80C, 50 transferred to USN in 1949 as jet trainers (not technically T-33 Shooting Star)
TO-2: Two-seat land-based jet training aircraft for the US Navy. It was the US Navy's version of the T-33A. Later redesignated TV-2.
TV-2KD: This designation was given to number of TV-2s converted into drone directors.
T-33B redesignation of Navy's TV-2 in 1962.
DT-33B redesignation of Navy's TV-2D
TV-2KD redesignation of Navy's TV-2KD
Canada
Operators
Specifications (T-33A)
General characteristics
Performance
Armament
(AT-33) 2x 0.50 in (12.7 mm) Browning M3 machine guns with 350 rounds per gun
Up to 2,000 lb (907 kg) of ordnance on two underwing hardpoints. Weapons carried include bombs and rocket pods.
Reference
Davis, Larry. P-80 Shooting Star. T-33/F-94 in action. Carrollton, Texas: Squadron/Signal Publications, 1980. ISBN 0-89747-099-0.
External links
Related content

Related development

Comparable aircraft

Designation sequence

Related lists

ja:T-33 (航空機) no:Lockheed T-33 Shooting Star pt:Lockheed T-33