Lockheed Constellation
From PlaneSpottingWorld, for aviation fans everywhere
The Lockheed Constellation, affectionately known as the "Connie", was a four-engine propeller-driven airliner built by Lockheed between 1943 and 1958 at its Burbank, California, USA, facility. A total of 856 aircraft were produced in four models, all distinguished by a distinctive triple-tail design and graceful, dolphin-shaped fuselage. It was used as both a civilian airliner and U.S. military air transport plane, seeing service in the Berlin Airlift and as the presidential aircraft for President Eisenhower.
Background
Excalibur: The Constellation's predecessor
Since 1937, Lockheed had been working on the L-044 Excalibur, a four-engine pressurized airliner. In 1939 Trans World Airlines, at the encouragement of major stockholder Howard Hughes, requested a 40-passenger transcontinental airliner with 3,500 mile (5,630 km) range[1] - well beyond the capabilities of the limited Excalibur design. TWA's requirements led to the L-049 Constellation, designed by such Lockheed engineers as Kelly Johnson and Hall Hibbard.[2] Willis Hawkins, another Lockheed engineer, maintains that the Excalibur program was purely a cover for the Constellation.[3]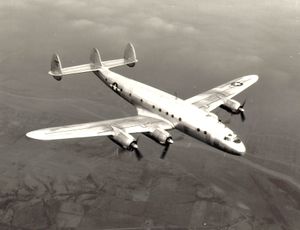 Development of the Constellation
The Constellation's wing was effectively the same as that of the P-38 Lightning, differing only in scale.[4] The distinctive triple tail kept the aircraft's overall height low enough so that it could fit in existing hangars,[3] while new features included hydraulically-boosted controls and a thermal de-icing system used on wing and tail leading edges.[1]
With the onset of World War II, the TWA aircraft entering production were converted to an order for C-69 military transport aircraft, with 202 aircraft intended for the United States Army Air Forces. The first prototype (civil registration NX25600) flew on January 9, 1943, a simple ferry hop from Burbank to Muroc Field for testing.[1] Eddie Allen, on loan from Boeing, flew left seat, with Lockheed's own Milo Burcham as copilot. Rudy Thoren and Kelly Johnson were also on board.
With only 22 C-69s delivered before the end of hostilities, the military cancelled the remainder of the order. Aircraft already in production were thus finished as civilian airliners, with TWA receiving the first on 1 October 1945. The first transatlantic proving flight departed Washington, DC on 3 December 1945, arriving in Paris on 4 December via Gander and Shannon.[1]
Rumors persist that Hughes himself was influential in the design of the Constellation, but these are untrue. His only input was suggestions on the required performance and cockpit layout. He left the rest of the design work to Lockheed.[3]
Operational history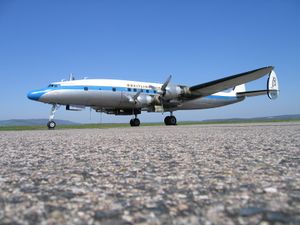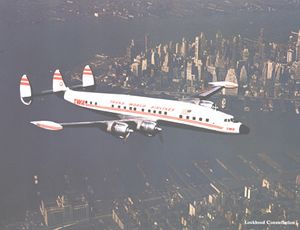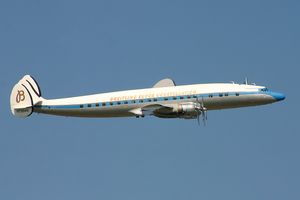 Trans World Airlines opened post-war commercial intercontinental air service on 6 February, 1946, with a New York - Paris flight in a Constellation. On 17 June, 1947, Pan American World Airways opened the first ever regularly-scheduled around-the-world service with their L-749 Clipper America. The famous flight Pan-Am PA 101 remained in service for 50 years.
As the first pressurized airliner in widespread use, the Constellation helped to usher in affordable and comfortable air travel for the masses. Some of the more famous operators of Constellations were TWA, Pan American World Airways, Air France, BOAC, KLM, Qantas, Lufthansa, Iberia Airlines, Panair do Brasil, and Trans-Canada Airlines (later renamed Air Canada).
Initial difficulties
The Constellation suffered three accidents in the first ten months of airline service, temporarily curtailing its career as a passenger airliner.[5] On June 18 1946, the engine of a Pan American aircraft caught fire and fell off of the wing. The flight crew was able to make an emergency landing with no loss of life. However, on July 11 of the same year a TWA aircraft fell victim to inflight fire, crashing in a field and taking the lives of five of the six on board.[5] The accidents prompted the suspension of the Constellation's airworthiness certificate until Lockheed could modify the design to avoid repeats of the problems.
The Constellation, like the other piston-powered airliners of the day, proved prone to engine failures, earning it the nickname of "the world's finest three-engine airliner" in some circles.
Records
Sleek and powerful, Constellations set a number of records. On April 17, 1944, the second production L-049, piloted by Howard Hughes and TWA president Jack Frye flew from Burbank, California to Washington D.C. in 6 hours and 57 minutes. On the return trip, the aircraft stopped at Wright Field to give Orville Wright his last plane flight, more than forty years after his historic first flight. He commented that the wingspan on the Constellation was longer than the distance of his first flight.[2]
On September 29, 1957, an L-1649A Starliner flew from Los Angeles to London in 18 hours and 32 minutes. The L-1649A still holds the record for the longest-duration non-stop passenger flight — during TWA's inaugural London to San Francisco flight on 1-2 October, 1957, the aircraft stayed aloft for a remarkable 23 hours and 19 minutes.
Obsolescence
The advent of jet airliners, with the de Havilland Comet, Boeing 707, and Convair 880, rendered the piston-engined Constellation obsolete. The first routes lost to jets were the long overseas routes, but Constellations continued to fly domestic routes. The last scheduled passenger flight of a four-engined piston-engined airliner in the United States was made by a TWA L-749 on May 11 1967 from Philadelphia to Kansas City, MO. [6] Many Constellations continued to serve as fast freighters for years to come.
Several Constellations have been restored in recent years, a few to flying condition and are a popular sight at airshows. An (unflyable) example is visible at Greenwood Lake Airport, where it has been turned into part of the terminal building.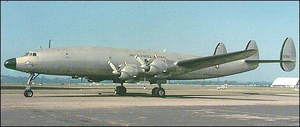 Two Constellations, the VC-121E Columbine III, used as Dwight D. Eisenhower's presidential aircraft, and an EC-121 Warning Star are fully restored and on display at the National Museum of the United States Air Force at Wright-Patterson Air Force Base near Dayton, Ohio. Several former Air Force One craft are on display at the Pima Air Museum, Tucson, used by President Eisenhower and his successors. Template:WS
Timeline
Variants
The Constellation was produced in both civil and military versions. The initial military versions carried the Lockheed designation of L-049; as World War II came to a close, some were completed as civil L-049 Constellations. The first purpose-built passenger Constellation was the more powerful L-649, followed by the L-1049 Super Constellation and L-1649 Starliner. Military versions included the C-69 and C-121 for the Army Air Force/Air Force and the R7O and R7V for the Navy.
Operators
Constellations were used by dozens of airlines and militaries around the world. In military service, the Navy/Air Force EC-121 Warning Star variant remained operational until 1978, nearly 40 years after work on the L-049 began.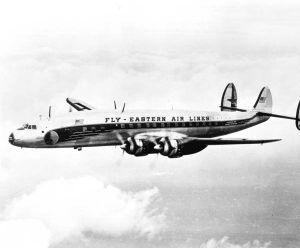 Commercial
Civilian airlines that operated the Constellation included:
Military
The Constellation was used by the following militaries:
On screen
The story of Hughes' collaboration with Lockheed for the production of the Constellation is told, in part, in the 2004 film The Aviator.
Specifications (L-1049G)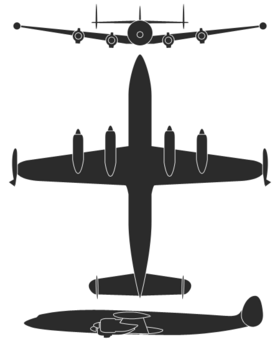 Data from Great Aircraft of the World[7], and Quest for Performance[8]
General characteristics
Crew: 5 flight crew, varying cabin crew
Capacity: typically 62-95 passengers, up to 109 could be seated
Length: 116 ft 2 in (35.42 m)
Wingspan: 126 ft 2 in (38.47 m)
Height: 24 ft 9 in (7.54 m)
Wing area: 1,654 ft² (153.7 m²)
Empty weight: 79,700 lb (36,150 kg)
Useful load: 65,300 lb (29,620 kg)
Max takeoff weight: 137,500 lb (kg)
Powerplant: 4× Wright R-3350-DA3 Turbo Compound 18-cylinder supercharged radial engines, 3,250 hp (2,424 kW) each
Zero-lift drag coefficient: 0.0211
Drag area: 34.82 ft² (3.23 m²)
Aspect ratio: 9.17 Performance
Lift-to-drag ratio: 16.0
References
↑ 1.0 1.1 1.2 1.3 1.4 Taylor, Michael J.H., ed. "Lockheed Constellation and Super Constellation." Jane's Encyclopedia of Aviation. New York: Crescent, 1993. p. 606-607. ISBN 0 517 10316 8.
↑ 3.0 3.1 3.2 Boyne, Walter J., Beyond the Horizons: The Lockheed Story. St. Martin's Press: New York, 1998, p. 135-137.
↑ Johnson, Clarence L. "Kelly" (1985), Kelly: More Than My Share of it All. Smithsonian Books. ISBN 0-87474-491-1.
↑ 5.0 5.1 (1946-07-22) "The Star of Lisbon". TIME.

 

↑ Germain, Scott E., Lockheed Constellation & Super Constellation. Specialty Press, North Branch, MN, 1998. p. 89.
↑ Cacutt, Len, ed. "Lockheed Constellation." Great Aircraft of the World. London: Marshall Cavendish, 1989. p. 314-322. ISBN 1-85435-250-4.
↑ Loftin, LK, Jr.. Quest for performance: The evolution of modern aircraft. NASA SP-468. Retrieved on 2006-04-22.
Marson, Peter J. (c1982). The Lockheed Constellation series. Tonbridge, UK: Air-Britain (Historians). ISBN 0-85130-100-2.

 

Smith, MJ, Jr. (1986). Passenger airliners of the United States, 1926-1991. Pictorial Histories Publishing Company. ISBN 0-933126-72-7.

 
External links
Photographs
Restored Constellations
Related content

Related development

Comparable aircraft

Designation sequence

Related lists

See also

de:Lockheed Constellation es:Lockheed Constellation fr:Lockheed Constellation gl:Lockheed Constellation it:Lockheed Constellation nl:Lockheed Constellation ja:ロッキード・コンステレーション pl:Lockheed Constellation pt:Lockheed Constellation