Boeing 717
From PlaneSpottingWorld, for aviation fans everywhere
The twinjet Boeing 717 was the smallest jet airliner produced by Boeing's Commercial Airplane division. Designed for the 100-seat market, the first order was taken in October 1995, and the type entered service in September 1999. The 717 was developed as a third-generation variant of the venerable DC-9 with five-across seating arrangement.
Boeing discontinued production of the 717 in May 2006, ending a long history of commercial aircraft assembly at its Long Beach, California facility.[1] A total of 156 Boeing 717-200 airplanes were produced with 155 in airline service as of August 2006.[2]
Background
The MD-80 series was introduced in 1980. The design was second generation of the DC-9 with two rear fuselage-mounted turbofan engines, small, highly efficient wings, and a T-tail. It was a lengthened DC-9-50 with a higher maximum take-off weight (MTOW) and higher fuel capacity. Nearly 1,200 MD-80s were delivered from 1980 to 1999.
The MD-90 was developed from the MD-80 series. It was launched in 1989 and first flew in 1993. The MD-90 was longer, with a glass cockpit and more powerful, quieter and fuel efficient engines. However, it was not considered a success with only 117 aircraft sold.
History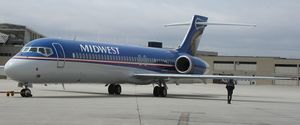 The MD-95 was first announced in 1991, initially as the MD-87-105, a shortened version of the stretched MD-80 family that took it back to the size of the DC-9-30. It was renamed "MD-95" to reflect the anticipated first delivery year, but McDonnell Douglas could not find a willing launch customer. The aircraft would eventually be renamed the 717.
In October 1995, US discount carrier ValuJet signed an order for 50 MD-95s, plus 50 options. Generally, new aircraft have one or more large, well-established high-prestige airlines as launch customers. Launching MD-95 production on the basis of a single order from a two-year-old start-up company was highly optimistic, and was seen as a reflection of the difficulty McDonnell Douglas was having selling their aircraft.
After McDonnell Douglas merged with Boeing in August 1997, most industry observers expected that the MD-95 would soon be dropped. However, the plane would go forward under a new name, 717. At first Boeing had no more success selling the 717 than McDonnell Douglas, and even the original order for 50 was no certainty in the chaotic post-deregulation US airline market. In the end, ValuJet, now part of AirTran Airways, would meet with considerable success and operate a fleet of 717-200 aircraft.
Following the slump in airline traffic caused by reaction to the September 11, 2001 attacks in the USA, Boeing announced a review of the type's future. After much deliberation, it was decided to proceed. Despite the lack of orders, Boeing had confidence in the 717's fundamental suitability to the 100-seat market, and in the long-term size of that market. Additionally, the former Douglas plant at Long Beach was producing only 717s and C-17s.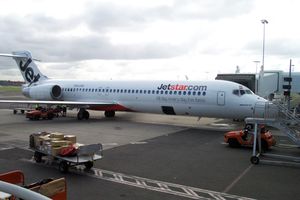 The wisdom of the Boeing decision gradually became apparent. Early 717 operators were delighted with the reliability and passenger appeal of the type and ordered more. The small Australian regional airline Impulse took a long-term lease on five 717s in early 2000 to begin an expansion into mainline routes. The ambitious move could not be sustained in competition with the majors, and Impulse sold out to Qantas in May 2001. This left Qantas with a more-or-less unwanted handful of "warmed-over DC-9s" to spoil the efficiency of its fleet of large Boeing and small BAe 146 jets.
Within a few months, however, the abilities of the 717 became clear. It is roomier and faster than the BAe-146, cheaper to operate, and achieved a higher dispatch reliability than competing aircraft at over 99%.[3] Maintenance costs are very low: a check C inspection, for example, takes just three days and is required only once in 6000 flying hours. (For comparison, the old DC-9, needed 21 days for a check C.) The new Rolls-Royce BR715 engine design is highly modular: none of the line replaceable units takes more than an hour to exchange, and about a third of them can be changed in under 15 minutes.
However, American Airlines chose a different route than Qantas in choosing fleet simplication. After acquiring TWA, American Airlines cancelled TWA's 717 order and grounded all TWA 717s as of June 15, 2002. None of the grounded aircraft remain in desert storage having been sold to other airlines attesting to the merits of the 717.
The result has been that many 717 operators, even accidental ones like Qantas, have become converts to the plane. Qantas bought more 717s to bring their fleet up to 14. Other significant orders have come from Hawaiian Airlines and Midwest Airlines and Pembroke Leasing. Bangkok Airways operates 717s - the Thai regional carrier's first foray into jet aircraft.
Boeing actively marketed the 717 to a number of large airlines, including Lufthansa and Northwest (who already operated a large fleet of DC-9 aircraft). Boeing also studied a stretched, higher capacity version of the 717, to have been called 717-300, but decided against proceeding with the new model, fearing that it would encroach on the company's 737-700 model. Production of the original 717 continued. Boeing continued to believe that the 100-passenger market would be lucrative enough to support both the 717 and the 737-600, the smallest of the Next-Generation 737 series. While the aircraft were similar in size, the 737-600 (and Airbus A318) were suited to long-distance routes, while the lighter 717 was more efficient on shorter, regional routes.
The 100-seat market was overcrowded until 2001, but several potential competitors have disappeared. BAe cancelled their Avro RJX (an updated BAe 146 with modern engines); Fairchild Dornier closed their doors, taking the 728/928 project with them, and Bombardier cancelled their new BRJ in favor of a less ambitious stretched 90-seat CRJ. The remaining players are Boeing, Airbus with the A318, and Embraer with the EMB 195. The existing worldwide fleet is largely made up of aging twinjets with relatively high operating costs, notably the DC-9, early model 737s, and the Fokker F100, plus the newer four-engined BAe 146, which is a prime prospect for refurbishment.
In 2001, Boeing began implementing a moving assembly line for production of the 717 and 737.[4] The moving line greatly reduced production time which will lead to lower production costs.[5]
After 19 worldwide 717 sales in 2000, and just 6 in 2001, Boeing took 32 orders for the 717 in 2002, despite the massive industry downturn.
End of production
In January 2005, Boeing announced that it planned to end production of the 717 after it had met all its outstanding orders. Boeing officials cited slow sales for the aircraft's demise.
Increased competition from regional jets manufactured by Bombardier and Embraer took a heavy toll on sales in the last several years before the announcement was made. The beginning of the end came in December 2003 when Boeing lost a US $2.7 billion contract from Air Canada, who chose the Embraer ERJ and Canadair CRJ over the 717.
A major difficulty with the 717 model was its lack of commonality with other Boeing aircraft. The trend with aircraft manufacturers, particularly Airbus, was to make a "family" of aircraft with similar cockpits and systems, which would require only one "type-rating" for a crew. That way, whatever size of aircraft that was required on a particular route -- even changing down to the day if necessary -- could be used with any of the crew type-rated for the family.
Airbus used a commonality approach starting with their A320 narrowbody family (including A318, A319, and A321), and Boeing embraced this concept with their Next-Generation 737-600, -700, -800, and -900 models. Embraer, in their new E-Jet family, also took this approach, offering four regional aircraft in a common family, the largest of which had operational capabilities very close to the 717.
The 717 had no commonality with other aircraft, even prior MD-80 and DC-9 aircraft upon which it was based. Although the 717 had operating costs 10% lower than the A318, airlines considering the 717 could not take advantage of the cost savings gained through commonality.
Assembly of the 156th, and final 717 rolled off the assembly line in April 2006 for AirTran Airways. The final two Boeing 717 airplanes were delivered to customers AirTran and Midwest Airlines on May 23, 2006.[1]
The 717 was the last commercial airplane produced at Boeing's Long Beach facility in the Southern California.
Features
In conjunction with Parker Hannifin, MPC Products of Skokie, Illinois designed a fly-by-wire technology mechanical control suite for the 717 flight deck. The modules replaced much cumbersome rigging that had occurred in previous DC-9/MD-80 aircraft. The Rolls-Royce BR715 engines are completely controlled by an electronic engine system (FADEC - Full Authority Digital Engine Control) developed by BAE SYSTEMS offering improved controllability and optimization over its predecessors. The 717 features a two-crew cockpit that incorporates six interchangeable liquid-crystal-display units and advanced Honeywell VIA 2000 computers. The cockpit design is called Advanced Common Flightdeck (ACF) and is shared with the MD-11. Flight deck features include an Electronic Instrument System, a dual Flight Management System, a Central Fault Display System, and Global Positioning System. Category IIIb automatic landing capability for bad-weather operations and Future Air Navigation Systems are available.
Operators
As of August 2006 a total of 155 Boeing 717-200 airplanes are in airline service with Bangkok Airways (4), National Jet Systems (8), Aerolineas de Baleares (4), Olympic Airlines (3), Turkmenistan Airlines (7), AirTran Airways (87), Hawaiian Airlines (11) and Midwest Airlines (25).[2]
Specifications (717-200BGW)
Data from Airliners.net[6] for most-common basic-gross-weight variant.
General characteristics
Crew: two pilots
Capacity: 106 passengers (standard two class configuration)
Length: 124 ft 0 in (37.8 m)
Wingspan: 93 ft 3 in (28.4 m)
Height: 29 ft 1 in (8.9 m)
Wing area: 1,000.7 ft² (92.97 m²)
Empty weight: 69,830 lb (31,674 kg)
Max takeoff weight: 110,100 lb (49,940 kg)
Powerplant: 2× Rolls-Royce BR715 turbofan engines, 18,500 lbf (82.3 kN) each
Performance
Sales

Orders
|  2004  |  2003  |  2002  |  2001  |  2000  |  1999  |  1998  |  1997  |  1996  |  1995  |
| --- | --- | --- | --- | --- | --- | --- | --- | --- | --- |
| 8 | 8 | 32 | 3 | 21 | 0 | 41 | 0 | 0 | 42 |
Deliveries
|  2006  |  2005  |  2004  |  2003  |  2002  |  2001  |  2000  |  1999  |  1998  |  1997  |
| --- | --- | --- | --- | --- | --- | --- | --- | --- | --- |
| 5 | 13 | 12 | 12 | 20 | 49 | 32 | 12 | 0 | 0 |
Incidents
As of 2006, there were a total of 0 hull-loss accidents involving 717s, with 0 fatalities. There were 1 incident with 0 fatalities.
2003 AirTran Flight 356 experienced an electrical fire while on approach to land at LaGuardia Airport. 23 people were injured while evacuating the airplane. There were no fatalaties.[7]
Trivia
Boeing had apparently skipped the "717" model designation when the 720 and then the 727 followed the 707. The "717" name had initially been used within the company to refer to the narrower-cabin military version of the 707, which the U.S. Air Force designated the KC-135 Stratotanker. "717" had also been used to promote an early design of the 720 to airlines before it was modifed to meet market demands. This left "717" available to rebrand the MD-95.
AirTran Airways was the 717's launch customer as well as the final customer.
References
External links
Related content

Related development

Comparable aircraft

See also

da:Boeing 717 de:Boeing 717 et:Boeing 717 es:Boeing 717 fr:Boeing 717 ko:보잉 717 he:בואינג 717 ms:Boeing 717 nl:Boeing 717 ja:ボーイング717 no:Boeing 717 pl:Boeing 717 pt:Boeing 717 ru:Боинг-717 sr:Боинг 717 sv:Boeing 717