Boeing 367-80
From PlaneSpottingWorld, for aviation fans everywhere
The Boeing 367-80 or "Dash 80", as it was called within Boeing, was a concept demonstrator jet transport built in less than two years from project launch in 1952 to rollout on May 14, 1954 for a cost of US$16 million. This was at the time an enormous risk for the Boeing Company, since they had no committed customers for the project. The designation was a disinformation tactic by Boeing; "367" was the Boeing model number of the C-97 Stratofreighter, a previous generation aircraft the Dash 80 owed nothing to.[1] In fact, the Dash 80 was closer in relation to Boeing's B-47 Stratojet.
History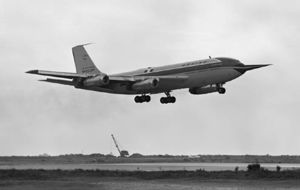 Considered to be the prototype for both the Boeing 707 airliner and the C-135 series aircraft (including the best known variant, the KC-135 air tanker used by the United States Air Force), the Dash 80 was originally built as a concept demonstrator. Little of the tooling made for the Dash 80 was usable for the 707 because the fuselage and wing had to be enlarged to accommodate airline requirements. To enable the fitting of six-abreast seats, the 707's fuselage had to be widened by 6 inches (150 mm). The extra cost meant the 707 did not become profitable until some years after it would have if these modifications were not necessary. Fortunately, fewer modifications were required for the KC-135.
Prior to building the Dash 80, Boeing officials tried to convince airlines and the Air Force this would be an aircraft that would be useful and economical. These potential customers were unconvinced,[1] because they had no experience with jet transports, and in the case of the airlines, were successful with reciprocating engined aircraft such as the DC-4, DC-7, Boeing 377, and Lockheed Constellation. Boeing decided the only way to convince potential customers was to show them a completed aircraft. Bill Allen, then President of Boeing, invited representatives of the Aircraft Industries Association (AIA) and International Air Transport Association to the Seattle's 1955 Seafair and Gold Cup Hydroplane Races held on Lake Washington on August 6, 1955. The Dash-80 was scheduled to perform a simple flyover, but test pilot "Tex" Johnston amazed the audience and brought attention to the aircraft when he performed a barrel roll instead.
The maiden flight took place July 15, 1954, and her final flight was to Dulles International Airport near Washington, D.C. on August 27, 2003 after being fully restored by Boeing. She was put on display at the Steven F. Udvar-Hazy Center, an annex of the Smithsonian Institution's National Air and Space Museum located at Dulles.
Specifications
General characteristics
Crew:
Length: 128 ft 0 in (39.02 m)
Wingspan: 130 ft 0 in (39.63 m)
Height: ft in ( m)
Wing area: 2,402 ft² (223.2 m²)
Empty: lb ( kg)
Loaded: 160,000 lb (72,600 kg)
Maximum takeoff: lb ( kg)
Powerplant: 4× Pratt & Whitney JT3 turbojets, 10,000 lbf (44.5 kN) thrust each
Performance
Maximum speed: mph ( km/h)
Range: 3,530 miles (5,680 km)
Service ceiling: 43,000 ft (13,100 m)
Rate of climb: ft/min ( m/min)
Wing loading: 67 lb/ft² (325 kg/m²)
Thrust-to-weight: 0.3:1 (2.45 N/kg)
References
Related content

Related development

Comparable aircraft

Designation sequence

Related lists
Template:Active military aircraft of the United States