Embraer E-Jets
From PlaneSpottingWorld, for aviation fans everywhere
The Embraer E-Jets are a series of twin-engine jet airliners, produced in Brazil. All variants share the same fuselage cross-section and most systems. The 170 and 175 share wings and engines, differing only in fuselage length and maximum take-off weight. The 190 and 195 also share wing and engines in the same manner. They are the largest aircraft produced by Embraer.
Overview
The Embraer E-Jets line is composed of two main commercial families, and a business jet variant. The E-170 and E-190 make up the base model aircraft, with the E-175 and E-195 being stretched versions with different engines and larger wing and landing gear structures. The 170 and 175 share 95% commonality, as do the 190 and 195. The two families share near 89% commonality, with identical fuselage cross sections and avionics, featuring the Honeywell Primus Epic EFIS suite.
Announced at the Paris Air Show in 1999, and entering production in 2002, the E-Jet line is a popular and fast spreading line of Jets. Although commonly referred to with simply an "E" prefix, the jets are technically still Embraer Jets ("ERJ"s). [1] Embraer dropped the ERJ prefix in its advertising early in production, to avoid confusion with Bombardier's Canadair Regional Jet (CRJ) . The 190/195 series of aircraft have similar capacities to the initial versions of the DC-9 and Boeing 737, which have always been considered mainline aircraft.
E-170/175
The E-170 family is the smaller of the two, competing with regional jets such as the Canadair CRJ-900 and the Sukhoi Russian Regional Jet. It also is helping replace aging aircraft such as the BAe-146 and Fokker 70.
The Embraer 170 was the first aircraft of the family to be produced. The first model was rolled out on 29 October 2001. The first test flight was on February 19 of the following year. The aircraft was not revealed to the public until May of 2002 at the Regional Airline Association convention. After a positive response from the airline community, Embraer proceeded with the launch of the stretched E-175 in June 2003. Certification for the 170 took nearly 2 years after the public debut before delivery of the first aircraft to the launch customer LOT Polish Airlines. Following deliveries went to other customers. As of 2006, the E-170 is operated in the United States under the colors of Delta Connection, US Airways Express and United Express, with flights being operated by Shuttle America and Republic Airlines. Asia's first operator was Hong Kong Express Airways with a fleet of 4 Embraer 170's.
Embraer 170 - In August 2006 a total of 111 Embraer 170 aircraft (all variants) remain in airline service, with 30 further firm orders. Major operators include: LOT Polish Airlines (10), Republic Airlines (28) and Shuttle America (45). Some 6 other airlines operate the type in smaller numbers.[2] In September 2006, Egyptair has announced that it will have a firm order of 6 airplanes with an option for another 6 for its newly launched subsiday, Egyptair Express. These Embraer 170 aircrafts will be used to fly to domestic and regional destinations.
E-190/195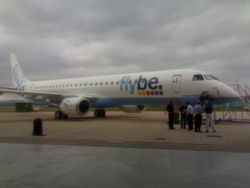 The E-190 family is a larger stretch of the E-170 model fitted with a new, larger wing and a new engine, the GE CF34-10. Being in the 100 seat range, it competes with smaller mainline jets including the Boeing 717-200 and 737-600 as well as the Airbus A318 and A319. The first flight of the E-190 was in March of 2004, with the first flight of the 195 in December of the same year. The launch customer of the E-190 was low cost carrier JetBlue with 100 orders and 100 options. European low cost carrier flybe is launching the E-195 with 14 orders and 12 options. As the 190/195 family is of mainline aircraft size, many airlines will operate them as such, fitting them with a business class section and operating them themselves, instead of having them flown by a commuter airline partner.
Embraer 190 - In August 2006 a total of 36 Embraer 190 aircraft (all variants) remain in airline service, with 199 further firm orders. Major operators include: Air Canada with 15 aircraft (and 30 firm orders) and JetBlue Airways with 20 aircraft (and 81 firm orders). Other major firm orders include 57 aircraft for US Airways.[2]
Embraer Lineage 1000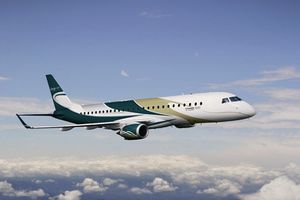 On May 2,2006 Embraer announced plans for the Business jet variant of the E-190. This jet would have the same basic structure of the E-190, but would include extended range of up to 4,200 nm, and luxury seating for up to 19.
In-service
The largest single order for any type of E-Jets has come from JetBlue with 100 firm orders for the E-190, and options for 100 more. [3] Both Air Canada and US Airways also hold large orders, and Air Canada operates an established fleet of both families of E-Jets. In February of 2006, US Airways announced that it was converting 57 of its orders for E-170s into 25 firm orders for the E-190, with options for 32 more and Air Canada placed an order for 34 more E-190. In November 2006, Australian airline Virgin Blue announced its order of 11 Embraer 190 and three Embraer 170 jet aircraft with options for six additional E-Jets. The first E-195 went into service with Flybe during September 2006. From a passenger's point of view, the Embraer jets are a comfortable alternative to both standard regional jets such as the CRJ, and to larger mainline aircraft. The two abreast seating eliminates the dreaded middle seat, yet still affords ample overhead bin space and underseat storage. The seats themselves can vary between airlines, but on average they give slightly more room in both seat pitch and seat width when compared to other airliners. For comparison, on the E-170s operated by Republic Airlines for US Airways Express, seats are 18.25 inches wide, with 33 inch seat pitch. On the larger Boeing 737s in US Airways' fleet, seats are only 17 inches wide with 31 inch seat pitch. This added space makes the aircraft more desirable to fly in from a passenger's viewpoint. [4]
Régional became the first European operator of the Embraer 190 on 23 November 2006 when the first of six on order was delivered [5].
Kenya Airways has an order for 3 Embraer 170 jets to be leased through GECAS. Delivery is to commence in the second quarter of 2007 and be completed in mid 2008. The 170 will replace a pair of Saab 340 turboprops currently serving domestic short haul routes[6].
The Indian carrier Paramount Airways also uses the Embraer 170 and 190.
Aerorepublica from Colombia, has also included brand new Embraer 190 jets to its fleet, with the first of them operating since mid-december 2006, and a total of 8 jets to be delivered in 2007. The Colombian carrier Satena also purchased two Embraer 170 and five Embraer 145.
Copa Airlines from Panama also bought 8 Embraer 190 aircrafts, 6 of them now on it´s fleet, operate as short haul regional routes aircrafts, operating almost all Central American destinations and also operating some Mexican destinations.
Specifications
Measurement
E-170
E-175
E-190
E-195
Cockpit Crew
Two
Passenger Capacity
70-80
78-88
98-114
108-122
Length
29.90 m
(98 ft 1 in)
31.68 m (103 ft 11 in)
36.24 m (118 ft 11 in)
38.65 m
(126 ft 10 in)
Wingspan
26.00 m (85 ft 4 in)
28.72 m (94 ft 3 in)
Height
9.67 m
(32 ft 4 in)
10.28 m
(34 ft 7 in)
Empty Weight (kg)
21,140
21,810
28,080
28,970
Maximum takeoff (kg)
35,990 (STD)
37,200 (LR)
37,500 (STD)
38,790 (LR)
50,300 (LR)
51,800 (AR)
50,790 (LR)
52,290 (AR)
Powerplants
2× GE CF34-8E turbofans
62.3 kN (13,800 lbf) thrust each
2× GE CF34-10E turbofans
82.3 kN (18,500 lbf) thrust each
Maximum speed
890 km/h (481 kt, Mach 0.82)
Range
3,334 km (STD)
3,889 km (LR)
3,334 km (STD)
4,260 km (LR)
2,593 km (STD)
3,334 km (LR)
Service ceiling
41,000 ft (12,500 m)
Rate of climb
(Unknown)
Wing loading
(Unknown)
Thrust-to-weight
0.42:1
0.39:1
0.41:1
0.39:1
Fuselage and cabin cross-section
Outer width
3.01 m (9 ft 11 in)
Inside width
2.74 m (9 ft 0 in)
Outer height
3.35 m (11 ft 0 in)
Inside height
2.00 m (6 ft 7 in)
See also
Related aircraft:
Designation sequence: EMB 110 - EMB 120 - EMB 121 - ERJ 135 - ERJ 140 - ERJ 145 - 170 - 175 - 190 - 195
Similar aircraft:
References
External links
de:Embraer E-Jets es:Embraer E-Jets fr:Embraer 170 nl:Embraer 170/175 nl:Embraer 190/195 ja:エンブラエル170 no:Embraer E-Jet pl:Embraer 170 pt:Embraer EMBRAER 170 pt:Embraer EMBRAER 175 pt:Embraer EMBRAER 190 pt:Embraer EMBRAER 195 sr:Ембраер Е-џет серија fi:Embraer 170/190 sv:Embraer E-Jet