C-135 Stratolifter
From PlaneSpottingWorld, for aviation fans everywhere
The C-135 Stratolifter is a transport aircraft derived from Boeing's prototype 367-80 jet airliner (also the basis for the 707) in the early 1950s. Since the first one was built in August 1956, the C-135 has been a visible fixture of the U.S. Air Force.
Development
A large majority of the 820 units were developed as KC-135A Stratotankers for mid-air refueling, however, they have also performed numerous transport and special-duty functions. Forty-five base-model aircraft were built as C-135A or C-135B transports with the tanking equipment excluded.
C-135A/E
Fifteen C-135As, powered by J57 turbojets, were built. In later years, almost all were upgraded with TF33 turbofan engines and wide-span tail planes, and were re-designated C-135E.
C-135B
Thirty C-135Bs were built with the TF33 turbofans and wide-span tail planes from the start, and a small number remain in service in their original form. A number of these were modified for a weather reconnaissance role and designated WC-135B.
C-135C
The C-135C designation applies to three WC-135B weather reconnaissance aircraft, which reverted to transport status. Most of the other C-135Bs were converted to various special mission variants following their service with the Military Airlift Command.
Although most of the remaining C-135 aircraft are used for transporting senior military leaders and other high-ranking dignitaries, the C-135C communications aircraft serves as an aerial test-bed for emerging technologies. Developmental tests using this aircraft have demonstrated the capability to fly precision approaches using a local area differential GPS system. This modified C-135 has been fitted with a millimeter wave camera and a radome to test the camera's generation of video images of the forward scene in low-visibility conditions. The aircraft, which in the VIP transport role seats 14 passengers, gives the Joint Forces Air Component commander a limited ability to plan and control the simulated battle while in the air en route to the crisis area.
Speckled Trout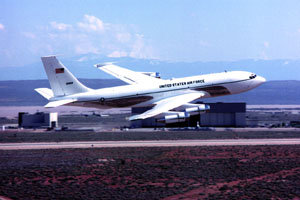 Speckled Trout is the official nickname given to the modified C-135C used by the United States Air Force Chief of Staff. Fully equipped with an array of radio equipment, data links and cryptographic sets, the aircraft serves a secondary role as a testbed for proposed command and control systems. It is also used to evaluate future transport aircraft design. The 412th Flight Test Squadron at Edwards AFB, California, USA, operates the Speckled Trout and manages its test mission.
The name Speckled Trout applies to both the organization and the aircraft. The name was chosen in honor of an early program monitor, Faye Trout, who assisted in numerous phases of the project. The word "speckled" was added because Trout apparently had "a lot of freckles."
Speckled Trout acquired tail number 669 in 1974 and has just retired that aircraft. It is currently using an interim aircraft. The program will be receiving its newer aircraft with a more modern communications architecture/testbed in 2008.[1]
C-135F
The C-135F was a standard A model modified and used by France as a cargo and troop carrier aircraft.[2]
Variants with their own articles
Specifications (C-135)
General characteristics
Performance
References
↑ DoD 4120.14L, Model Designation of Military Aerospace Vehicles, May 12, 2004
Related content
Related development

Comparable aircraft

Designation sequence

Related lists
Template:Active military aircraft of the United States
de:Boeing C-135 fr:Boeing C-135 nl:Boeing C-135 Stratolifter