WC-135 Constant Phoenix
From PlaneSpottingWorld, for aviation fans everywhere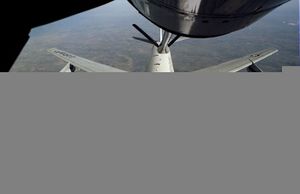 WC-135 Constant Phoenix is a special purpose aircraft derived from the Boeing C-135 and used by the United States Air Force. Its mission is to collect samples from the atmosphere for the purpose of detecting and identifying nuclear explosions.
Mission
The WC-135C and WC-135W Constant Phoenix atmospheric collection aircraft support national level consumers by collecting particulate debris and gaseous effluents from accessible regions of the atmosphere in support of the Limited Nuclear Test Ban Treaty of 1963.
Features
The WC-135W (tail number 61-2667) is a modified C-135B. The WC-135C (tail number 62-3582) is an extensively modified former EC-135C Looking Glass aircraft. The Constant Phoenix's modifications are primarily related to the aircraft's on-board atmospheric collection suite, which allows the mission crew to detect radioactive debris "clouds" in real time. The aircraft is equipped with external flow-through devices to collect particulates on filter paper and a compressor system for whole air samples collected in high-pressure holding spheres.
The interior seats 33 people, including the cockpit crew, maintenance personnel, and special equipment operators from the Air Force Technical Applications Center. On operational sorties, the crew is minimized to just pilots, navigator, and special equipment operators, in order to reduce occupational radiation exposure to qualified mission essential personnel.
The Constant Phoenix WC-135 aircraft serves as an aerial collection platform for the Air Force Technical Applications Center (AFTAC), supporting the detection and identification of debris from nuclear weapons detonations. Two Constant Phoenix aircraft, WC-135W (serial number 61-2667) and WC-135C (serial number 62-3582) are currently assigned to the 45th Reconnaissance Squadron, 55th Wing at Offutt AFB. This mission was previously conducted by WC-135W 61-2665, which was retired in September 1996. Previously, as many as ten WC-135B weather reconnaissance airplanes flew in support of weather analysis, nuclear detection, and other scientific research.
Background
General Dwight D. Eisenhower commissioned the Constant Phoenix program on September 16, 1947 when he charged the Army Air Forces with the overall responsibility for detecting atomic explosions anywhere in the world. In September 1949, a WB-29 flying between Alaska and Japan detected nuclear debris from Russia's first atomic test--an event thought not possible until mid-1950.
Beginning in August 1950, WB-50 aircraft were converted for the air-sampling mission over a two-year period. WC-135 aircraft began replacing the WB-50s in December 1965 and became the workhorse of the atmospheric collection program.
Currently the air-sampling mission is tasked to support the Limited Nuclear Test Ban Treaty of 1963, which prohibits any nation from testing nuclear weapons above ground. The 45th Reconnaissance Squadron at Offutt AFB, Nebraska, works closely with AFTAC to verify if any illegal testing of nuclear weapons has occurred. The WC-135C and WC-135W are currently the only aircraft in the inventory conducting air-sampling operations.
Missions
Air sampling missions were routinely conducted over the Far East, Indian Ocean, Bay of Bengal, Mediterranean Sea, the Polar regions, and off the coasts of South America and Africa.
Chernobyl
Constant Phoenix was used in 1986 to measure radiation from the Soviet Union's Chernobyl nuclear power plant disaster. The WC-135W played a major role in tracking radioactive debris.
Pakistan & India
The Constant Phoenix aircraft was used to gather information on the nuclear tests conducted by Pakistan and India in 1998.
North Korea
In October 2002, the US WC-135W plane flew to Kadena Air Base in Okinawa. The plane was equipped with radioactivity detectors. The plane was sent to check for possible nuclear weapons tests by North Korea. As the Korean nuclear crisis escalated, US spy planes stepped up activities around the strategic Japanese island of Okinawa. The WC-135W plane, which helps collect and identify debris from nuclear weapons detonations, returned to Okinawa's Kadena airbase on 04 February 2003.
On Friday 06 October 2006 Japan's Kyodo News agency reported that a US military aircraft, equipped to detect radiation from a nuclear test, took off from southern Japan. This was believed to be part of US efforts to prepare to monitor a North Korean nuclear test.
On Monday 09 October 2006 North Korea's official Korean Central News Agency (KCNA) reports that the country has performed a successful underground nuclear test.
On October 13, 2006 CNN reported: "The U.S. Air Force flew a WC-135 Constant Phoenix atmospheric collection aircraft on Tuesday to collect air samples from the region. A preliminary analysis of air samples from North Korea shows "radioactive debris consistent with a North Korea nuclear test," according to a statement from the office of the top U.S. intelligence official. The statement, from the office of Director of National Intelligence John Negroponte, was sent to Capitol Hill but not released publicly. CNN obtained it from a congressional source. The national intelligence office statement said the air samples were collected Wednesday, and analysis found debris that would be consistent with a nuclear test "in the vicinity of Punggye" on Monday. The South Korean Defense Ministry told CNN that the United States has informed it that radioactivity has been detected." The aircraft was based at Offutt AFB, and was sent to Kadena AB on Okinawa to operate during the sampling missions. [1]
Specifications
General characteristics
Crew: varies with mission
Length: 139 ft 11 in (42.6 m)
Wingspan: 130 ft 10 in (39.9 m)
Height: 42 ft (12.8 m)
Wing area: ft² (m²)
Empty weight: lb (kg)
Loaded weight: lb (kg)
Max takeoff weight: 300,500 lb (136,300 kg)
Powerplant: 4× Pratt & Whitney TF33-P-5 turbofan with thrust reversers, 16,050 lbf (71.4 kN) each
Performance
Armament
References
External links
See also
Related development
OC-135B Open Skies - Boeing RC-135 - Boeing KC-135 Stratotanker Comparable aircraft
WC-130
See also