Douglas C-47
From PlaneSpottingWorld, for aviation fans everywhere
"C-47" redirects here. For , see C47.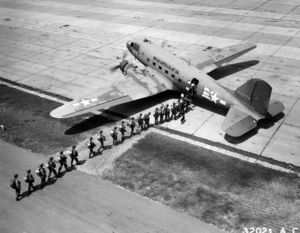 The Douglas C-47 Skytrain or Dakota is a military transport that was developed from the Douglas DC-3 airliner. It was used extensively by the Allies during World War II and remained in front line operations through the 1950s with a few remaining in operation to this day.
Design and development
During World War II, the armed forces of many countries used the C-47 and modified DC-3s for the transport of troops, cargo and wounded. Over 10,000 aircraft were produced in Long Beach and Santa Monica, California and Oklahoma City, Oklahoma. The Oklahoma City plant produced 5,354 C-47s from March 1943 until August 1945.
Operational history
The C-47 was vital to the success of many Allied campaigns, in particular those at Guadalcanal and in the jungles of New Guinea and Burma where the C-47 (and its naval version, the R4D) alone made it possible for Allied troops to counter the mobility of the light-travelling Japanese army. Additionally, C-47s were used to airlift supplies to the embattled American forces during the Battle of Bastogne. But possibly its most influential role in military aviation was flying The Hump from India into China where the expertise gained would later be used in the Berlin Airlift in which the C-47 would also play its part.
In Europe, the C-47 and a specialized paratroop variant, the C-53 Skytrooper, were used in vast numbers in the later stages of the war, particularly to tow gliders and drop paratroops. In the Pacific, with careful use of the island landing strips of the Pacific Ocean, C-47s were even used for ferrying soldiers serving in the Pacific theater back to the United States.
C-47s in British and Commonwealth service took the name Dakota. The C-47 also earned the nickname Gooney Bird during the European theater of operations.
The USAF Strategic Air Command had C-47 Skytrains in service from 1946 through 1947.
After World War II the U.S. Navy also structurally modified a number of the early Navy R4D aircraft and re-designated the modified aircraft as R4D-8.
The C-47 was used by the Americans in the initial stages of the Berlin Airlift and was subsequently replaced by the C-54.
The Air Force also continued to use the C-47 for various roles, including the AC-47 gunships - code named Puff the Magic Dragon or Spooky - and the EC-47 for counterintelligence during the Vietnam War.
The Royal Canadian Air Force also adopted the C-47 for use in search & rescue operations throughout the 1940s and 50s.
Variants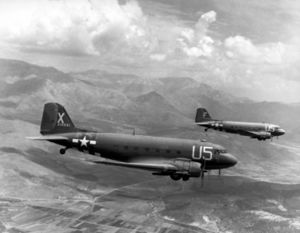 C-47

Initial military version of the DC-3 with seats for 27 troops, 965 built including 12 to the United States Navy as R4D-1,

C-47A

C-47 with a 24-volt electrical system, 5,254 built including USN aircraft designated R4D-5.

RC-47A

C-47A equipped for photographic reconnaissance and ELINT missions.

SC-47A

C-47A equipped for Search Air Rescue. Redesignated HC-47A in 1962.

VC-47A

C-47A equipped for VIP transport role.

C-47B

Powered by R-1830-90 engines with superchargers and extra fuel capacity to cover the China-Burma-India routes, 3,364 built.

VC-47B

C-47B equipped for VIP transport role.

XC-47C

C-47 tested with Edo Model 78 floats for possible use as a seaplane.

C-47D

C-47B with superchargers removed after the war.
Gunship aircraft with three side-firing 7.62mm Minigun machine guns.

EC-47D

C-47D with equipment for the Airborne Early Warning role. Prior to 1962 was designated AC-47D.

RC-47D

C-47D equipped for photographic reconnaissance and ELINT missions.

SC-47D

C-47D equipped for Search Air Rescue. Redesignated HC-47D in 1962.

VC-47D

C-47D equipped for VIP transport role.

C-47E

Modified cargo variant with space for 27-28 passengers or 18-24 litters.

C-47F

YC-129 re-designated, Super DC-3 prototype for evaluation by USAF later passed to USN as XR4D-8.

C-47L/M

C-47H/Js equipped for the support of American Legation United States Naval Attache (ALUSNA) and Military Assistance Adivsory Group (MAAG) missions.

EC-47N/P/Q

C-47A and D aircraft modified for ELINT/ARDF mission. N and P differ in radio bands covered, while Q replaces analog equipment found on the N and P with a digital suite, redesigned antenna equipment, and uprated engines.

C-47R

One C-47M modified for high altitude work, specifically for missions in Ecuador.

C-47T

Designation applied to aircraft modified to a Basler BT-67 standard.

C-48

One former United Air Lines DC-3A impressed.

C-48A

Three impressed DC-3As with 18-seat interiors.

C-48B

Sixteen impressed former United Air Lines DST-As with 16-berth interior used as air ambulances.

C-48C

Sixteen impressed DC-3As with 21-seat interiors.

C-49, C-49A, C-49B, C-49C, C-49D, C-49E, C-49F, C-49G, C-49H, C-49J, C-49K

Various DC-3 and DST models, 138 impressed into service.

C-50, C-50A, C-50B, C-50C, C-50D

Various DC-3 models, 14 impressed.

C-51

One aircraft ordered by Canadian Colonial Airlines impressed into service, had starboard-side door.

C-52, C-52A, C-52B, C-52C, C-52D

DC-3A aircraft with R-1830 engines, 5 impressed.

C-53 Skytrooper

Troop transport version of the C-47.

XC-53A Skytrooper

One aircraft with full-span slotted flaps and hot-air leading edge de-icing.

C-53B Skytrooper

Winterised version of C-53 with extra fuel capacity and separate navigator's station, eight built.

C-53C Skytrooper

C-53 with larger port-side door, 17 built.

C-53D Skytrooper

C-53C with 24V DC electrical system, 159 built.

C-68

Two DC-3As impressed with 21-seat interiors.

C-117A Skytrooper

C-47B with 24-seat airline-type interior for staff transport use, 16 built.

VC-117A

Three redesignated C-117s used in the VIP role.

SC-117A

One C-117C converted for air-sea rescue.

C-117B/VC-117B

High-altitude superchargers removed, one built and conversions from C-117As all later VC-117B

C-117D

USN R4D-8 redesignated

LC-117D

USN R4D-8L redesignated

TC-117D

USN R4D-8T redesignated

VC-117D

USN R4D-8Z redesignated

YC-129

Super DC-3 prototype for evaluation by USAF redesignated C-47F and later passed to USN as XR4D-8.

XCG-17

One C-47 tested as a 40-seat troop glider with engines removed and faired over.

R4D-1 Skytrain

USN version of the C-47.

R4D-2

Two Eastern Air Lines DC-3s impressed into USN service as VIP transports, later designated R4D-2F and later R4D-2Z.

R4D-3

Twenty C-53Cs transferred to USN.

R4D-4

Ten impressed DC-3s

R4D-4R

Seven impressed DC-3s as staff transports.

R4D-4Q

Radar countermeasures version of R4D-4.

R4D-5

C-47A variant 24-volt electrical system replacing the 12-volt of the C-47. Redesignated C-47H in 1962, 238 transferred from USAF.

R4D-5L

R4D-5 for use in Antarctica. Redesignated LC-47H in 1962.

R4D-5Q

R4D-5 for use as special ECM trainer. Redesignated EC-47H in 1962.

R4D-5R

R4D-5 for use as a personnel transport for 21 passengers and as a trainer aicraft. Redesignated TC-47H in 1962.

R4D-5S

R4D-5 for use as a special ASW trainer. Redesignated SC-47H in 1962.

R4D-5Z

R4D-5 for use as a VIP transport. Redesignated VC-47H in 1962.

R4D-6

157 C-47Bs transferred to USN, redesignated C-47J in 1962.

R4D-6L, Q, R, S, and Z

Variants as the R4D-5 series, redesignated LC-47J, EC-47J, TC-47J, SC-47J, and VC-47J respectively in 1962.

R4D-7

44 TC-47Bs transferred from USAF for use as a navigational trainer. Redesignated TC-47K in 1962.

R4D-8

R4D-5 and R4D-6 aircraft fitted with modified wings and re-designed tail surfaces, Redesignated C-117D in 1962.

R4D-8L

R4D-8 converted for Antarctic use, redesignated LC-117D in 1962.

R4D-8T

R4D-8 converted as crew trainers, redesignated TC-117D in 1962.

R4D-8Z

R4D-8 converted as a staff transport, redesignated VC-117D in 1962.

Dakota I

RAF designation for the C-47 and R4D-1

Dakota II

RAF designation for impressed DC-3s

Dakota III

RAF designation for the C-47A.

Dakota IV

RAF designation for the C-47B.

C-47TP Turbo Dakota
Operators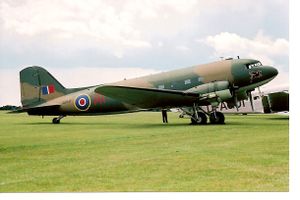 Specifications (C-47B) General characteristics
Crew: 3
Capacity: 28 troops
Payload: 6,000 lb (2,700 kg) of cargo
Length: 63 ft 9 in (19.43 m)
Wingspan: 95 ft 6 in (29.11 m)
Height: 17 ft 0 in (5.18 m)
Wing area: 987 ft² (91.70 m²)
Empty weight: 18,135 lb (8,225 kg)
Loaded weight: 26,000 lb (11,800 kg)
Max takeoff weight: 31,000 lb (14,000 kg)
Powerplant: 2× Pratt & Whitney R-1830-90C "Twin Wasp" 14-cylinder radial engines, 1,200 hp (895 kW) each
Performance
See also
Related development

Comparable aircraft

Related lists

References
Notes
Bibliography
Flintham, V. (1990) Air Wars and Aircraft: A Detailed Record of Air Combat, 1945 to the Present. Facts on File. ISBN 0816023565
Francillon, René J. McDonnell Douglas Aircraft Since 1920. London: Putnam & Company Ltd., 1979. ISBN 0-370-00050-1.
Pearcy Jnr., Arthur ARAeS. "Douglas R4D variants (US NAvy's DC-3/C-47)". Aircraft in Profile, Volume 14. Windsor, Berkshire, UK: Profile Publications Ltd., 1974, p. 49-73. ISBN 0-35383-023-1.
Yenne, Bill. McDonnell Douglas: A Tale of Two Giants. Greenwich, Connecticut, USA: Bison Books, 1985. ISBN 0-517-44287-6.
External links

Template:USAAF glider aircraft Template:USAF transports Template:USN transports Template:Swedish military aircraft
cs:Douglas C-47 Skytrain da:Douglas C-47 Skytrain de:Douglas DC-3 el:C-47 Skytrain es:C-47 Skytrain fr:Douglas C-47 Skytrain it:Douglas C-47 Skytrain no:Douglas C-47 Skytrain pl:Douglas C-47 Skytrain pt:Douglas C-47 Skytrain th:ซี-47 สกายเทรน zh:C-47運輸機