Douglas DC-2
From PlaneSpottingWorld, for aviation fans everywhere
Douglas DC-2
DC-2 PH-AJU came second in the MacRobertson Air Race
Type
Passenger & military transport
Manufacturer
Douglas Aircraft Company, Fokker
Maiden flight
May 11, 1934
Introduced
May 18, 1934
Primary users
United States (USAAC, USAAF, USMC, USN)
Military users - Australia (RAAF), Finland, Germany, Spain, United Kingdom.
The Douglas DC-2 was a 14 seat, twin-propeller airliner produced by the Douglas Aircraft Corporation starting in 1934. It competed with the Boeing 247. In 1936 Douglas produced a larger version called the DC-3, which became one of the most successful airplanes in history.
In the early 1930s fears about the safety of wooden structured aircraft (implicated in the crash of a Fokker tri-motor which killed Knute Rockne) led the American aviation industry to look into implementing aircraft of all-metal construction. With United Airlines having a monopoly on the Boeing 247, the rival Transcontinental and Western Air issued a specification for an all-metal trimotor.
The response of the Douglas Aircraft Company was more radical. When it flew on July 1, 1933, the prototype DC-1 had a highly robust tapered wing, a retractable undercarriage, and only two 690 hp (515 kW) Wright radial engines driving variable-pitch propellors. It seated 12 passengers.
TWA accepted the basic design, and placed an order for 20 DC-2s, with more powerful engines and seating 14 passengers. The design impressed a number of American and European airlines and further orders followed. Those for European customers KLM, LOT, Swissair, CLS and LAPE were assembled by Fokker in the Netherlands.
Although overshadowed by its ubiquitous successor, it was the DC-2 which first showed that passenger air travel could be comfortable, safe and reliable. As a token of this, KLM entered their first DC-2 PH-AJU Uiver (Stork) in the October 1934 MacRobertson Air Race between London and Melbourne. Out of the 20 entrants, it finished second behind only the purpose built de Havilland DH.88 racer Grosvenor House. During the total journey time of 90 h 13 min, it was in the air for 81 h 10 min.
156 DC-2s were built.
Versions
Modified DC-2s were built for the Army Air Corps under several military designations:
1 XC-32 16-seat transport aircraft, later a flying command post.
18 C-33 Cargo transport aircraft, with a hinged cargo door in the aft fuselage.
2 YC-34 VIP transport. Later designated C-34.
1 C-38 Modified from the C-33 with DC-3 style tail section. Powered by two Wright R-1820-45 radial piston engines, of 930 hp (694 kW) each. It was originally designated C-33A.
35 C-39 A composite of DC-2 & DC-3 components. Powered by two Wright R-1820-55 radial piston engines, of 975 hp (727 kW) each
1 C-41 VIP transport. Powered by two Pratt & Whitney R-1830-21 radial piston engines, of 1200 hp (895 kW) each
1 C-42 VIP transport. Powered by two Wright R-1820-53 radial piston engines, of 1200 hp (895 kW) each, plus two similar converted C-39s.
24 Commercial DC-2s impressed at the start of World War II were designated C-32A.
Survivors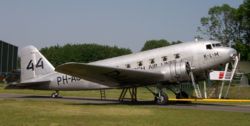 There are currently no DC-2s in commercial service. However, at least 4 aircraft made it into the 21st century:

Specifications (DC-2)
Template:Aircraft specification
External links

Related content
Related development

Comparable aircraft

Designation sequence

Related lists

See also
Template:Douglas Airliners
cs:Douglas DC-2 de:Douglas DC-2 fr:Douglas DC-2 ms:Douglas DC-2 nl:Douglas DC-2 ja:DC-2 no:Douglas DC-2 pl:Douglas DC-2 pt:Douglas DC-2 fi:Douglas DC-2