B-18 Bolo
From PlaneSpottingWorld, for aviation fans everywhere
The Douglas B-18 Bolo was a United States Army Air Corps and Royal Canadian Air Force bomber of the late 1930s and early 1940s based on the Douglas DC-2. Although not the latest or most advanced design, the B-18 was pressed into service where it performed wartime patrol duties early in World War II.
Design and development
In 1934, the United States Army Air Corps put out a request for a bomber with double the bomb load and range of the Martin B-10, which was just entering service as the Army's standard bomber.
In the evaluation at Wright Field the following year, Douglas showed its DB-1. It competed with the Boeing Model 299 (later the B-17 Flying Fortress) and Martin Model 146. While the Boeing design was clearly superior, the crash of the B-17 prototype (caused by taking off with the controls locked) removed it from consideration. During the depths of the Great Depression, the lower price of the DB-1 ($58,500 vs. $99,620 for the Model 299) also counted in its favor. The Douglas design was ordered into immediate production in January 1936 as the B-18.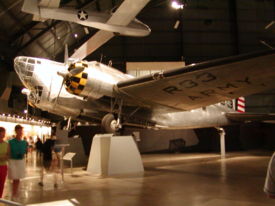 The DB-1 design was essentially the same as the DC-2, with several modifications. The wingspan was 4.5 ft (1.4 m) greater. The fuselage was deeper, to better accommodate bombs and the six-member crew; the wings were fixed in the middle of the cross-section rather than to the bottom, but this was due to the deeper fuselage. Added armament included nose, dorsal, and ventral gun turrets.
Operational service
The initial contract called for 133 B-18s (including DB-1), using Wright radials. The last B-18 of the run, designated DB-2 by the company, had a power-operated nose turret. This design did not become standard.
Additional contracts in 1937 (177 aircraft) and 1938 (40 aircraft) were for the B-18A, which had the bombardier's position further forward over the nose-gunner's station. The B-18A also used more powerful engines.
By 1940, most US Army Air Force bomber squadrons were equipped with B-18s or B-18As. Many of those in the 5th Bomb Group and 11th Bomb Group in Hawaii were destroyed in the attack on Pearl Harbor.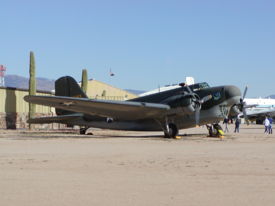 B-17s supplanted B-18s in first-line service in 1942. Following this, 122 B-18As were modified for anti-submarine warfare. The bombardier was replaced by a search radar with a large radome. Magnetic anomaly detection (MAD) equipment was sometimes housed in a tail boom. These aircraft, designated B-18B, were used in the Caribbean on anti-submarine patrol. Two aircraft were transferred to Força Aérea Brasileira in 1942. The Royal Canadian Air Force acquired 20 B-18As (designated the Douglas Digby Mark I), and also used them for patrol duties. Bolos and Digbys sank four submarines during the course of the war.
Variants and design stages
DB-1—Prototype; first of B-18 production run. (×1)
B-18—Initial production version. (×131, or 133)

B-18M—Bomb gear removed from B-18 to serve as trainer.
DB-2—Powered nose turret prototype; last of B-18 production run. (×1)

B-18A—B-18 with more powerful Wright R-1820-53 engines, bombardier's station moved. (×217)

B-18AM—Bomb gear removed from B-18A to serve as trainer.

B-18B—Antisubmarine conversion. (×122, converted)
B-18C—Antisubmarine conversion. (×2, converted)
XB-22—Improvement on B-18 using Wright R-2600-3 radial engines (1,600 hp, 1194 kW); never built, largely due to better light bombers such as the B-23 Dragon.
C-58—Transport conversion.
Digby Mark I—Royal Canadian Air Force modification of B-18A.
Operators
Surviving aircraft
Only five B-18s still exist, preserved in museums in the United States:
Specifications (B-18A)
General characteristics
Crew: 6
Length: 57 ft 10 in (17.6 m)
Wingspan: 89 ft 6 in (27.3 m)
Height: 15 ft 2 in (4.6 m)
Wing area: 959 ft² (89.1 m²)
Empty weight: 16,321 lb (7,400 kg)
Loaded weight: 22,123 lb (10,030 kg)
Max takeoff weight: 27,500 lb (12,600 kg)
Powerplant: 2× Wright R-1820-53 radial engines, 1,000 hp (750 kW) each
Performance
Maximum speed: 215 mph (197 knots, 346 km/h)
Combat range: 999 nm (1,150 mi, 1,850 km))
Ferry range: 1,800 nm (2,100 mi, 3,400 km)
Service ceiling: 23,900 ft (7,280 m)
Rate of climb: 1,030 ft/min (5.2 m/s)
Wing loading: 23.1 lb/ft² (113 kg/m²)
Power/mass: 0.09 hp/lb (150 W/kg)
Armament
Guns: 3× .30 in (7.62 mm) machine guns
Bombs: 4,500 lb (2,200 kg)
References
Francillon, René. McDonnell Douglas Aircraft Since 1920: Volume I. London: Putnam, 1979. ISBN 0-87021-428-4.
External links
Related content

Related development

Designation sequence

Related lists

See also