C-46 Commando
From PlaneSpottingWorld, for aviation fans everywhere
The Curtiss-Wright C-46 Commando was a transport aircraft used by the United States Army Air Forces during World War II.
Also known to the men who flew them as "The Whale," the C-46 served a similar role as its brother the Douglas C-47 Skytrain, but was not quite as famous or as heavily produced. (1,516 Built) The Navy/Marine Corps version was known as the R5C.
This aircraft had a patented fuselage conventionally referred to as a "figure of eight" which enabled it to better withstand the pressure differential at high altitudes. This was done by having the sides of the fuselage creased at the level of the floor that not only separated the two portions but shared in the stress of each, rather than just supporting itself. Production models were unpressurized, but retained the figure eight fuselage configuration. The C-46 could carry more cargo higher than other Allied twin-engine transport aircraft, and was used to carry cargo over the Himalayan air route known as The Hump.
In the late 70s and early 80s, the Canadian airline Lamb Air operated several C-46s from their bases in Thompson and Churchill, Manitoba.
Between 1993 and 1995, Relief Air Transport operated three Canadian registered C-46s on Operation Lifeline Sudan from Lokichoggio, Kenya. These aircraft also transported humanitarian supplies to Goma, Zaire and Mogadishu, Somalia from their base in Nairobi, Kenya.
Variants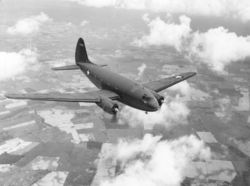 C-46A
CX-46B
XC-46C
C-46D
C-46E
C-46F
C-46G
C-46H
C-46J
AC-46K : Unbuilt version.
XC-46K
XC-46L
C-55 : Original CW-20 prototype
XC-113: Engine change. General Electric T-31 turboprop in place of right hand side R-2800. The aircraft handled so poorly on the ground that it was never flown.
R5C-1 : Military transport version for the US Marine Corps.
Operators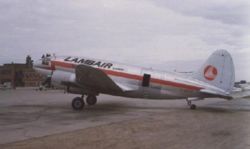 Specifications (C-46)
General characteristics
Crew: 4
Capacity: 50 passengers
Length: 76 ft 4 in (23.27 m)
Wingspan: 108 ft 1 in (32.9 m)
Height: 21 ft 9 in (6.63 m)
Wing area: 1,360 ft² (126.8 m²)
Empty weight: 32,400 lb (14,700 kg)
Max takeoff weight: 48,000 lb (22,000 kg)
Powerplant: 2× Pratt & Whitney R-2800-51 two-row 18-cylinder radial engines, 2,000 hp (1,500 kW) each
Performance
Related content
Designation sequence

Related lists

de:Curtiss C-46 it:Curtiss C-46 Commando ja:C-46 (航空機) pl:Curtiss C-46 Commando