C-47 Skytrain
From PlaneSpottingWorld, for aviation fans everywhere
The Douglas C-47 Skytrain or Dakota is a military transport that was developed from the Douglas DC-3 airliner.
History
During World War II, the armed forces of many countries used the C-47 and modified DC-3s for the transport of troops, cargo and wounded. Over 10,000 aircraft were produced in Long Beach and Santa Monica, California and Oklahoma City, Oklahoma. The C-47 was vital to the success of many Allied campaigns, in particular those at Guadalcanal and in the jungles of New Guinea and Burma where the C-47 (and its naval version, the R4D) alone made it possible for Allied troops to counter the mobility of the light-travelling Japanese army. Additionally, C-47s were used to airlift supplies to the embattled American forces during the Battle of Bastogne. But possibly its most influential role in military aviation was flying The Hump from India into China where the expertise gain would later be used in the Berlin Airlift in which the C-47 would also play its part.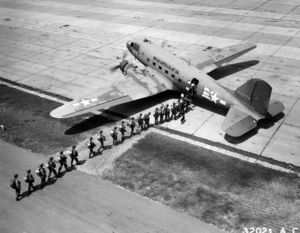 In Europe, the C-47 and a specialized paratroop variant, the C-53 Skytrooper, were used in vast numbers in the later stages of the war, particularly to tow gliders and drop paratroops. In the Pacific, with careful use of the island landing strips of the Pacific Ocean, C-47s were even used for ferrying soldiers serving in the Pacific theater back to the United States.
C-47s in British and Commonwealth service took the name Dakota. The C-47 also earned the nickname "Gooney Bird" during the European theater of operations.
The USAF Strategic Air Command had C-47 Skytrains in service from 1946 through 1947.
After World War II the U.S. Navy also structurally modified a number of the early Navy R4D aircraft and re-designated the modified aircraft as R4D-8.
The C-47 was used by the Americans in the initial stages of the Berlin Airlift and was subsequently replaced by the C-54.
The Air Force also continued to use the C-47 for various roles, including the AC-47 gunships - code named 'Puff the Magic Dragon' or 'Spooky' - and the EC-47 for counterintelligence during the Vietnam War.
The Canadian Armed Forces also adopted the C-47 for use in search & rescue operations throughout the 1940s and 50s.
Variants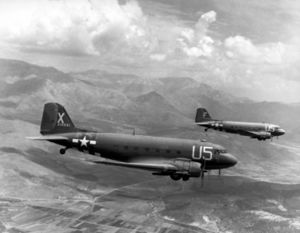 C-47 - Initial military version of DC-3.
C-47A - 24-volt electrical system replacing the 12-volt of the C-47.
C-47B - R-1830-90 engines with superchargers and extra fuel capacity to cover the China-Burma-India routes.
C-47D - C-47B with superchargers removed after the war.
C-47T - Used for training.
C-48 to C-52 - various DC-3s pressed into military service.
C-53 - US Army passenger version of the C-47.
C-117/C-129 - Super DC-3- Landing gear covers-Enlarged empennage
XCG-17 - A glider version of the C-47, intended to be towed by a C-47.
Operators
United States Army Air Force
Used in every major theater of operations in World War II.
Royal Air Force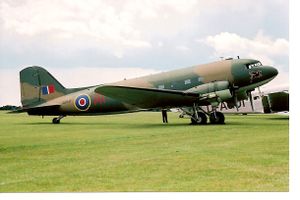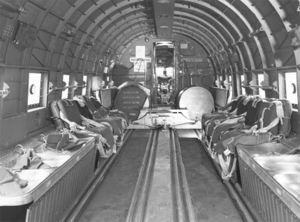 RAF Transport Command was supplied with over 1,900 Dakotas under the Lend-Lease system during WW2 and the type was flown by at least 46 operational squadrons, plus numerous support units. In total the RAF flew 50 Dakota I (C-47), 9 Dakota II (C-53), 962 Dakota III (C-47A) and 896 Dakota IV (C-47B). RAF Dakotas were assigned to the European, North African, Middle East and Far East theatres of war. C-47 Dakotas of the RAF and USAAF played an important role in dropping paratroopers and equipment and towing gliders to the Normandy landings and to Arnhem. Four squadrons of Dakota IVs took part in the Berlin Airlift in 1948/49.
59 were also supplied to BOAC to maintain international air links.
Royal Australian Air Force
The RAAF drafted civilian DC-3s into military service in September 1939 at the outbreak of WW2. The first true C-47s were delivered to the RAAF in 1942 (ex-USAAF) and the first built specifically for the RAAF entered service in February 1943. 124 C-47s were delivered to the RAAF (and four to the Royal Australian Navy) by 1945. They were used throughout WW2, Korea and Malaya and in Occupied Japan. Most were transferred to civilian government agencies in Australia and New Guinea or sold to airlines in the 1960s. A handful survived in RAAF service into the 1990s with the last two being retired from the Aircraft Research and Development Unit in March 1999.
South African Air Force
Indonesian Air Force / TNI-AU
C-47 Dakota with tailnumber RI-001 Seulawah, bought by Acehnese people in 1948 during the Netherlands policional action in Indonesia. This plane used for the transportation between Java and Sumatra. One aircraft is given to Burma (now, Myanmar) as an honour for the friendship with Indonesia, during the war with the Dutch.
Indonesia got some C-47 from the Netherlands after the wars ended in 1949.
C-47 intensively used in lots of military conflicts with local rebels like PRRI in Sumatera and Permesta in Sulawesi and Maluku. Beside that, C-47 used for transport in non-confict areas.
Some C-47 given to local airlines for commercial using.
Greek Air Force
Soviet Air Force
The Lisunov Li-2 was a licensed copy of the DC-3, produced in Russia, some 6000 were made between 1939 and 1952[1], operated by the Soviet Union, and presumably some of it's allies and client states.
Operators
Argentina, Australia (RAAF, RAN), Belgium, Benin, Bolivia, Brazil, Bulgaria, Burma, Cambodia, Canada (RCAF), Chad, China, Chile, Colombia, Congo, Cuba, Czechoslovakia, Denmark, Ecuador, Egypt, El Salvador, Ethiopia, France, Finland, Gabon, Germany, Greece, Guatemala, Haiti, Honduras, Hungary, India, Indonesia, Iran, Israel, Italy, Ivory Coast, Japan, Laos, Libya, LOT Polish Airlines, Madagascar, Malawi, Mali, Mauretania, Mexico, Mongolia, Morocco, Netherlands, New Zealand, Nicaragua, Niger, Nigeria, North Korea, North Vietnam, Norway, Oman, Pakistan, Papua New Guinea, Paraguay, Peru, Philippines, Poland, Portugal, Rhodesia, Romania, Rwanda, Saudi Arabia, Senegal, South Africa (SAAF), South Korea, South Vietnam, Somalia, Soviet Union, Sri Lanka, Spain, Sweden, Syria, Taiwan, Thailand, Togo, Turkey, Uganda, Uruguay, United Kingdom (RAF), United States (US Army Air Corps, US Army Air Force, US Air Force, US Marine Corps, US Navy), Venezuela, Vietnam, Yemen, Yugoslavia, Zaire, Zambia.
Specifications (C-47B) General characteristics
Crew: 3
Capacity: 28 troops
Payload: 6,000 lb (2,700 kg) of cargo
Length: 63 ft 9 in (19.43 m)
Wingspan: 95 ft 6 in (29.11 m)
Height: 17 ft 0 in (5.18 m)
Wing area: 987 ft² (91.70 m²)
Empty weight: 18,135 lb (8,225 kg)
Loaded weight: 26,000 lb (11,800 kg)
Max takeoff weight: 31,000 lb (14,000 kg)
Powerplant: 2× Pratt & Whitney R-1830-90C "Twin Wasp" 14-cylinder radial engines, 1,200 hp (895 kW) each
Performance
Notes
References
Flintham, V. (1990) Air Wars and Aircraft: A Detailed Record of Air Combat, 1945 to the Present. Facts on File. ISBN 0816023565
Francillon, René (1979). McDonnell Douglas Aircraft Since 1920: Volume I. London: Putnam. ISBN 0-87021-428-4.

 

Yenne, Bill (1985). McDonnell Douglas: A Tale of Two Giants. Greenwich, Connecticut: Bison Books. ISBN 0-517-44287-6.

 
External links
Related content

Related development

Comparable aircraft

Designation sequence

Army sequence:
Navy sequence:
Related lists

See also

da:Douglas C-47 Skytrain de:Douglas DC-3 es:C-47 Skytrain fr:Douglas C-47 Skytrain it:Douglas C-47 Skytrain no:Douglas C-47 Skytrain pl:Douglas C-47 Skytrain pt:Douglas C-47 Skytrain