C-74 Globemaster
From PlaneSpottingWorld, for aviation fans everywhere
The Douglas C-74 Globemaster, was a heavy-lift cargo aircraft built by the Douglas Aircraft Company in Long Beach, California.
Development
The C-74 Globemaster was developed in response to a need by the United States Army Air Forces for a transport aircraft with transoceanic range. Douglas Aircraft Company responded in 1942 with a giant four-engined design. The aircraft did not actually fly until September 5, 1945. With the need for military aircraft greatly reduced by the end of World War II, the order was cancelled and production ended in January 1946 after production of only fourteen aircraft. This cancellation also ended plans to build an airliner version of the C-74 for the civilian market.
At the time of its first flight, the C-74 was the largest landplane to enter production, with a maximum weight of 172,000 lb (78,000 kg). It was able to carry 125 soldiers or 48,150 lb (21,840 kg) of cargo over a range of 3,400 statute miles (5,500 km). Perhaps the most notable feature of the C-74 was its cockpit arrangement with separate canopies over the pilot and copilot; the same arrangement was used for the XB-42 Mixmaster. This arrangement was unpopular with flight crews, however, and the aircraft were retrofitted with a more conventional arrangement. During the life of the aircraft, the engines were also upgraded to 3,250 hp Pratt & Whitney R-4360-49 engines.
The C-74 supported the Berlin Airlift by flying cargo from the U.S. to staging bases in Europe, from which it was flown to Berlin in smaller C-47 Skytrain and C-54 Skymaster aircraft. Experience with the Berlin Airlift demonstrated that the new United States Air Force needed a heavy strategic airlift capability. The fifth C-74 built was modified to be a prototype for the C-124 Globemaster II, which used the same wing and empennage as the C-74, but used a much larger fuselage. This newer aircraft quickly superseded the C-74 in service. All of the surviving C-74s were scrapped in the 1960s and 1970s.
Specifications (C-74 Globemaster)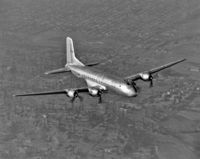 General characteristics
Crew: 3
Capacity: 125 troops
Payload: 48,150 lb (21,840 kg)
Length: 124 ft 2 in (37.85 m)
Wingspan: 173 ft 3 in (52.81 m)
Height: 43 ft 9 in (13.34 m)
Wing area: 2,510 ft² (233 m²)
Empty weight: 86,172 lb (39,087 kg)
Loaded weight: 154,128 lb (69,911 kg)
Max takeoff weight: 172,000 lb (78,000 kg)
Powerplant: 4× Pratt & Whitney R-4360-49 radial engines, 3,250 hp (2,424 kW) each
Performance
Reference
Francillon, René (1979). McDonnell Douglas Aircraft Since 1920: Volume I. London: Putnam. ISBN 0-87021-428-4.

 
External links
Related content
Related development

Designation sequence

Related lists

See also