F3D Skyknight
From PlaneSpottingWorld, for aviation fans everywhere
The Douglas F3D Skyknight, (later F-10 Skyknight) was a twin engine, mid wing jet fighter manufactured by the Douglas Aircraft Company in El Segundo, California. The F3D was designed as a carrier-based all-weather aircraft and saw service with the United States Navy and United States Marine Corps. The aircraft is sometimes unofficially called "Skynight", dropping the second "k".
Development
The F3D was not a typical sleek and nimble fighter, but it was not intended to be. It originated in 1945 with a U.S. Navy requirement for a jet-powered radar-equipped carrier-based night fighter. The Douglas team led by Ed Heinemann designed around the bulky air intercept radar systems of the time, with side-by-side seating for the pilot and radar operator. The result was an airplane with a broad, deep, and roomy fuselage. Instead of ejection seats, an escape tunnel was used, similar to the A-3 Skywarrior.
Power was provided by two Westinghouse J34 turbojets mounted in the roots of then-standard straight wings of the early jet era. The F3D was not much of a dogfighter. Instead, it was a stable platform for its radar system and the four 20 mm cannon mounted in the lower fuselage. The U.S. Navy awarded Douglas a contract for three XF3D-1 prototype aircraft on April 3, 1946. (The losing design from Grumman evolved into the F9F Panther.)
The radar system in the F3D-1 was the Westinghouse AN/APQ-35. The AN/APQ-35 was a combination of three different radars, each performing separate functions: a search radar, a tracking radar, and a tail warning radar. The complexity of this radar system, which was produced before the advent of semi-conductor electronics, required intensive maintenance to keep it operating fully.
First flight of the XF3D-1 occurred on March 23, 1948. A production contract for twenty-eight F3D-1 prodction aircraft soon followed in June 1948. The F3D-1 was followed by the F3D-2, which was first ordered in August 1949. The F3D-2 was intended to have Westinghouse J46 engines in enlarged nacelles to replace the J34--WE-32 engines of the F3D-1. Development problems with the J46 lead to F3D-2 aircraft being fitted with J34-WE-36 engines instead. The F3D-2 also incorporated an improved Westinghouse AN/APQ-36 radar system. 237 F3D-2s were built before production ended on March 23, 1952. A higher performance F3D-3 version with swept wings and J46 engines was planned, but was cancelled when the trouble-plagued J46 engine program was terminated.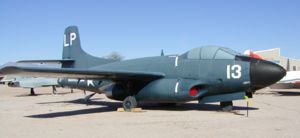 Service
The few F3D-1 aircraft were used primarily to train F3D crews and did not see combat. F3D-2 aircraft, however, saw extensive service during the Korean War in land-based U.S. Marine Corps squadron VMF(N)-513. They were used as escort fighters, accompanying B-29 Superfortress bombers on night raids. They also flew nighttime intercept and interdiction missions. By the end of the war, Skyknights had shot down six enemy aircraft (one Polikarpov Po-2 and five Mikoyan-Gurevich MiG-15) without a loss.[1] The first air-to-air victory occurred on 3 November 1952 in a United States Marine Corps F3D-2 piloted by Major William T. Stratton, Jr. and radar operator Master Sergeant Hans C. Hoglind of VMF(N)-513.[1]
In the years after the Korean War, the F3D was gradually replaced by more powerful aircraft with better radar systems. The F3D's career was not over though; its stability and spacious fuselage made it easily adaptable to other roles. The F3D (under the designations F3D-1M and F3D-2M) was used to support development of a number of air-to-air missile systems during the 1950s, including the Sparrow I, II, and III and Meteor missiles .
The F3D-2M was the first operational Navy jet aircraft to be fitted with an air-to-air missile, the Sparrow I, a missile that used beam riding guidance for the aircrew to control the flight of the missile. Only 38 aircraft (12 F3D-1Ms, and 16 F3D-2Ms) were made able to use the missiles.
In the late 1950s, a number of the Marine F3D-2 aircraft were re-configured as electronic warfare aircraft and were designated F3D-2Q (later EF-10B). Also, a few aircraft were converted for use as trainers and were designated F3D-2T.
Skyknights continued service through the 1960s in gull white color scheme, when their contemporaries had long since been retired. In 1962, when the U.S. Navy and U.S. Air Force unified their designation systems, the F3D-1 was redesignated F-10A and the F3D-2 was redesignated F-10B. EF-10Bs served in the electronic countermeasures role during the Vietnam War until 1969. The U.S. Marine Corps retired its last EF-10Bs in 1970. Some aircraft continued flying as testbeds for Raytheon until the 1980s.
When the U.S. Navy issued a requirement for a fleet defense missile fighter in 1959, Douglas responded with the F6D Missileer, essentially an updated and enlarged F3D that would carry the AAM-N-10 Eagle long-range missile.
Specifications (F3D-2)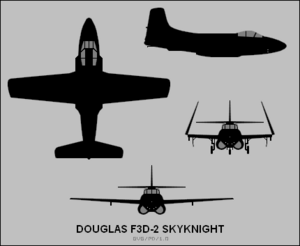 Data from
General characteristics
Crew: 2
Length: 45 ft 5 in (13.9 m)
Wingspan: 50 ft 6 in (35.8 m)
Height: 16 ft 1 in (4.9 m)
Wing area: 400 ft² (37.16 m²)
Empty weight: 18,160 lb (8,240 kg)
Loaded weight: 23,575 lb (10,690 kg)
Max takeoff weight: 27,680 lb (12,560 kg)
Powerplant: 2× Westinghouse J34-WE-36 turbojets, 3,400 lbf (15.1 kN) each
Performance
Armament
References
Francillon, René (1979). McDonnell Douglas Aircraft Since 1920: Volume I. London: Putnam. ISBN 0-87021-428-4.

 

Jones, Lloyd (1977). U.S. Naval Fighters. Fallbrook, California: Aero Publishers. ISBN 0-8168-9254-7.

 

Jones, Lloyd (1975). U.S. Fighters. Fallbrook, California: Aero Publishers. ISBN 0-8168-9200-8.

 

Heinemann, Edward H.; Rausa, Rosario (1980). Ed Heinemann - Combat Aircraft Designer. Annapolis, Maryland: Naval Institute Press. ISBN 0-87021-797-6.

 

Goebel, Greg. The Douglas F3D Skyknight. Vectorsite. Retrieved on 2005-10-19.
External links
Related content
Related development

Comparable aircraft

Designation sequence

Related lists

See also