C-124 Globemaster II
From PlaneSpottingWorld, for aviation fans everywhere
The Douglas C-124 Globemaster II, nicknamed "Old Shakey", was a heavy-lift cargo aircraft built by the Douglas Aircraft Company in Long Beach, California.
Development
The C-124 was developed from 1947 to 1949 by Douglas Aircraft from a prototype created from the WWII-design Douglas C-74 Globemaster and based on lessons learned in the Berlin Airlift. The aircraft was powered by four large Pratt & Whitney R-4360 piston engines producing 3,800 horsepower each. The C-124s design featured two large clamshell doors and a hydraulically-actuated ramp in the nose as well as a cargo elevator under the aft fuselage. The C-124 was capable of carrying 68,500 lb of cargo, and the 77 ft (23.5 m) cargo bay featured two overhead hoists, each capable of lifting 16,000 lb (7,000 kg). As a cargo hauler, it could carry tanks, guns, trucks and other heavy equipment, while in its passenger-carrying role it could carry 200 fully equipped troops on its double decks or 127 litter patients and their attendants. It was the only aircraft of its time capable of transporting heavy equipment such as tanks and bulldozers without prior disassembly.
The first flight of a C-124 took place on November 27, 1949. The C-124A was followed in service by the C-124C, which featured more-powerful engines as well as wingtip-mounted combustion heaters that provided cabin heating and wing and tail surface deicing, and an APS-42 weather radar in a distinctive nose "thimble." These latter improvements were eventually retrofitted to the C-124As.
Operational history
First deliveries of the 448 production aircraft began in May, 1950 and continued until 1955. The C-124 was operational during the Korean War and also used to assist supply operations for Operation Deep Freeze in Antarctica. They performed heavy lift cargo operations for the US military worldwide, including flights to Southeast Asia, Africa and elsewhere. From 1959 to 1961 they transported Thor missiles across the Atlantic to England. The C-124 was also used extensively during the Vietnam War.
The USAF Strategic Air Command had C-124 Globemasters in service from 1950 through 1962.
Most were passed to the Air National Guard and Air Force Reserve by 1970. The first ANG unit to receive the C-124C was the last Air Force unit to retire their aircraft (s/n 52-1066 & 53-0044) in September, 1974.
Units
Survivors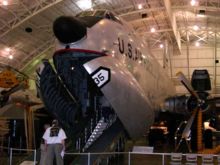 Specifications (C-124 Globemaster II)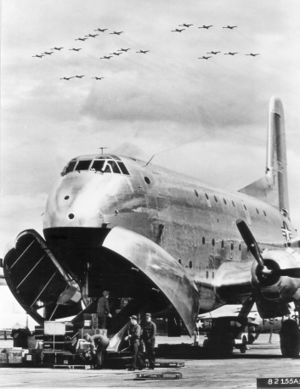 General characteristics
Crew: 6
Length: 130 ft (40 m)
Wingspan: 174 ft 1 in (53.06 m)
Height: 48 ft 4 in (14.7 m)
Wing area: 2,510 ft² (233.2 m²)
Empty weight: 100,000 lb (46,000 kg)
Loaded weight: 195,000 lb (88,000 kg)
Max takeoff weight: 216,000 lb (98,000 kg)
Powerplant: 4× Pratt & Whitney R-4360 "Wasp Major" radial engines, 3,800 hp (2,800 kW) each
Performance
Related content
Related development

Comparable aircraft

Designation sequence

Related lists

See also

de:Douglas C-124 fr:Douglas C-124 it:Douglas C-124 Globemaster II pt:Douglas C-124