FH Phantom
From PlaneSpottingWorld, for aviation fans everywhere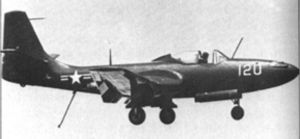 The McDonnell FH-1 Phantom was a twin-engine jet fighter aircraft designed and first flown during World War II for the United States Navy, before jet fighters by Grumman or North American. On July 21, 1946, a Phantom became the first combat jet aircraft to operate from an American aircraft carrier, the USS Franklin D. Roosevelt. The Phantom would be McDonnell's first successful fighter, earning the development of the follow-on F2H Banshee which would be one of the two most important naval jet fighters of the Korean War. The late 1950s Mach 2 F-4 Phantom II descendent would prove to be one of the most successful American fighter designs of all time, and set the pattern for the McDonnell Douglas / Boeing F-15 Eagle and Lockheed Martin F-22 Raptor.
In early 1943, McDonnell was invited by the U.S. Navy to cooperate in the development of a shipboard jet fighter, using an engine from the set turbojets under development by the Westinghouse Electric Corporation. Three prototypes were ordered on August 30, 1943 and the designation XFD-1 was assigned. Then, after evaluating a number of engine combinations, from using eight 9.5 inch (241 mm) diameter engines down to two engines of 19 inch (483 mm) diameter, a selection using the two 19 inch (483 mm) engines was found to be the lightest and simplest configuration.
An aircraft design with the engines buried in the wing root was selected to keep intake and exhaust ducts short, an arrangement that offered greater aerodynamic efficiency than underwing nacelles. Provisions for four 0.5 in (12.7 mm) machine guns were made in the nose. Adapting a jet to carrier use was a much greater challenge that producing a land based fighter because of slower landing and takeoff speeds required on a small carrier deck.
When the first XFD-1 was completed in January 1945 only one Westinghouse 19XB-2B engine was available for installation. Ground runs and taxi test were conducted with the single engine, and such was the confidence in the aircraft that the first flight on January 26, 1945 was made with only the one turbojet engine. With successful completion of tests, a production contract was awarded on March 7, 1945 for one hundred FD-1 aircraft. Later the designation was changed to FH-1 as the manufacturer's letter "D" had already been assigned to the Douglas Aircraft Company. (22 years later, long after the last FH had been delivered, McDonnell and Douglas would merge, forming McDonnell Douglas).
With the end of the war the number under contract was reduced to 60 aircraft and the first production aircraft was delivered in January 1947.
Operators
Specifications (FH Phantom)
General characteristics
Crew: One
Length: 38 ft 9 in (11.8 m)
Wingspan: 40 ft 9 in; 16 ft 3 in with folded wings (12.4 m / 5.0 m)
Height: 14 ft 2 in (4.3 m)
Loaded weight: 9,920 lb (4,500 kg)
Powerplant: 2× Westinghouse J30-WE-20 turbojets, 1,600 lbf (7 kN) each
Performance
Armament
References
William Green (1961). War Planes of the Second World War - Fighters, (Vol 4). London: MacDonald
Related content
Related development

Comparable aircraft

Related lists

See also

de:McDonnell FH-1 it:McDonnell FH-1 Phantom ja:FH-1 (戦闘機) pl:McDonnell FH-1 Phantom fi:FH-1 Phantom