Boeing XB-15
From PlaneSpottingWorld, for aviation fans everywhere
The Boeing XB-15 (Boeing 294) was a bomber aircraft first designed in 1934 as a test for the United States Army Air Corps to see if it was possible to build a heavy bomber with a 5,000 mile (8,000 km) range. It was originally designated the XBLR-1 (experimental bomber, long range). When it first flew, it was the most massive and most voluminous airplane ever built in the United States. It set a number of load-to-altitude records, including a 31,205-pound flight to 8,200 feet (July 30 1939).
The aircraft's immense size allowed for passages within the wing, which the crew could use to make minor repairs in flight. Due to the technology of the time, a 5,000 mile flight took several days; the crew was made up of several shifts, and bunks allowed them to sleep when off duty.

Development
The XB-15 was designed around liquid-cooled 1,000 hp (750 kW) engines. Unfortunately, these were not available, and 850 hp (637 kW) engines were used instead. These engines left the bomber significantly underpowered; its top speed of 200 mph (322 km/h) was far too slow for a combat aircraft, and the project was abandoned. Even without the improved defensive armament that would have been needed in service, the XB-15 had a maximum takeoff weight 5,000lbs greater than the later B-17G, but with a total engine output of 1,400 less horsepower.
No B-15s were put into service; the Army Air Corps converted the only prototype into a transport designated the XC-105, which carried freight around the Caribbean during the war. The sole XC-105 was scrapped in Panama in 1945.
Technological achievements
Despite its cancellation, the XB-15 did feature a number of significant innovations:
De-icing equipment
Auxiliary power units independent of the main engines to power the electrical system
Engines serviceable in flight using an access tunnel inside the wing
Double-wheel main landing gear.
Units using the XB-15
Specifications (XB-15)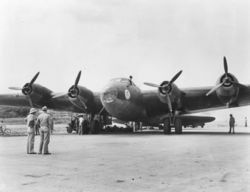 General characteristics
Crew: 10
Length: 87 ft 7 in (32.6 m)
Wingspan: 149 ft 0 in (45.5 m)
Height: 18 ft 0 in (5.5 m)
Wing area: 2,780 ft² (258 m²)
Empty weight: 65,000 lb (30,000 kg)
Loaded weight: 69,000 lb (31,000 kg)
Max takeoff weight: 77,000 lb (37,000 kg)
Powerplant: 4× 14-cylinder Pratt & Whitney R-1830-11 radial engines, 850 hp (640 kW) each
Performance
Maximum speed: 200 mph (170 knots, 320 km/h)
Cruise speed: 152 mph (132 knots, 245 km/h)
Combat radius: 3,400 mi (3,000 nm, 5,500 km)
Ferry range: 5,130 mi (4,460 nm, 8,250 km)
Service ceiling: 18,900 ft (7,830 m)
Rate of climb: 670 ft/min (3.4 m/s)
Wing loading: 25 lb/ft² (120 kg/m²)
Power/mass: 0.049 hp/lb (81 W/kg)
Armament
Guns:


3× .30 in (7.62 mm) machine guns
3× .50 in (12.7 mm) machine guns

Bombs: 12,000 lb (5,400 kg)
External links
Related content
Related development

Comparable aircraft

Designation sequence

Related lists