Antonov An-124
From PlaneSpottingWorld, for aviation fans everywhere
The Antonov An-124 Ruslan (NATO reporting name: Condor) is the largest aircraft ever mass produced, and was, until the advent of the An-225 Mriya, the largest aircraft in production. During development it was known as the An-400 and An-40 in the West, and it flew for the first time in 1982. Over forty are currently in service (26 civilian models with airlines and 10 firm orders at August 2006)[1] in Russia, Ukraine, UAE, Libya, and Ireland.
Physically, the An-124 is similar to the American Lockheed C-5 Galaxy, but is slightly larger. An-124s have been used to carry locomotives, yachts, aircraft fuselages, and a variety of other oversized cargoes. The An-124 is able to kneel to allow easier front loading. Up to 150 tonnes of cargo can be carried in a military An-124: it can also carry 88 passengers in an upper deck behind the cockpit. However, due to limited pressurization in the fuselage, it seldom carries paratroopers.[2]
An-124 was manufactured by Russian company Aviastar (ex. Ulyanovsk Aviation Industrial Complex) and Antonov in Ukraine. Series production ceased with the break up of the Soviet Union. Several unfinished airframes left from the Soviet times were completed in the late nineties. While currently no An-124 are being produced - there are joint effort of Russia and Ukraine to resume series production in 2008-2009.[3]
Since the type was initially designed for only occasional military use, original An-124s were built with a projected service life of 7,500 flight hours with possibility for extension. However many airframes have flown more than 15,000 flight hours. In response to complaints by commercial users, aircraft built after 2000 (the An-124-100) have an improved service life of 24,000 hours, older airframes are being upgraded to this standard. The works on its extension up to 40000 flight hours are being performed. The state enterprise Kyiv Aviation Plant AVIANT (Kiev, Ukraine) offers upgrades to the АN-124-100М-150 version.
Service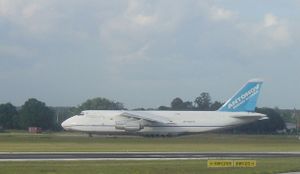 Germany led the recent effort to lease An-124s for NATO strategic airlift requirements. Two aircraft are leased from SALIS GmbH as a stopgap until the Airbus A400M is available.[4]
Russian cargo company Volga-Dnepr has contracts with Boeing to ship outsize aircraft components to their Everett plant. The An-124 is the only means of airlifting (in fully assembled form) the massive General Electric GE90 turbofan engines used in the Boeing 777 airliner.
Airbus Transport International has selected another Russian cargo company, Polet Airlines as 'designated carrier' to the company. Polet expects its three An-124-100s will transport astronautic equipment manufactured by EADS, which owns 80 percent of Airbus and full-size components of a model of the Airbus A380 superjumbo.[5] As the Rolls-Royce Trent 900 is the only A380 engine that can be transported whole in a Boeing 747F[6], the competing Engine Alliance GP7200 needs a larger aircraft, like the An-124, if it is to be shipped in one piece.
Significant activities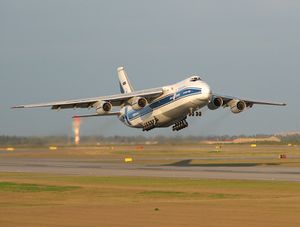 On May 1987, an An-124 set a world record, covering the distance of 20,151 km without refuelling. The flight took 25 hours and 30 minutes; the takeoff weight was 455,000 kg. The previous record was held by B-52H (18,245 km).
In July 1985, an An-124 took 171,219 kg of cargo to an altitude of 10,750 m.
An An-124 was used to transport the Obelisk of Axum back to its native homeland of Ethiopia in April of 2005. The shipment was done in three trips, each carrying a third of the monument's 160 tons and 24-metre (78 ft) length. Modifications were done to the airstrip at Axum in order to accommodate such a large aircraft.
An An-124 was used to transport an EP-3E Aries II electronic intelligence aircraft from Hainan Island, China on July 4, 2001 during the U.S.-China spy plane incident.
A 109-tonne train locomotive was transported by an An-124 from Canada to Ireland in September 2001.[7]
A Volga-Dnepr An-124 delivered a whale from Nice (France) to Japan; another flight was to deliver an elephant from Moscow to Taiwan.[8]
On September 9 2003, an Antonov An-124 carried an 85-ton vessel head to Harrisburg International Airport in Pennsylvania, for use at the nearby Three Mile Island Unit One nuclear power plant.
Safety record
As of 2005 there have been four major crashes of An-124s, with a total of 50 fatalities, taking place between 1992 and 1997:
Minor incidents of An-124s include:
UR-82029, owned by Antonov Airlines overran the runway at Windsor, Ontario while landing at night and in snow on December 18 2000. It stopped 340 feet beyond the runway after landing some 3400 feet beyond the threshold of runway 25, which is 7850 feet long. None of the 20 crew were injured, and the plane suffered minor damage.[10]
Operators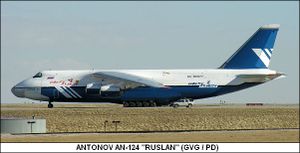 Military
Civil
In August 2006 a total of 26 Antonov An-124 aircraft remain in airline service, with a further 10 firm orders. It is currently operated by:
Former Operators
Flight Range
An-124-100
0 tons of cargo = 15,000 km [11]
10 tons of cargo = 14,125 km
20 tons of cargo = 13,250 km
30 tons of cargo = 12,375 km
40 tons of cargo = 11,500 km
72 tons of cargo = 8,700 km
90 tons of cargo = 7,125 km
97 tons of cargo = 6,495 km
104 tons of cargo = 5,900 km
108 tons of cargo = 5,550 km
120 tons of cargo = 4,500 km
122 tons of cargo = 4,325 km
Source: http://www.voldn.ru/
АN-124-100М-150
92 tons of cargo = 7,500 km
113 tons of cargo = 5,925 km
120 tons of cargo = 5,400 km
122 tons of cargo = 5,250 km
Flight range comparison with other aircraft
Specifications

Data from antonov.com[12]
General characteristics
Crew: 6
Capacity: 88 passengers
Payload: 150,000 kg (330,000 lb)
Length: 68.96 m (226 ft 3 in)
Wingspan: 73.3 m (240 ft 5 in)
Height: 20.78 m (68 ft 2 in)
Wing area: 628 m² (6,760 ft²)
Empty weight: 175,000 kg (385,000 lb)
Loaded weight: 229,000 kg (505,000 lb)
Useful load: 230,000 kg (508,000 lb)
Max takeoff weight: 405,000 kg (893,000 lb)
Powerplant: 4× Lotarev D-18 turbofans, 230 kN (51,600 lbf) each
Performance
References
↑ 1.0 1.1 Flight International, 3-9 October 2006
↑ Phillips, CPT W. Scott (1999-08-31). Fixed-Wing Aircraft. Federation of American Scientists Military Analysis Network.
↑ "Antonov plan to resume An-124-100 production", podrobnosti.ua, 2006-07-19. Retrieved on 2007-01-21. (in Russian)
↑ "Strategic airlift agreement enters into force", NATO Update, 2006-03-23.
↑ "Airbus Taps Russian Carrier", Kommersant, 2005-11-25.
↑ "The first flying train in history", The HeavyLift Group, 2001-09-03.
↑ press release 14-10-2004. Volga-Dnepr Group (2004-10-14).
↑

www.voldn.ru

↑ www.antonov.com. Official Antonov website.
External links
Related content
Related development

Comparable aircraft

Designation sequence

Related lists

See also
Template:Antonov aircraft
bg:Антонов Ан-124 Руслан de:Antonow An-124 eo:Antonov An-124 fr:Antonov An-124 it:Antonov An-124 Ruslan nl:Antonov An-124 ja:An-124 (輸送機) no:Antonov An-124 pl:An-124 Rusłan ru:Ан-124 sl:Antonov An-124 Ruslan fi:Antonov An-124 sv:Antonov An-124 uk:Ан-124 zh:An-124運輸機