EP-3E Aries II
From PlaneSpottingWorld, for aviation fans everywhere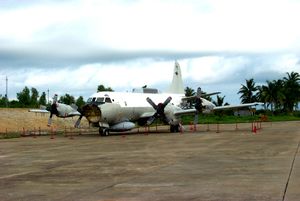 The Lockheed EP-3E ARIES II is the signals reconnaissance version of the P-3C Orion, operated by the United States Navy. There are 11 EP-3Es in the Navy's inventory, the last of which was delivered in 1997. A total of 12 P-3C aircraft were converted to replace older versions of the aircraft, which had been converted in the late 1960s and early 1970s.
From 1960 to 1991, the squadrons that flew the EP-3E also flew the Douglas EA-3B Skywarrior Seawing.
General Characteristics
Primary Function: Signals Intelligence (SIGINT) reconnaissance aircraft
Contractor: Lockheed Martin Aeronautical Systems Company
Unit Cost: $36 million
Propulsion: Four Allison T-56-A-14 turboprop engines with 4,600 shaft horsepower (3,450 kW) each
Length: 116 ft 7 in (35.57 m)
Wingspan: 99 ft 6 in (30.36 m)
Height: 33 ft 7 in (10.27 m)
Weight: Max gross take-off: 142,000 pounds (64,545 kg)
Speed: maximum - 311 knots; cruise - 228 knots
Ceiling: 28,300 feet (8,600 m)
Range: Maximum mission radius - 2,380 nautical miles (2,738.9 miles, 4,400 km); for three hours on station @1,500 feet (500 m) - 1,346 nautical miles (1,549 miles, 2,500 km)
Crew: 22+
Only 2 squadrons in the entire Navy fly these: VQ-1 and VQ-2. Both are currently home ported in Whidbey Island, WA. Until recently, VQ-2 was located in Rota, Spain.
China Incident
On April 1, 2001, an EP-3E was intercepted by Chinese J-8 fighter jets about 70 miles (110 km) off the Chinese island of Hainan. Though the EP-3 was clearly in international airspace, the Chinese later claimed that it was spying on Chinese military facilities. One of the Chinese jets bumped the wing of the EP-3E, which was forced to make an emergency landing on Hainan. The Chinese jet was destroyed upon impact. The Chinese pilot, Wang Wei, was missing and presumed dead following the incident.
The crew of 24 were detained and later released on April 11 after the U.S. issued the letter of the two sorries. The Chinese prohibited the repair of the plane so that it could be flown back out, and instead it was airlifted to Dobbins Air Force Base in Georgia on July 3, 2001, using a Antonov An-124.
Operators