Airbus A330
From PlaneSpottingWorld, for aviation fans everywhere
The Airbus A330 is a large-capacity, wide-body, medium-to-long-range commercial passenger airliner manufactured by EADS (Airbus S.A.S.). It was developed at the same time as the four-engined A340.
History
Airbus intended the A330 to compete directly in the ETOPS (Extended-range Twin-engine Operation Performance Standards) market, specifically with the Boeing 767.
The A330's fuselage and wings are virtually identical to those of the smaller A340 variants, although it has different engines. The A330 basic fuselage design is inherited from the Airbus A300, as is the nose/cockpit section and the fly-by-wire system and flightdeck from the A320. Both the A330 and A340 are assembled on the same final assembly line at Toulouse-Blagnac, France.
By the end of October 2006 a total of 595 A330 had been ordered and 437 delivered.
Variants
There are two variants of the A330. The A330-300 was launched in 1987 with introduction into service in 1993. The A330-200 was launched in 1995 with introduction into service in 1998.
A330-200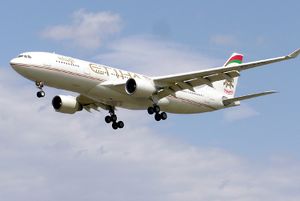 The A330-200 was developed to compete with the Boeing 767-300ER. The A330-200 is similar to the A340-200 or a shortened version of the A330-300. With poor sales of the A340-200 (of which only 28 were built), Airbus decided to use the fuselage of the A340-200 with the wings and engines of the A330-300. This significantly improved the economics of the plane and made the model more popular than the four-engined variant.
Its vertical fin is taller than that of the A330-300 to restore its effectiveness due to the fuselage shrink. It has additional fuel capacity and, like the A330-300, has a MTOW of 233 tonnes. Typical range with 253 passengers in a three-class configuration is 12,500 km (6,750 nautical miles).
Power is provided by two General Electric CF6-80E, Pratt & Whitney PW4000 or Rolls-Royce Trent 700 engines. All engines are ETOPS-180 min rated. First customer deliveries, to ILFC/Canada 3000, were in April 1998.
The A330-200 has sold strongly since its launch, outselling the Boeing 767 by 23 to 9 in 2004. As a result, Boeing has asked both Rolls Royce and GE to design engines that enable the 787 Dreamliner to be 15% more economical than the A330-200.
The direct Boeing equivalent was originally the 767-400ER and in the future will be the 787-9.
A330-200F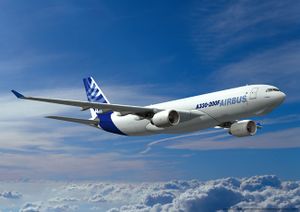 Due to flagging A300-600F and A310F sales, Airbus first began marketing a freighter derivative of the A330-200 around 2000-2001, although it was not launched at this time.[1] The A330-200F re-emerged at the 2006 Farnborough Air Show and received its industrial go-ahead in January 2007. Entry into service is planned for the second half of 2009.
The A330-200F is a mid-size, long-haul all-cargo aircraft capable of carrying 64 tonnes over 4,000nm / 7,400 km, or 69 tonnes up to 3,200nm / 5,930 km. It introduces a new versatile main-deck cargo loading system that will be able to accommodate both pallets and containers. Several different arrangements will be possible on the main deck, taking up to 23 Side-by-Side (SBS) pallets, aimed at the high volume, high value commodities or Single Row (SR) loading of 16 pallets (96"x 96"x125" SR pallets) and/or nine AMA containers aimed at the general cargo higher density markets.
To overcome the standard A330's nose-down body angle on the ground, the A330F will make use of a revised nose landing gear layout. The same leg will be used, however it will be attached lower in the fuselage, requiring a distinctive blister fairing on the nose to accommodate the retracted nosegear.
Airbus has so far secured commitments for 40 aircraft from five customers: Intrepid Aviation Group, Guggenheim Aviation Partners, Flyington Freighters, Avion Aircraft Trading and MNG Airlines. Deliveries will begin in late 2009[2].
The closest Boeing equivalents are the 767-300F and the MD-8 and DC-10 freighters.
A330 MRTT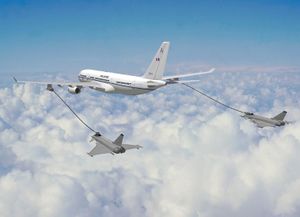 The Airbus A330 MRTT version of the A330-200 provides aerial refueling and strategic transport. To date it has been selected by Australia and the UK.
The KC-30, a derivative of the A330 similar to the MRTT, is in the running to land a contract from the United States Air Force for perhaps up to 600 tankers to replace the aging KC-135 and KC-10 fleet. EADS is teamed with Northrop Grumman for the bid. If the contract is won, it will require EADS to invest approximately US$600 million in an assembly plant in the United States. The competing KC-767 won the original competition in 2002 however this contract was cancelled, due to a corruption scandal, in December 2003. In the new competition Airbus will face competition from both the KC-767 and a new tanker variant of the Boeing 777.
In early 2006 the United States Congress passed a defence bill which reverses an earlier amendment which barred Airbus from bidding for the contract.[3]
To support the possible USAF contract, Airbus has announced that it will create an engineering and manufacturing site at Mobile, Alabama.
A330-300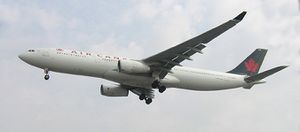 The A330-300, which entered service in 1993, was developed as replacement for the A300. It is based on a stretched A300-600 fuselage but with new wings, stabilisers and new fly-by-wire software.
The A330-300 carries 295 passengers in a three-class cabin layout (335 in 2 class and 440 in single class) over a range of 10,500 km (5,650 nautical miles). It has a large cargo capacity, comparable to early Boeing 747s. Some airlines run overnight cargo-only flights after daytime passenger services.
It is powered by two General Electric CF6-80E, Pratt & Whitney PW4000 or Rolls-Royce Trent 700 engines, all of which are ETOPS-180 min rated. US Airways was the launch customer in the United States with nine A330-300s.
The direct Boeing equivalent is the Boeing 777-200.
Specifications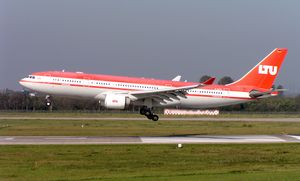 Aircraft dimensions
A330-200
A330-300
Overall length
58.8 m
63.6 m
Height (to top of horizontal tail)
17.40 m
16.85 m
Fuselage diameter
5.64 m
Maximum cabin width
5.28 m
Cabin length
45.0 m
50.35 m
Wingspan (geometric)
60.3 m
Wing area (reference)
361.6 m²
Wing sweep (25% chord)
30 degrees
Wheelbase
22.2 m
25.6 m
Wheel track
10.69 m
Basic operating data
Engines
two CF6-80E1 or PW4000 or RR Trent 700
Engine thrust range
303-320 kN
Typical passenger seating
253 (3-class) / 293 (2-class)
295 (3-class) / 335 (2-class)
Range (w/max. passengers)
12,500 km
10,500 km
Max. operating Mach number
0.86 M
Takeoff run at MTOW
2,220 metres
2,500 metres
Bulk hold volume (Standard/option)
19.7 / 13.76 m³
Design weights
Maximum ramp weight
230.9 (233.9 ) t
Maximum takeoff weight
230 (233) t
Maximum landing weight
180 (182) t
185 (187) t
Maximum zero fuel weight
168 (170) t
173 (175) t
Maximum fuel capacity
139,100 l
97,170 l
Typical operating weight empty
119.6 t
122.2 (124.5) t
Typical volumetric payload
36.4 t
45.9 t
A330 Deliveries
| 2007 | 2006 | 2005 | 2004 | 2003 | 2002 | 2001 | 2000 | 1999 | 1998 | 1997 | 1996 | 1995 | 1994 | 1993 | 1992 | 1991 |
| --- | --- | --- | --- | --- | --- | --- | --- | --- | --- | --- | --- | --- | --- | --- | --- | --- |
| 0 | 62 | 56 | 47 | 31 | 42 | 35 | 43 | 44 | 23 | 14 | 10 | 30 | 9 | 1 | 0 | 0 |
Incidents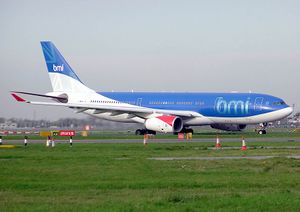 (As of 2005)
Hull-loss Accidents: 1 with a total of 7 fatalities
Other occurrences: 4 with a total of 0 fatalities

On 24 July 2001, 2 SriLankan Airlines A330-243s were destroyed on the ground by Tamil Tiger guerillas at Colombo's Bandaranaike International Airport, Sri Lanka, along with an Airbus A320-200, an Airbus A340-300 and a squadron of military aircraft. Another two planes, an A320 and an A340 were also damaged but have since been repaired.[4]
On 24 August 2001, Air Transat, Flight 236, an A330-243, performed the world's longest recorded glide with a jet airliner after suffering fuel exhaustion over the Atlantic Ocean. Human error and lack of automated computer checks stopped the crew from realizing the cause of fuel imbalance was leakage via a broken fuel pipe caused by poor maintenance. The plane flew powerless for half an hour and covered 65 nautical miles (120 km) to an emergency landing in the Azores (Portugal). No one was hurt, but the aircraft suffered some structural damage and blown tires. The airplane, registration C-GITS, is still flown by Air Transat today.
On 18 July 2003, B-HYA, a Dragonair A330-342 encountered severe turbulence associated with Tropical Depression Koni over the South China Sea, during the flight KA060 from Kota Kinabalu to Hong Kong. 12 crew members and 3 passengers were injured, of which 2 crew members sustained serious injuries, but there were no fatalities. The aircraft landed safely at Hong Kong International Airport.
Accident investigation report of B-HYA accident issued by Civil Aiviation Department, Hong Kong SAR
On 17 February 2007 a Novair A330-200 made an emergency landing in an airport in the United Arab Emirates. The plane was flying from Phuket, Thailand to Copenhagen, Denmark with, mainly, Danish passengers. After takeoff from a scheduled intermediate landing in Dubai, the captain felt some strange vibrations in one of the engines and decided to shut it down. The landing went smooth and no one was injured.

Hijackings: 2 with a total of 1 fatality.
Trivia
Air Transat places more seats in the A330-200 than they do on their A330-300. 363 seats in -200, 362 in -300
External links
References
Related content

Related development

Comparable aircraft

Related lists

See also

ca:Airbus A330 cs:Airbus A330 da:Airbus A330 de:Airbus A330 es:Airbus A330 fr:Airbus A330 gl:Airbus A330 id:Airbus A330 it:Airbus A330 he:איירבוס A330 hu:Airbus A330 ms:Airbus A330 nl:Airbus A330 ja:エアバスA330 no:Airbus A330 pl:Airbus A330 pt:Airbus A330 ru:Airbus A330 sk:Airbus A330 sr:Ербас А330 sv:Airbus A330 tr:Airbus A330 zh:空中客车A330