Airbus A350
From PlaneSpottingWorld, for aviation fans everywhere
"A350" redirects here. For the road, see A350 road.
The Airbus A350 is a long-range, mid-sized, widebody family of airliners currently under development, designed to compete with the Boeing 777 and 787. The A350 will compete with Airbus' own A330 and A340, although there are no announced plans to discontinue those models.
Overview
There are five aircraft in the proposed family:
The A350 will have a fuselage cross-section wider than the original A350 (see History) which used the existing Airbus widebody standard. Airbus refers to this as "XWB" or "Xtra Wide Body" and states that from the point of view of a seated passenger, the cabin is 5 inches wider at eye level than the competing Boeing 787. The 777's fuselage is 10 inches wider than the XWB's, allowing an extra passenger seat in each row. All A350 XWB passenger models will have a range of at least 8,300 nautical miles.
The aircraft will have a cruising speed of approximately Mach 0.85, similar to its Boeing 787 competitor, and Airbus claims that its maintenance costs will be 10% lower than for the 787. The A350 will have a common cockpit with the Airbus A380. Airbus also claims that the A350-900 will have fuel consumption per seat 7% lower than the Boeing 787-9. However, Boeing argues that A350-900 should be compared against Boeing 787-10, which have similar seats and range. A350 is to have large windows and will be pressurised to 6,000 feet or lower with a cabin air humidity of at least 20%.
The Airbus board of directors approved the industrial launch of the A350 in December 2006 . The XWB will impose a couple of years of delay into the original timetable and almost doubling development costs from $5.3 billion to approximately $10 billion.[1][2]
History
Origins
When Boeing announced their 7E7 Dreamliner project (now known as the 787), they claimed lower operating costs of this airplane would make it a serious threat to Airbus' A330. Airbus initially rejected this claim, stating that the 787 was itself just a reaction to the A330, and that no response was needed to the 787.
The airlines pushed Airbus to provide a competitor, as Boeing had committed the 787 to have 20% lower fuel consumption than the A330. Initially Airbus proposed a simple derivative of the A330, dubbed the A330-200Lite, with improved aerodynamics and engines. The airlines were not satisfied and Airbus committed €4 billion to a new design to be called the A350. The original version of the A350 superficially resembled the A330 due to its common fuselage assembly. A new wing, engines and a horizontal stabilizer were to be coupled with new composite materials and production methods applied to the fuselage to make the A350 an almost all-new aircraft.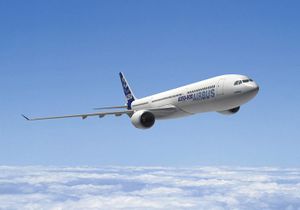 On 16 September 2004, then Airbus president and CEO Noël Forgeard confirmed that a new project was under consideration, but did not give a project name, and would not state whether it would be an entirely new design or a modification of an existing product. Forgeard indicated that Airbus would finalise its concept by the end of 2004, begin consulting with airlines in early 2005, and aim to launch the new development programme at the end of that year.
On 10 December 2004 the boards of EADS and BAE Systems, then the shareholders of Airbus, gave Airbus an "authorisation to offer (ATO)", and formally named it the A350.[3]
On 6 October 2005 full industrial launch of the program was announced with an estimated development cost of around € 3.5 billion. This version of the A350 was planned to be a 250–300-seat twin-engined widebody aircraft derived from the design of the existing A330. Under this plan, the A350 would have modified wings and new engines while sharing the same fuselage cross-section as its predecessor. It was to see entry into service in 2010 in two versions; the A350-800 capable of flying 8,800 nautical miles (16,300 km) with typical passenger capacity of 253 in 3-class configuration and the 300-seat (3-class) A350-900 with 7,500 nautical mile (13,890 km) range. It was designed to be a direct competitor to the 787-9, the proposed 787-10 and 777-200ER.
Criticisms
Airbus faced criticism on the A350 project by the heads of two of its largest customers, ILFC and GECAS. On 28 March 2006, in the presence of hundreds of top airline executives, Steven F. Udvar-Hazy, of ILFC lambasted Airbus' strategy in bringing to market what they saw as "a Band-aid reaction to the 787," a sentiment which was echoed by GECAS president Henry Hubschman. Udvar-Hazy called on Airbus to bring a clean-sheet design to the table, or risk losing most of the market to Boeing.[4][5]
Several days later, similar comments were made by Chew Choon Seng, CEO of Singapore Airlines. Chew stated, "having gone to the trouble of designing a new wing, tail, cockpit" and adding advanced new materials, Airbus "should have gone the whole hog and designed a new fuselage."[6] At the time, Singapore was reviewing bids for the 787 and A350.
Airbus responded by stating it was considering improvements for the A350 to satisfy customer demands.[7] At the same time, Airbus then-CEO Gustav Humbert suggested that there would be no quick fixes, stating, "Our strategy isn't driven by the needs of the next one or two campaigns, but rather by a long-term view of the market and our ability to deliver on our promises."[8]
On 14 June 2006, Singapore Airlines announced it had selected the 787 over the A350, ordering 20 787-9s.[9] Emirates decided against making an order for the A350 because of weaknesses in the design.[10]
XWB
As a result of these criticisms, in mid-2006 Airbus undertook a major review of the A350 concept. The proposed new A350 was to become more of a competitor to the larger Boeing 777 as well as the Boeing 787, with a larger fuselage cross-section able to accommodate 8 or 9 passengers per row in economy class. The A330 and previous iterations of the A350 would only be able to accommodate 8 passengers per row in normal configurations. The 787 can also accommodate 8 or 9 passengers per row, while the 777 can accommodate 9 or 10 passengers per row. There was some speculation that the revised aircraft would be called the Airbus A370 or A280, with Airbus going as far as accidentally publishing an advert referring to the aircraft as the "A280" on the Financial Times. website. However, on 17 July 2006, at the Farnborough Air Show, Airbus announced that the redesigned aircraft would be called A350 XWB (i.e. Xtra Wide Body).
The current information Airbus has released shows a family of all-new aircraft, with a larger diameter fuselage than that of the 787. The twin-aisle aircraft will seat economy class passengers 8 or 9 abreast, rather than just the 8 proposed for the original A350. Airbus intends for the A350 XWB to compete with both the Boeing 787 and its larger cousin, the Boeing 777.
Airbus achieved its first sale of the redesigned A350 four days after its unveiling when Singapore Airlines announced an order for 20 A350 XWBs with options of a further 20. Its CEO, Chew Choon Seng, said in a statement, that "it is heartening that Airbus has listened to customer airlines and has come up with a totally new design for the A350." [11]
Late in 2006 a decision on formal launch was delayed as a result of delays of the Airbus A380.[12] and wrangles about how the development would be funded. EADS CEO Thomas Enders stated that the A350 program was not a certainty, citing EADS/Airbus' stretched resources.[13][14] On 1 December 2006 the EADS board agreed the industrial launch of the sixth iteration[15] A350 with costs mainly borne out of cash-flow. First delivery for the -900 is scheduled for mid-2013, with the -800 and -1000 following on, respectively, 12 and 24 months later.[16] At a press conference 4 December 2006 a few new technical details of the A350XWB design were revealed, but no new customers were identified and John Leahy indicated existing A350 contracts were under re-negotiation due to increases in prices compared to the original A350s contracted.
On 4 January 2007, Airbus announced that Pegasus Aviation Finance Company had placed the first firm order for the A350 XWB with an order for two aircraft, though the variants were unspecified at the time.[17] It is expected that Singapore Airlines will convert their letter of intent signed at Farnborough Air Show into a firm order sometime in the first 2 months of 2007.
Technology
The A350 features composite wings, rear fuselage and fuselage skin (with aluminium ribs), new engines, new landing gear and many new systems compared to the A330. It builds on the technologies developed for A380 and has a similar cockpit layout. 52% of the aircraft will be made out of composites, 20% Al/Al-Li, 14% titanium, 7% steel and 7% the balance. [18]
Engines
Airbus has confirmed that they will retain a full bleed air system on their engines[19], departing from the bleedless configuration of the 787. Rolls-Royce has agreed with Airbus to supply a new variant of the Trent engine for the A350 XWB, currently called the Trent XWB, which will have a static thrust of 75000-95000 lbf.
General Electric had confirmed that the A350-800 would be offered with a variant of the GEnx engine, and was in talks with Airbus about offering it on the A350-900. The A350-1000 will not be offered with GEnx engines. More recently, GE has talked about offering a variant of the Engine Alliance GP7200 instead of the GEnx. [20]
Fuselage
The A350 will have a constant cross-section from door 1 to door 4, unlike previous Airbus aircraft. This is to provide maximum usable volume. John Leahy refers to the old design as "Airbus taper". In another change from the earlier A350 the fuselage is to be ovoid rather than circular.
Although Airbus previously suggested Boeing's use of composite materials for the 787 fuselage was premature, and that the A350's would be made from aluminium-lithium, the A350XWB is to have a composite main fuselage skin on an Al/Al-Li frame. This differs slightly from the 787 design which uses ovoid skin barrels on titanium ribs.[18]
Airbus has yet to decide whether the forward fuselage and cockpit will be made from Al/Al-Li or a one-piece composite structure, like the rear fuselage.
Other
Airbus had signed a firm contract with BMW to have them develop an interior concept for the original A350.[21]
There was a precedent for updating an older airliner to compete with a newer offering. Boeing updated their 737 product which resulted in the Next Generation 737 (737NG) in order to achieve similar operating costs to Airbus' A320 series. However with the A350 XWB Airbus has now decided to produce an all-new aircraft rather than an updated version of an existing aircraft.
Politics
The A350 project comes in the middle of a trade dispute between the U.S. and the EU about government support for Boeing and Airbus. An agreement dating back from 1992 and rules laid down by the World Trade Organization govern what are allowable government subsidies to aircraft manufacturers. The U.S. contends loans given to Airbus under favorable conditions by European governments violate these rules, and has filed a complaint with the WTO. The EU has responded by filing its own complaint about alleged subsidies received by Boeing for the development of the 787 and previous aircraft, and cross-subsidies from military projects. For more on the subsidy dispute see the Airbus, Boeing and 787 entries.
Orders
Airbus signed its first customer for the A350 in December 2004; Air Europa, a Spanish airline, will receive 10 A350-800s for use on its routes to Latin America and the Far East. The order from US Airways was subject to its merger with America West and includes a loan of $250 million to the new group from Airbus. [22]
Originally, the A350 was to debut in 2010. Changes to the cockpit configuration resulted in a revenue service start date of 2011.[23] The complete redesign which has resulted in the A350 XWB version has now pushed target entry into service to mid-2013.
The entry-into-service dates in the table below do not reflect the new delays to the programme.
Entries shaded in pink have been announced, but have not yet signed a firm contract.
* It is not certain that the ILFC follow-on order reduced options to 4 from original 8.
** It is not known if the GEnx will still be offered on the XWB (see the Engines section for more info).
Specifications
The cabin of the A350 will be 3,4 & 5 inches wider than the Boeing 787 at armrest, shoulder & eye level respectively.[24] The 777 cabin is larger.
A350 XWB
By comparison
-800 [18]
-900 [11]
-1000
-900R[25]
-900F
787-9
787-10 [26]

777-300ER[27]

777-200LR

777-200F
Length
60.5 m
66.8 m
73.8 m
66.8 m
63.0 m
68.9 m
73.9 m
63.7 m
Height
16.9 m
16.5 m
17.0 m
18.7 m
18.8 m
18.6 m
Wingspan
64.0 m
60.0 m
60.1 m
64.8 m
Wing sweep
35° [28]
32.2°
31.64°
Cross section
5.91 m
5.74 m
6.19 m
Passengers (3cl)
270
314
350
310
90t cargo
263
310[29]
365
301
103t cargo
LD3 containers
26
36
44
36
36
44
32
MTOW (t)
245
265
295
244.94
272.15
351.534
347.452
347.450
Max landing (t)
182.5
202.5
225.5
183.7
197.3
Empty weight (t)
115.3
125
167.8
145.2
Max fuel (l)
150,000
138,700
145,000
181,280
202,287
181,280
Cruise speed (M)
0.85
0.85
0.84
Max speed (M)
0.89
0.89
Thrust (lb) (x 2)
75,000
87,000
95,000
68,000
88,200
115,300
Engines
RR Trent XWB
or GE GEnx*
RR Trent XWB
RR Trent 1000
or GE GEnx
GE90-115B
GE90-110B
Range
8,500 nm
15,730 km
8,400 nm
15,540 km
8,300 nm
15,360 km
9,500 nm
17,600 km
5,000 nm
9,250 km
8,500 nm
15,750 km
7,500 nm[29]
13,890 km
7,900 nm
14,630 km
9,420 nm
17,445 km
4,990 nm
9,065 km
Price
$189M
$215M
$242M
TBA
TBA
$178.5M
TBA
$219M
$237M
$232.5M
*Currently unconfirmed as Airbus is still in talks with General Electric and others about an alternate engine for the A350 XWB.
References
↑ "Airplane kingpins tell Airbus: Overhaul A350." Gates, D. Seattle Post-Intelligencer. 29 March 2006.
↑ "Redesigning the A350: Airbus' tough choice." Hamilton, S., Leeham Company.
↑ "Singapore Airlines Says Airbus Needs to Make A350 Improvements." Michaels, D. and Lunsford, J. L. The Wall Street Journal. 7 April 2006.
↑ "Criticism prompts Airbus to study options, CEO says." Rothman, A. Bloomberg News. 11 April 2006.
↑ Singapore Airlines 787 Dreamliner Announcement Press release
↑ "Pressure mounts following attack by Emirates." Brierley, D. The Independent. 18 June 2006.
↑ "A380 delay puts brakes on A350 XWB formal launch at Airbus." Norris, G.; Kingsley-Jones, M. Flight International. 10 October 2006.
↑ "Airbus May Stop Work on Its A350 Plane, FT Deutschland Says." Dinkloh, P. Bloomberg. 2006-10-05.
↑ "Airbus CEO Streiff says A350 programme essential, but EADS board to decide." Forbes. 5 October 2006.
↑ "Airbus Gets OK to Compete with Boeing 787." Chicago Sun-Times via Aircraft Maintenance Technology. 21 December 2006.
↑ EADS Airbus (2006-12-01). A350 XWB Family receives industrial go-ahead. Press release. Retrieved on 2006-12-01.
↑ EADS Airbus (2007-01-04). Pegasus Aviation Finance Company orders two A350XWB and six A330-200s. Press release. Retrieved on 2007-01-10.
↑ 18.0 18.1 18.2 Airbus's A350 vision takes shape Flight International Cite error: Invalid <ref> tag; name "Airbus's A350 vision takes shape" defined multiple times with different content Cite error: Invalid <ref> tag; name "Airbus's A350 vision takes shape" defined multiple times with different content
↑ "Airbus Unveils A350 XWB." Steinke, S. Flug Revue. September, 2006.
↑ "GE/Pratt & Whitney Engine Alliance makes bid to power revamped Airbus A350" Flight International 8 May 2006
↑ "America West Holdings Corporation and US Airways Group, Inc. to Merge." US Airways/America West Airlines press release.
↑ "Cockpit switch set to delay Airbus A350 three years behind Boeing 787." Flight International. 28 February 2006.
↑ Taking the lead: The A350 XWB. www.eads.com
↑ Airbus goes for extra width - A350 XWB special report. Flight International
↑ Boeing 777 Technical Specification. www.boeing.com
↑ Why new wing is key - A350 XWB. Flight International
↑ 29.0 29.1 Boeing admits 787-10 could face pressure. Flight International
External links
Related content

Related development

Comparable aircraft

Related lists

See also

da:Airbus A350 de:Airbus A350 et:Airbus A350 es:Airbus A350 fr:Airbus A350 gl:Airbus A350 it:Airbus A350 nl:Airbus A350 ja:エアバスA350 no:Airbus A350 pt:Airbus A350 sr:Ербас А350 fi:Airbus A350 sv:Airbus A350 vi:Airbus A350 zh:空中客车A350