PlaneSpottingWorld welcomes all new members! Please gives your ideas at the Terminal.
Douglas XP-48
From PlaneSpottingWorld, for aviation fans everywhere
The Douglas XP-48 was a small lightweight fighter designed in 1939. Intended to be powered by a Ranger SGV-770 engine, the contract was cancelled before construction of a prototype could begin due to concerns about the projected performance of the aircraft.
Specifications (XP-48)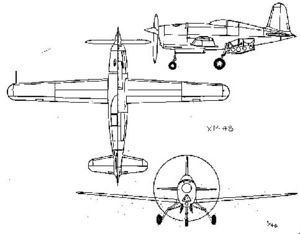 General characteristics
Performance
Armament
Guns:


1× 0.30 in (7.62 mm) machine gun
1× 0.50 in (12.7 mm) machine gun
Related content
Comparable aircraft

Designation sequence

Related lists

See also