A-26 Invader
From PlaneSpottingWorld, for aviation fans everywhere
First flown in 1942, the American Douglas A-26 Invader (after 1948, the B-26, and after 1966, the A-26A) was a twin-engined light attack bomber aircraft built during World War II and seeing service in both the Korean and Vietnam wars. A limited number of highly modified aircraft served in combat until 1969. The last A-26 was retired from service in 1972 by the National Guard Bureau and donated to the National Air and Space Museum.
Design and development
The A-26 was an unusual design for an attack bomber of that period, as it was designed as a single pilot airplane. The traditional co-pilot's seat did not have flight controls, instead, a crew member who served as a navigator and bombardier sat in that position. A gunner who operated the defensive armament of remotely-controlled doral and ventral turrets. In the "C" model, the navigator also loaded the nose armament.
The Douglas XA-26 prototype (41-19504) first flew 10 July 1942 with famed test pilot Ben O. Howard at the controls. Flight tests revealed excellent performance and handling, but there were some problems with engine cooling which led to cowling changes and the removal of the propeller spinners on production aircraft as well as a modification of the nose gear after repeated collapses in testing. [3] The prototype's "flat-topped" canopy was later changed to a clamshell type with greatly improved visibility. [4] The A-26 was originally built in two different configurations: the A-26B had a solid nose, which normally housed six or eight .50 caliber machine guns, while the A-26C's glass nose contained a Norden bombsight and was used for medium altitude precision bombing. Some aircraft were armed with additional guns in their wings, giving some configurations as many as fourteen .50 caliber machine guns fixed forward.
Operational service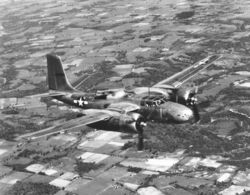 The Douglas company began delivering the production model A-26B in August 1943. Douglas Invaders began arriving in England in September 1944 for assignment to the 9th Air Force and entered combat two months later on Nov. 19. Invaders appeared in the Pacific Theater in January 1945 and proved to be highly effective during the remaining months of the war. It is believed by some to have been one of the finest aircraft developed in World War II.
The USAF Strategic Air Command had the B-26 (RB-26) in service from 1949 through 1950. The US Navy also used a small number of these aircraft in their utility squadrons for target towing and general utility use. The Navy designation was JD-1 and JD-1D until 1962, when the JD-1 was redesignated UB-26J and the JD-1D was redesignated DB-26J.
In the 1960s B-26s provided by Intermountain Airlines were flown by Cuban exiles during the failed Bay of Pigs invasion. CIA mercenary pilots in the Congo also flew them against "Simba" rebels who were supported by the Chinese and Soviets.
During the early phase of the Vietnam War, On Mark Engineering Company of Van Nuys, California was selected by the Air Force to extensively upgrade the Invader for a counterinsurgency role. On Mark converted 40 Invaders to the new B-26K Counter Invader standard, which included upgraded engines, re-manufactured wings and wing tip fuel tanks. In May 1966, the B-26K was re-designated A-26A and deployed in Thailand to help disrupt supplies moving along the Ho Chi Minh trail.
Variants
The large majority of the A-26/B-26 Invader's production run of 2452 were early A-26Bs and A-26Cs.
XA-26 Serial no. 41-19504 served as the prototype for the series; initially flown wih dummy armament
XA-26A Serial no. 41-19505 served as a prototype night fighter with a crew of two-pilot and radar-operator/gunner
XA-26B Serial no. 41-19588 was a prototype "solid-nosed" attack variant with crew of three: pilot, gun loader/navigator (in front cockpit) and gunner in rear.
A-26B Attack bomber. Production totals: 1150 A-26Bs were built at Long Beach (A-26B-1-DL to A-26B-66-DL) and an additional 205 were built at Tulsa (A-26B-5-DT to A-26B-25-DT). [5]
A-26C Attack bomber with transparent nose housing the navigator/bombardier, crew includied pilot and co-pilot (dual-controls provided) and the provision for a flight engineer/gunner in a "jump seat" behind the cockpit. Armament included two forward-firing 0.50-inch machine guns on the starboard fuselage. A total of 1091 A-26Cs were built. 1086 of them were built by Tulsa (A-26C-16-DT to A-26B-55-DT) and only five by Long Beach (A-26C-1-DL and A-26C-2-DL). [6]
XA-26D Serial no. 44-34776 prototype for the proposed A-26D attack bomber a nose with eight 0.50-inch machine guns and a wing with six 0.50-inch guns; series of 750 A-26Ds was cancelled after V-J Day.
XA-26E Serial no. 44-25563 prototype for the A-26E attack bomber; a contract for 2150 A-26E-DTs was cancelled following V-J Day.
XA-26F Serial no. 44-34586 prototype for a high-speed A-26F powered by two 2100 hp R-2800-83 engines driving four-bladed propellors with a 1600 lb.s.t. General Electric J31 turbojet installed in the rear fuselage. The prototype reached a top speed of 435 mph but the series was cancelled as performance gains were not sufficient.
A-26Z Unofficial designation for a proposed postwar production version of the A-26. It was to have a more powerful version of the Pratt & Whitney R-2800 radial engine and was to be fitted with such features as a raised pilot's cockpit canopy, an improved cockpit arrangement and wingtip drop tanks. If produced, the unglazed nose version would have been designated A-26G and the glazed nose version A-26H. However, in October 1945, the USAAF concluded that there were enough A-26 aircraft to meet postwar needs, consequently, the "A-26Z" version was not produced.
JD-1 US Navy version with one A-26B (44-34217) and one A-26C (44-35467) redesignated during World War II, postwar, 150 surplus A-26s for use by land-based utility squadrons as target tugs and later, drone directors and general utility aircraft.
RB-26C Unarmed photo reconnaissance variant converted from B-26C; it carried cameras and flash flares for night photography. Redesignated from FA-26 reconaissance aircraft.
YB-26K On Mark Engineering prototype for refurbished attack bomber; modifications included rebuilt, strengthened wings, enlarged tail assembly, new R-2800-103 engines with reversible propellers/propeller spinners, dual controls, wingtip tanks, newer avionics and increased hardpoint/armament enhancements. During operations in Vietnam, in May 1966, the aircraft were reassigned the old attack designation of A-26A.
B-26K On Mark Engineering conversions of 40 B-26Bs or TB-26Bs with two B-26Cs and a single JB-26C; changes included fitting of 2500 hp R-2800-52W engines with no propeller spinners and the six wing guns deleted.
RB-26L Two RB-26Cs (44-34718 and 44-35782) modified for night photography missions.
Civilian use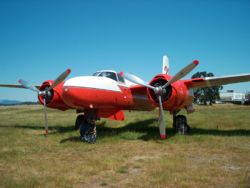 After military service, many A-26 aircraft were converted to "water bombers" and used to fight forest fires in the United States and Canada. Still other A-26 aircraft were converted to executive transport aircraft and were used into the 1990s.
Two A-26 fire bombers (No. 57- N9425Z and No. 59 N4818Z) were prominently featured in the 1989 Steven Spielberg film, Always. The flying for the movie was performed by well-known movie pilot Steve Hinton and Dennis Lynch, the owner of the A-26s. In the 1973 Terrence Malick film Badlands, a civilian A-26 was used as a VIP transport.
Military operators
Survivors
See: List of surviving A-26 Invader airframes
Specifications (A-26B-60-DL Invader)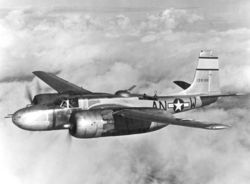 General characteristics
Crew: 3
Length: 50 ft 0 in (15.24 m)
Wingspan: 70 ft 0 in (21.34 m)
Height: 18 ft 3 in (5.64 m)
Wing area: 540 ft² (50 m²)
Empty weight: 22,850 lb (10,365 kg)
Loaded weight: 27,600 lb (12,519 kg)
Max takeoff weight: 35,000 lb (15,900 kg)
Powerplant: 2× Pratt & Whitney R-2800-27 "Double Wasp" radials, 2,000 hp (1,500 kW) each
Performance
Armament
Guns:


8× 0.50 in (12.7 mm) M2 Browning machine guns in the nose
6× 0.50 in M2 machine guns in the wings
2× 0.50 in M2 machine guns in remote-controlled dorsal turret
2× 0.50 in M2 machine guns in remote-controlled ventral turret

Bombs: 6,000 lb (2,700 kg)-4,000 lb in the bomb bay and 2,000 lb external on the wings
References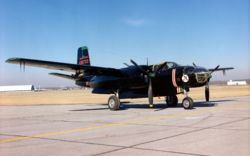 Baugher, Joe.Douglas A-26/B-26 Invader. [1]. Access date: 27 December 2006.
Mesko, Jim. A-26 Invader in action. Carrollton, Texas: Squadron/Signal Publications, 1980. ISBN 0-89747-093-1.
Winchester, Jim. "Douglas A-26 Invader." Aircraft of World War II. London: Grange Books, 2004. ISBN 1-84013-639-1.
Related content
Comparable aircraft

Designation sequence
A-23 - A-24 - A-25 - A-26 - A-27 - A-28 - A-29 Related lists

See also

de:Douglas A-26 fr:Douglas A-26 Invader it:Douglas A-26 Invader ja:A-26 (航空機) pl:Douglas A-26 Invader