McDonnell Aircraft
From PlaneSpottingWorld, for aviation fans everywhere
Template:Infobox Defunct Company
The McDonnell Aircraft Corporation was an American aerospace manufacturer. It merged with the Douglas Aircraft Company, to form McDonnell Douglas in 1967.
History
Jim McDonnell founded J.S. McDonnell & Associates in Milwaukee, Wisconsin in 1928 to produce a personal aircraft for family use.[1] The economic depression from 1929 ruined his plans and the company collapsed. He went to work for Glenn L. Martin. He left in 1938 to try again with his own firm, McDonnell Aircraft Corporation, based near St. Louis, Missouri, in 1939.[2]
World War II was a major boost to the new company. It grew from fifteen employees in 1939 to 5,000 at the end the war and became a significant aircraft parts producer, and developed the XP-67 Bat fighter prototype.[3] McDonnell also developed the Gargoyle guided missile.[4] McDonnell Aircraft suffered after the war with an end of government orders and a surplus of aircraft, and heavily cut its workforce.
In 1946, Dave Lewis joined the company as Chief of Aerodynamics. He led the development of the legendary F-4 Phantom II in 1954, became Executive Vice President in 1958, and finally became President and Chief Operating Officer in 1962. Lewis went on the manage Douglas Aircraft Division in 1967 after the McDonnell Douglas merger. In 1969, he returned to St. Louis as President of McDonnell Douglas.
McDonnell began developing jets, building on their successful FH-1 Phantom to become a major supplier to the US Navy with the F2H Banshee, F3H Demon, and the F-101 Voodoo. The advent of the Korean War helped push McDonnell into a major military fighter supply role, especially with the F-4 Phantom II (1958).
McDonnell made a number of missiles, including the pioneering Gargoyle and unusual ADM-20 Quail, as well as experimenting with hypersonic flight, research that enabled them to gain a substantial share of the NASA projects Mercury and Gemini. The company was now a major employer, but was having problems.
McDonnell Aircraft and Douglas Aircraft began to sound each other out about a merger. Inquiries began in 1963; Douglas offered bid invitations from December 1966 and accepted that of McDonnell. The two firms were officially merged on April 28, 1967 as the McDonnell Douglas Corporation (MDC). In 1967, with the merger of McDonnell and Douglas Aircraft, Dave Lewis, then president of McDonnell, was named chairman of what was called the Long Beach, Douglas Aircraft Division. Lewis managed the turnaround of the division.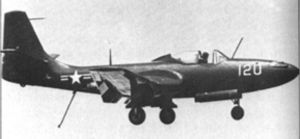 Products
References
External links
cs:McDonnell Aircraft Corporation da:McDonnell Aircraft Corporation de:McDonnell Aircraft Corporation es:McDonnell Aircraft Corporation nl:McDonnell Aircraft ja:マクドネル・エアクラフト no:McDonnell Aircraft Corporation pt:McDonnell Aircraft Corporation sv:McDonnell zh:麦克唐纳飞行器公司