Bell 204/205
From PlaneSpottingWorld, for aviation fans everywhere
This article is about the civil versions of the Bell 204 and 205 models. For the military versions, see UH-1 Iroquois.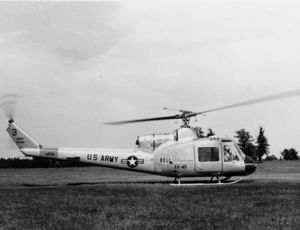 The Bell 204 and 205 are the civil versions of the ubiquitous UH-1 Iroquois military helicopters. These models are used in a wide variety of applications, including crop dusting, cargo lifting, and one of its most common uses, aerial firefighting.
Development
Bell designed its Model 204 in response to a 1955 United States Army requirement for a utility helicopter. The 204 was a giant step forward in helicopter design, being one of the first to be powered by a turboshaft. The turboshaft engine radically improved the practicality of the helicopter due to its light weight and high power to weight ratio, lower fuel consumption, and lower maintenance and operating costs. The use of a turboshaft in the 204 allowed it to carry a useful payload over respectable ranges and at reasonable speeds, which resulted in the 204 and subsequent 205 becoming the most successful western helicopter series in terms of numbers built.[1]
The civil 204B was first delivered in 1961. The subsequent Model 205A-1 is equivalent to the UH-1H, which, compared to the 204, is longer, larger, and has better performance and a more powerful engine.[1]
Over 60 civil Model 204Bs had been delivered by 1967, while further examples were built by Agusta-Bell up until 1973. Over 12,000 Model 205s (including civil 205A-1s) were built by Bell and Agusta-Bell up to the early 1980s. Numerous ex military 204s and 205s converted for commercial use.[1]
Variants
Bell 204
Bell Helicopter's company designation of the UH-1B.
Bell 204B - Civil or military utility transport helicopter, derived from the UH-1B. Powered by a T53-09A, max weight was 8,500 lbs, max passengers, 10.[2]
Agusta-Bell AB 204 - Civil or military utility transport helicopter. Built under licence in Italy by Agusta.
Fuji-Bell 204B-2 - Civil or military utility transport helicopter. Built under licence in Japan by Fuji Heavy Industries. Used by the Japan Ground Self Defence Force under the name Hiyodori.
Bell 205
Bell Helicopter's company designation of the UH-1H.
Experimental models
Agusta-Bell 205BG - Prototype fitted with two Gnome H 1200 turboshaft engines.[3]
Agusta-Bell 205TA - Prototype fitted with two Turbomeca Astazous turboshaft engines.[3]
Bell 208 In 1965, Bell experimented with a single twin-engine Model 208 "Twin Huey" prototype, which was a UH-1D fitted with Continental XT67-T-1 engine module, consisting of two T72-T-2 turboshaft engines driving a common gearbox. This exercise was performed as an experiment using company funds.[3]
Upgrades
205A++ - Field upgraded 205A utilizing a T53-17 engine and a 212 rotor system. Similar to the production 205B and 210.
Global Eagle - Pratt & Whitney Canada name for a modified UH-1H with a new PT6C-67D engine, modified tail rotor, and other minor changes reported to increase range and fuel efficiency over the Bell 212.[4]
Huey 800 - Upgraded commercial version, fitted with a LHTEC T800 turboshaft engine.
Derivatives
Bell 212 - Bell Helicopters company designation for the UH-1N.
Bell 214 Huey Plus - Strengthened development of the Bell 205 airframe with a larger engine; optimized for "hot and high" conditions. Later developed into the larger, twin-engined Bell 214ST.
Operators
Civil operators
Air America helicopters were formerly registered with XW registration.
Governmental operators
Fire-fighting operators
Medical operators
Police operators
SAR operators
Specifications (204B)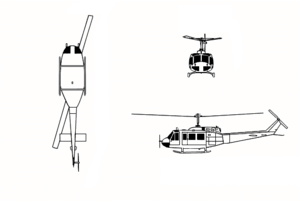 Data from The International Directiory of Civil Aircraft [1]
General characteristics
Crew: 1-2
Capacity: 3,000 lb (1,360 kg) including up to 8-9 passengers, or equivalent cargo
Length: 41 ft 8 in (12.69 m)
Rotor diameter: 48 ft 0 in (14.63 m)
Height: 14 ft 7 in (4.5 m)
Disc area: 1,808 ft² (168.0 m²)
Empty weight: 4,600 lb (2,085 kg)
Loaded weight: lb (kg)
Useful load: lb (kg)
Max takeoff weight: 9,500 lb (4,310 kg)
Powerplant: 1× Lycoming T53-L-11A turboshaft, 1,100 shp (820 kW)
Performance
References
The initial version of this article was based on a public domain article from Greg Goebel's Vectorsite.
Chant, Christopher, Fighting Helicopters of the 20th Century, Graham Beehag Books, Christchurch, Dorset, England (1996).
Debay, Yves, Combat Helicopters, France: Histoire & Collections (1996)
Drendel, Lou. UH-1 in Action. Carrolton, TX: Squadron Signal. ISBN 0-89747-179-2
Francillon, Rene, J. Vietnam: The War in the Air New York: Arch Cape Press (1987)
Mesko, Jim, Airmobile: The Helicopter War in Vietnam, Squadron Signal Publications (1984).
Mutza, Wayne. UH-1 Huey in Colors. Carrolton, TX: Squadron Signal. ISBN 0-89747-279-9.
External links

Related Content
Related development

Designation sequence

Related lists

See also