Bell/Agusta BA609
From PlaneSpottingWorld, for aviation fans everywhere
The Bell/Agusta BA609 is a civil twin-engined tiltrotor VTOL aircraft with a configuration similar to the Bell Helicopter Textron/Boeing V-22 Osprey. It is being developed by Bell/Agusta Aerospace Company (BAAC), a joint venture between Bell Helicopter Textron and AgustaWestland.[1]
History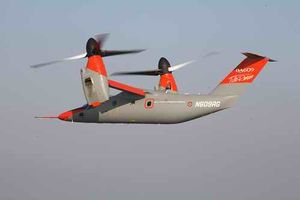 The first ground tests of the BA609 prototype began December 6, 2002. The first flight took place on March 6 2003 in Arlington (Texas/USA) with Roy Hopkins and Dwayne Williams as test pilots.
In June 2005 it returned to flight tests, expanding the flight envelope and tilting the nacelles forward. On July 22, 2005, the BA609 performed its first conversion to airplane mode in flight being the first civil aircraft in history to perform this feat.
Certification of the aircraft is expected in 2010.
BAAC officials claim that 80 aircraft have been ordered.
Specifications
Data from The International Directory of Civil Aircraft, 2003-2004[1] and the Bell/Agusta Brochure[2]
General characteristics
Crew: 1 or 2
Capacity: 6 to 9 passengers/5,500 lb (2,500 kg) payload
Length: 44 ft (13.3 m)
Wingspan: 60 ft (18.3 m)
Height: 15 ft (4.5 m)
Wing area: ft² (m²)
Empty weight: 10,483 lb (4,765 kg)
Loaded weight: lb (kg)
Useful load: lb (kg)
Max takeoff weight: 16,800 lb (7,258 kg)
Powerplant: 2× Pratt & Whitney Canada PT6C-67A turboshaft, 1,940 hp (1,447 kW) each
Performance
Costs
The cost of the vehicle has not been announced; deposits are taken to reserve the right to purchase an aircraft. Final price is to be announced at least 24 months before first delivery.

"Early orders were taken at a price of between $8 and $10 million dollars, adjusted to year of delivery. Those were all sold and, since 1999, orders have been at a price to be confirmed no later than 24 months before aircraft delivery" - Don Barbour, then executive marketing director, in 2004.[4]

Estimated operating cost: US$875/hour
Interior Measurements
Dimension (Internal Cabin):

Length: 4.09 m (161 in)
Width: 1.47 m (58 in)
Height: 1.42 m (56 in)
References
↑ 1.0 1.1 Frawley, Gerard: The International Directiory of Civil Aircraft, 2003-2004, page 48. Aerospace Publications Pty Ltd, 2003. ISBN 1-875671-58-7
↑ Aviation Week On the record. 2001
↑ Aviation International News, New Rotorcraft 2004
External links
Related content
Related development

Designation sequence

Related lists

See also