Beechcraft Skipper
From PlaneSpottingWorld, for aviation fans everywhere
The Beechcraft Model 77 Skipper is a two-seat, fixed tricycle gear general aviation airplane, originally designed for flight training, and later used as well for touring and personal flying.
The Skipper, first manufactured in 1979, was Beechcraft's attempt to enter the two-place trainer market with an aircraft capable of competing with the popular Cessna 150/152 line of trainer aircraft. Design work on the Skipper was begun in 1973, with the first flight in 1975. Though the aircraft first flew with a standard tail configuration, by the time it entered production, a T-tail configuration had been adopted.
Design similarities between the Skipper and the Piper Tomahawk led to speculation about whether industrial espionage was responsible for the significant parallels. (Both were low wing, used a bubble cabin design, and had a T-tail configuration.) There was never proven to be any substance to the suspicions.
Development
Like the Cessna and Piper trainers which were its primary competition, the Skipper utilizes the Lycoming O-235 engine and features side-by-side seating. A number of the design features of the Skipper respond to perceived shortcomings of other trainer aircraft. The cabin of the Skipper is 42.75 in (1.09 m) wide, compared to the 39.75 in (1.01 m) of the Cessna 152. The bubble design of the cabin and the large windows, combined with the low wing, give good visibility.
The Skipper wing utilizes a GA(W)-1 airfoil, especially engineered for general aviation applications, based on 1970s NASA research. While it is an all-metal design, the Skipper incorporates a number of innovative construction techniques, including honeycomb bonding, tubular spars, and a hot-bonded wing structure.
The Skipper employed both a throttle quadrant and an instrument panel layout similar in design to the Sundowner, Sierra, and Duchess, with the intention of easing students' transitions to the more advanced trainers. Among its line of light aircraft, Beech only used the T-tail on the Skipper and on the four-place, twin-engine Duchess trainer.
Operational history
The Skipper had the misfortune of being introduced at the beginning of a severe downturn in general aviation aircraft production in the United States. It was produced only through 1981, with a total of 312 being built.
Most of the production run was initially delivered to Beech Aero Centers, where they were used as primary trainers. A handful of Skippers are still in use as trainers. Many others are in the hands of private owners who use them as touring aircraft.
Specifications (1979 Skipper)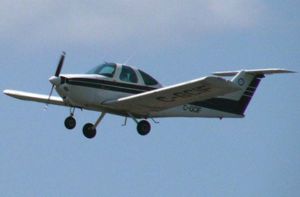 General characteristics
Crew: 1
Capacity: 1 passenger
Length: 24 ft (7.3 m)
Wingspan: 30 ft (9.1 m)
Height: 6 ft 11.1 in (1.81 m)
Wing area: 129.8 ft² (12.1 m²)
Airfoil: GA(W)-1
Empty weight: 1,100 lb (500 kg)
Useful load: 580 lb (260 kg)
Max takeoff weight: 1,675 lb (760 kg)
Powerplant: 1× Lycoming O-235-L2C flat-4 engine, 115 hp (86 kW)
Performance
External link
Related content
Comparable aircraft

Designation sequence

Related lists