Farnborough Air Show
From PlaneSpottingWorld, for aviation fans everywhere
<googlemap lat="51.277649" lon="-0.774279" zoom="14" controls="large"> </googlemap>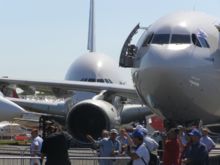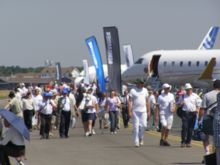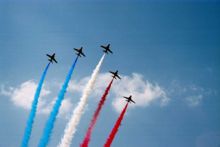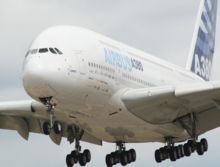 The Farnborough International Airshow is a seven-day international trade fair for the aerospace business which is held biennially in England. The airshow is organised by Farnborough International Limited, a wholly owned subsidiary of British aerospace industry's body the Society of British Aerospace Companies (SBAC) to demonstrate both civilian and military aircraft to potential customers and investors. It (along with the Paris Air Show) is an important event for the aerospace industry particularly for the announcement of new developments and orders.
They are five indoor exhibition halls and an outdoor aircraft static display. Demonstrations flights and a flying display are held each day of the show. On the last two days the general public are admitted, and some non-commercial items are added to the static and flying displays. Since 1996, the show has had its own official radio station operated by the staff and students of near-by Farnborough College of Technology. In 2004 there were more than 1,300 exhibitors and 150,000 trade visitors.
The airshow attracts protests against the arms trade, for example by Campaign Against Arms Trade.
History
The Farnborough Airshow has its origins in the annual RAF Airshow at Hendon (1920–1937) and was established by the Society of British Aerospace Companies (SBAC), which was founded in 1916. The SBAC held a small exhibition at Hendon on 27 June 1932 as the show-piece for the British aircraft industry, at which 35 aircraft were exhibited by 16 companies. With a break for World War II the show recommenced at Radlett in 1946 and was held there until 1948 when the show moved to its present location of Farnborough in Hampshire, approximately 30 miles south west of central London. The headquarters of the UK's principal aerospace firm, BAE Systems, is also in Farnborough.
Initially an annual event, in 1962 it changed to its present biennial format. The second change was that it became an international event with exhibitors from all over the world, the exception, until recently, being those countries from behind the Iron Curtain. It is currently held at Farnborough Airfield in mid July in every even numbered year, alternating with the Paris Air Show and is therefore held in the same years as the Berlin Air Show (ILA).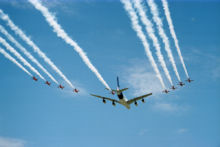 Dates
The next airshow will be the 46th show between 14–20 July 2008.
See also
External links