Embraer/FMA CBA 123 Vector
From PlaneSpottingWorld, for aviation fans everywhere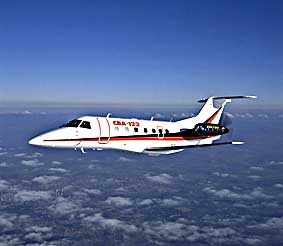 The Embraer/FMA CBA 123 Vector is a 1990 Turboprop aircraft designed for regional flights, carrying up to 19 passengers. The development of the aircraft was made by a partnership between the Brazilian company Embraer and the Argentine FMA (current Lockheed Martin Aircraft Argentina SA), thus the name "CBA", which stands for "Brazil-Argentina Cooperation". The aircraft was one of the most modern Turboprops of its time, including top-notch technology in avionics, aerodynamics, and propulsion.
Development
By 1985, economic integration of South America seemed to be in progress with the advances in the negotiations of Mercosur between Brazilian and Argentine governments. In 1996, as a way of enforcing partnership between both countries, a cooperation intended to develop a a Brazilian-Argentine aircraft was signed between Embraer and FMA.
The costs and workload of the project were divided between Embraer and FMA in the 2:1 proportion, respectively. The aircraft was designed as a high technology Turboprop, fully certified with FAR 25, including propellers in Pusher configuration to increase passengers' comfort, wings with supercritical airfoils, FADEC system for engine control, plus EICAS and EFIS avionics systems. The "Vector" name was chosen by an international competition including more than 6,000 proposals.
The first prototype of the Vector flew on July 18, 1990, and the flight occurred with no problems. The official presentation occurred on July 30, 1990, and was watched by the then president of Brazil, Fernando Collor de Mello, and Argentina, Carlos Menem.
Decommission
Unfortunately for Embraer and FMA, the high technology which would ensure the success of the CBA 123 was one of the reasons of its demise. The final cost of the aircraft - US$ 5 million - was too high to be absorbed by the market. Also, new investments from the Brazilian Government became unavailable due to the political crisis caused by the impeachment of Fernando Collor de Mello.
The CBA 123 Vector project, which cost US$ 300 million, was then cancelled, with only two prototypes built. Although a failure, the project gave Embraer maturity to work with new technologies, which led to the development of the successful Embraer ERJ 145 family of jets.
Specifications
Template:Aircraft specification
References
External links
Related content