Embraer EMB 121 Xingu
From PlaneSpottingWorld, for aviation fans everywhere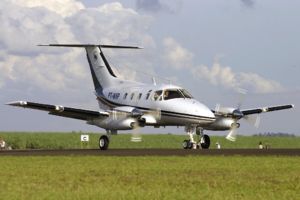 The Embraer EMB 121 Xingu is a twin-turboprop fixed-wing aircraft built by the Brazilian aircraft manufacturer, Embraer. The design of this plane is based on the EMB 110 Bandeirante, borrowing its wing and engine design merged with an all-new fuselage. The EMB 121 first flew on October 10, 1976 and entered service on May 20, 1977 in both military and civil roles.
A modified form of the EMB 121, the EMB 121A1 Xingu III, was introduced on September 4, 1981 with a more powerful engine (PT6A-42), increased seating (8 or 9 passengers) and a larger fuel capacity.
Before production ceased in August 1987, Embraer had produced 106 EMB 121 aircraft, 51 of which were exported to countries outside Brazil. Today the French Air Force is the largest operator with 43 aircraft still in service.
Variants
VU-9 - Brazilian Air Force version.
EMB 121A Xingu I
EMB 121A1 Xingu II
EMB 121V Xingu III
Specifications (EMB 121 Xingu II)
General characteristics
Crew: 2
Capacity: 8 or 9 passengers
Length: 12.3 m (40 ft 3 in)
Wingspan: 14.1 m (46 ft 2 in)
Height: 4.8 m (15 ft 10 in)
Empty: 3,620 kg (7,960 lb)
Loaded: 5670 kg (12.500 lb)
Maximum takeoff: 5,670 kg (12,500 lb)
Powerplant: 2× Pratt & Whitney Canada PT6A-28 turboprops, 680 shp (630 kW) each on Xingu I and Pratt & Whitney Canada PT6A-135 turboprops, 750 shp on Xingu II
Performance
Maximum speed: 465 km/h (289 mph)
Range: 2,278 km (1,415 miles)
Service ceiling: 7,925 m (26,000 ft)Xingú I and 8,535 m (28,000 ft) Xingú II
Rate of climb: 549 m/min (1,800 ft/min)
Wing loading: lb/ft² ( kg/m²)
Military Operators
References
Related content
Related development: EMBRAER EMB 110 - EMBRAER EMB 120
Comparable aircraft: Beechcraft King Air
Designation sequence: EMB 135 - EMB 120 - EMB 121 - ERJ 135 - ERJ 140 - ERJ 145 - 170 - 175 - 190 - 195