Cessna Citation Mustang
From PlaneSpottingWorld, for aviation fans everywhere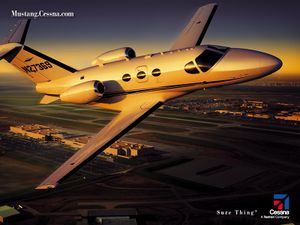 The Cessna Citation Mustang, Model 510, is a "very light jet" class business jet built by Cessna Aircraft Company at their Independence, Kansas production facility. The Citation brand of jets comprises six distinct "families" of aircraft, the latest of which is the Citation Mustang. The Mustang, in standard configuration, can accommodate four passengers and is flown by a crew of two.
Development
The Mustang first flew on 23 April 2005. The airplane received full type certification from the Federal Aviation Administration on September 8, 2006. Cessna received FAA certification to fly into "known icing conditions" on November 9, 2006.[1] Cessna delivered the first production VLJ to Mustang Management Group of Fresno, California on November 23, 2006, the same day the FAA awarded Cessna with the necessary certification.[2] The Mustang was the first of its class to receive full type certification, first to receive certification to fly into known-icing conditions, the first VLJ to be delivered to a customer, and is from the first company to obtain the FAA Production Certificate for a VLJ.
Features
The Mustang airframe is constructed primarily of aluminium alloys, with a three spar wing group. One main door is located in the forward left section of the aircraft, with an additional emergency exit situated on the center right section of the fuselage. Two Pratt & Whitney Canada PW615F turbofan engines, mounted in pods on the aft fuselage, power the aircraft. The landing gear is fully retractable and are equipped with anti-skid protection.
Specifications
Data from Cessna Aircraft Company[3]
General characteristics
Performance
Takeoff distance: 3,110 ft (948 m)
Landing distance: 2,390 ft (729 m)
Avionics
Garmin G1000
References
External links
airliners.net – gallery of airshow previews and mock-ups of the Cessna 510 Citation Mustang
Related content
Comparable aircraft

Designation sequence
500 - 501 - 510 - 525 - 550 - 560
See also