O-2 Skymaster
From PlaneSpottingWorld, for aviation fans everywhere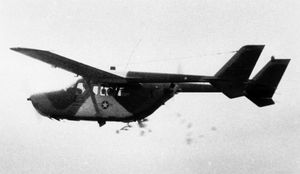 The O-2 Skymaster (also known as the "Oscar Deuce" or "The Duck") is a military version of the Cessna 337 Super Skymaster. The United States Air Force commissioned Cessna to build a military variant to replace the O-1 Bird Dog in 1966.
As with the civilian version, the Skymaster was a low cost twin-engine piston powered aircraft, with one engine in the nose of the aircraft and a second engine in the rear of the fuselage. The "push-me pull-you", or as affectionately known by the pilots who flew it in Vietnam as the "suck-me blow-me", arrangement meant a simpler one-engine operating procedure compared to the common low-wing mounting of most twin engine light planes, and also allowed for a high wing, that was judged to be useful for clear observation below and behind the aircraft. The Skymaster would be replaced in FAC missions by the OV-10 Bronco and the A-37 Dragonfly.
The first O-2 flew in January 1967 and the plane went into production shortly thereafter, with the USAF taking delivery in March. A total of 532 O-2s were built for the USAF by 1970. The O-2 was also operated by the VNAF South Vietnamese Air Force. A total of 178 USAF 0-2 Skymasters were lost in the Vietnam War, to all causes. [1]

Two variants of the aircraft were produced. The O-2A, designed for use in forward air control missions, features ordnance hard points underneath the wings to hold rockets, gunpods or flares. On the other hand, the O-2B aircraft was designed for psychological warfare, and was equipped with loudspeakers and a leaflet dispenser, but otherwise carried no weapons.
While the O-2 fleet was retired and mothballed to Davis-Monthan Air Force Base, as recently as 2005, O-2s were spotted operating out of the military side of Baghdad International Airport in Iraq.
Specifications (O-2)
Template:Aircraft specification
External link

Designation sequence

REFERENCE:
1. Hobson, Chris. Vietnam Air Losses, USAF/USN/USMC/ Fixed-Wing Southeast Asia 1961-1973. 2001. ISBN 1-8578-011-56 Related lists