Cessna AT-17
From PlaneSpottingWorld, for aviation fans everywhere
The Cessna AT-17 "Bobcat" was a twin-engined advanced trainer aircraft used by the United States during World War II to bridge the gap between single-engine trainers and twin-engine combat aircraft. The AT-17 was powered by two Jacobs R-755-9 radial piston engines.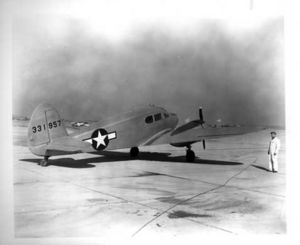 The AT-17 was a military version of the commercial Cessna T-50 light transport. Cessna first produced the wood and tubular steel, fabric covered T-50 in 1939 for the civilian market. A low-wing cantilever monoplane, it featured retractable main landing gear and wing trailing-edge flaps, both electrically actuated. The fixed tailwheel is non-steerable full swivelling. In 1940, the Air Corps ordered them under the designation AT-8 as multi-engine advanced trainers.
Thirty-three AT-8s were built for the Air Corps, and production continued under the designation AT-17 reflecting a change in equipment and engine types. In 1942, the AAF adopted the Bobcat as a light personnel transport and those delivered after January 1, 1943 were designated UC-78s. By the end of WW II, Cessna had produced more than 4,600 Bobcats for the AAF, 67 of which were transferred to the U.S. Navy as JRC-1s. In addition, 822 Bobcats had been produced for the Royal Canadian Air Force as Crane 1s, many of which were used in the British Commonwealth Air Training Plan.
Dubbed the "Bamboo Bomber" by the pilots who flew them, it was one of the aircraft featured in the popular television series "Sky King" of the 1940s and '50s. In the post-war years, Bobcats continued in service with Brazil and the Nationalist Chinese.
Specifications (AT-17)
General characteristics
Crew: Five
Length: 32 ft 9 in (9.98 m)
Wingspan: 41 ft 11 in (12.78 m)
Height: 9 ft 11 in (3.02 m)
Wing area: 295.0 ft² (27.41 m²)
Empty: 3,500 lb (1588 kg)
Loaded: 5,700 lb (2585 kg)
Maximum takeoff: 6,062 lb (2,755 kg)
Powerplant: 2x Jacobs R-755-9, 245 hp (183 kW) each
Performance
Maximum speed: 195 mph (314 km/h)
Cruising speed: 175 mph (282 km/h)
Range: 750 miles (1207 km)
Service ceiling: 22,000 ft (6705 m)
Rate of climb:
Wing loading:
Power/mass:
Designations
T-50: Company design number. Five-seat twin-engined commercial transport aircraft, fitted with Jacobs L-4MB radial piston engines.
AT-8: Advanced trainer, fitted with two 295-hp (220-kW) Lycoming R-680-9 radial piston engines.
AT-17: Advanced trainer, fitted with Jacobs R-755-9 engines.
AT-17A:
AT-17B:
AT-17C:
AT-17D:
UC-78: Five-seat light transport aircraft, similar to the AT-17. Original designation C-78.
UC-78A: A small number of civilian T-50s were impressed into military service.
UC-78B:
UC-78C:
JRC-1: Navy light transport similar to AT-17
Crane Mk.1A: RCAF light transport
Variations
UC-78 - Had variable-pitch propellers.
UC-78B - The 1806 model UC-78Bs built were equipped with fixed-pitch, wooden props that greatly compromised their performance.
Operators
Nicknames
The Bamboo Bomber
Useless-78
The Wichita Wobbler
Brasshat
Double-Breasted Cub
Boxkite
Rhapsody in Glue
San Joaquin Beaufighter
External links
Related content
Related development:
Comparable aircraft:
Designation sequence: AT-14 - AT-15 - AT-16 - AT-17 - AT-18 - AT-19 - AT-20