Tupolev Tu-204
From PlaneSpottingWorld, for aviation fans everywhere
The Tupolev Tu-204 is a twin-engined medium range Russian airliner capable of carrying 212 passengers. First introduced in 1989, it is considered to be broadly equivalent to the Boeing 757. It was developed for Aeroflot as a replacement for the medium range Tupolev Tu-154 trijet.
Design Features
Tu-204 is a mid-range aircraft for 210 passengers; was designed as the whole aircraft family incorporating passenger, cargo, cargo-passenger and quick-change aircraft. It is characterized by low operational cost, low noise level, and low fuel consumption. The Tupolev Tu-204 is powered by Aviadvigatel PS-90 and Rolls Royce RB.211 engines. Serial production is arranged at the largest Russian Aircraft Manufacturing Corporations in Ulianovsk and Kazan.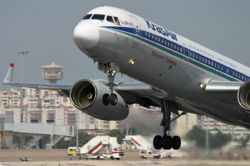 Different passenger cabin layouts are proposed, baseline variant of 210 passengers layout; combined layout variant (including first class and tourist class compartment; business-class and tourist class; first class, business class and tourist class) designed for 164-193 passengers as per customer request. Tourist class and business class compartments are provided with passenger seats of improved design according to layout 3+3, 2+2. First class compartments are provided with comfortable seats according to layout 2+2 with seat pitch equal to 810 mm. Passenger cabin can be divided into compartments according to class with removable bulkheads and curtains. Compartments are illuminated by reflected light. Hidden luminescence lights located over and under overhead bins along sides create uniform and comfortable illumination. Overhead bins for passenger baggage and coats are of closed type. Volume of baggage overhead bins per one passenger makes 0.052 m3.
In 1994 certificate for TU-204 aircraft with PS-90A engines was issued. Each next certification is intended for extension of estimated operational conditions and improvement of aircraft Type Design. That's why in each certification only differences are certified. The TU-204-120 aircraft version, was certified with Rolls-Royce RB211-535E4 engines, has aircraft noise type certificate in accordance with standards of Chapter 3 of Supplement 16 to ICAO, complies with all Eurocontrol and ICAO current requirements. Is currently under certification to JAA. The aircraft has cargo version which is successfully operated in Europe and Egypt. TU-214, is a TU-204 version with increased takeoff weight. The aircraft has cargo version. The aircraft was certified to Russian standards AP-25 (harmonized with FAR-25 and JAR-25).
Technology
It is the first of the new generation Russian airliners, the other being the Ilyushin Il-96. It features many technological innovations such as:
Variants
Tu-204/204C
The Tu-204 is the basic passenger airline model, and the Tu-204C is the basic freight or cargo model.
Tu-204-100/200
This is the initial version, powered by Soloviev (now Aviadvigatel) PS90 turbofan with thrust of 157 kN (35,300 lbf). It uses Russian powerplants and avionics. It was certified in January, 1995. The Tu-204-200 is a heavier version with extra fuel for more range. Only one has been built by Aviastar in Ulyanovsk but not yet delivered (RA64036). Now this version is only produced by KAPO in Kazan and marketed under the designation Tu-214. The Tu-204-100C and Tu-204-200C are the cargo versions of the -100 and -200 respectively, fitted with forward main deck freight door. Currently the Tu-204-100/200 is offered with the option of uprated Aviadvigatel PS90-A2 turbofan, which promises 40% longer period between overhauls.
The Tu-204-100 has a maximum take-off weight of 103 metric tons and range with 196 passenger in 2-class configuration is 2,500 nautical miles (4,600 km).
Tu-204-120/220
In order to broaden the product appeal, the Tu-204-120/220 features western avionics and engines. It is powered by 2 Rolls-Royce RB211-535 engines each with thrust of 43,100 lbf (192 kN). Cairo Aviation of Egypt became the launch operator when it took delivery of a Tu-204-120 and its cargo version the Tu-120C, in November 1998. The Tu-204-220 and Tu-220C, cargo version, is a higher gross weight variant of the basic Tu-204-120.
The Tu-204-120 has a maximum take-off weight of 103 metric tons and range with 196 passenger in 2-class configuration is 2,500 nautical miles (4,600 km).
Tu-204-300
It is a shortened, longer range and more efficient derivative of the Tu-204. It is about 20 ft (6 m) shorter than the basic Tu-204. It is available in 2 version; the longer ranged heavier version powered by Aviadvigatel PS90-A2 turbofan has a maximum take-off weight of 103 metric tons and range with 166 passengers increases to 5,000 nautical miles (9,300 km) and the lighter shorter ranged version with a maximum take-off weight of 89 metric tons and range with 166 passengers is 1,900 nautical miles (3,500 km). Russian airline Vladivostok Air is the launch customer.
Tu-204-500
This is a version of Tu-204-300 optimized for shorter routes, featuring smaller wings, increasing cruising speed to Mach 0.84, making it a competitor to Next Generation Boeing 737. It is ETOPS rated and fitted with Honeywell 331-200ER APU.
Tu-206 and Tu-216
These variants are company-funded testbeds for alternative fuels, the Tu-206 flying on liquefied natural gas and the Tu-216 on hydrogen.
Tu-214
Tu-214 is also a variation of Tu-204. It is technically a Tu-204-200 (see above). One of the differences is being produced in a different factory. Both factories are independent from Tupolev design bureau and have some say in the design of the variation they produce. Planes designated Tu-204 are produced in Ulyanovsk by Aviastar, and these designated Tu-214 in Kazan by KAPO.
Main difference is full size main door at the left side of the fuselage just before the wing. Regular Tu-204 has two main doors and 2 emergency doors, Tu-214 has 3 doors and one emergency door.
Civil operators
In December 2006 a total of 27 Tupolev Tu-204 aircraft (all variants, except Tu-214) are in airline service with further orders for 22 aircraft. Tu-204 users are: Cairo Aviation (5),TNT Air Cargo (2), Mahan Air (2 plus 3 ordered), Air China Cargo (Tu-204-120CE Version - 1 Delivered out of 6 ordered), Atlantic Airlines (2), Aviastar Airlines (3), Kavminvodyavia (2, plus 2 orders), KrasAir (3, plus 1 order), Rossiya Airlines (2), S7 Airlines (2, plus 4 orders) and Vladivostok Avia (4, plus 2 orders). Cubana has firm orders for 3 aircraft (2 Tu-204-100 and 1 Tu-204-100C).[1] Air Koryo ordered 2 aircraft, Syrian Arab Airlines is closing a deal for 4 aircraft and the earliest delivery is expected in 2008. There were also 25 Tu-204-120 which were delivered to Sirocco aerospace, a leasing company from Egypt.
Specifications (Tu-204)
General characteristics
Crew: 2
Capacity: Tu-204-200: 212 in two classes, Tu-224/234: 166 in single class
Length: 46.10 m (151 ft 3 in)
Wingspan: 41.80 m (137 ft 2 in)
Height: 13.90 m (45 ft 7 in)
Wing area: 182.4 m² (1963 ft²)
Empty weight: Tu-204-100: 58,300 kg (128,530 lb) (Tu-204-200: 59,000 kg (130,070 lb))
Max takeoff weight: Tu-204-100: 94,600 kg (208,550 lb) (Tu-204-200: 110,750 kg (244,155 lb))
Powerplant: 2× Tu-204-100: Aviadvigatel PS-90A turbofans, 158.3 kN (35,580 lbf) each
Performance
Maximum speed: 900 km (560 mph)
Cruise speed: 810 to 850 km/h km/h (500 to 530 mph)
Range: (Tu-204-100) 6,500 km (Tu-204-120) 6,300 km (Tu-214) 6,700 km (Tu-204-300) 8,500 km ()
External links
References
Related content

Related development
Tupolev Tu-154 Tupolev Tu-214 Comparable aircraft
Airbus A320 - Airbus A321 - Boeing 737 - Boeing 757 - Embraer E-Jets
See also
Template:Tupolev aircraft
de:Tupolew-Tu-204/214-Familie et:Tupolev Tu-204 fa:توپولف-۲۰۴ fr:Tupolev Tu-204 id:Tupolev Tu-204 nl:Tupolev Tu-204 ja:Tu-204 (航空機) ru:Ту-204 sr:Тупољев Ту-204 sv:Tupolev Tu-204