PZL
From PlaneSpottingWorld, for aviation fans everywhere
PZL (Państwowe Zakłady Lotnicze, State Aviation Works) was the main Polish aerospace manufacturer of the interwar period, based in Warsaw, functioning in 1928-1939. The abbreviation was thereafter - from late 1950s - used as an aircraft brand and as a part of names of several Polish state-owned aerospace manufacturers referring to traditions of the PZL, belonging to the Zjednoczenie Przemysłu Lotniczego i Silnikowego PZL (PZL Aircraft and Engine Industry Union). After the fall of communism in Poland in 1989, these manufacturers became separate plants, still sharing the PZL name. In the case of PZL-Mielec, the abbreviation means Polskie Zakłady Lotnicze (Polish Aviation Works).
PZL (1928-1939)
The PZL ( Państwowe Zakłady Lotnicze, State Aviation Works) was founded in Warsaw in 1928, and was based on the earlier CWL (Centralne Warsztaty Lotnicze, Central Aviation Workshops). The first product was a license-produced French fighter, Wibault 70. Soon Zygmunt Puławski designed a series of high-wing, all-metal modern fighters: PZL P.1, P.6, P.7 and P.11. The last two types were used as basic fighters in the Polish Air Force beginning in 1933. The last variant, PZL P.24, developed after Puławski's death in an air crash, was exported to four countries. PZL also mass-produced a light bomber, PZL.23 Karaś, and a modern medium bomber, PZL.37 Łoś. PZL also built some sport planes, the (PZL.5, PZL.19, PZL.26) and liaison (PZL Ł.2). By 1939 the company also developed several prototypes of more modern fighters and of a passenger plane, the (PZL.44 Wicher). PZL was the largest Polish pre-war aircraft manufacturer.
In 1934, the main factory in Warsaw was named PZL WP-1 (Wytwórnia Płatowców 1, Airframe Works 1) in the Okęcie district of Warsaw. A new division PZL WP-2 was built in Mielec in 1938-1939, but production was only starting there at the outbreak of World War II. An engine factory division, PZL WS-1 in Warsaw-Okęcie (Wytwórnia Silników, Engine Works 1), produced mostly engines on the British Bristol licence, like Bristol Pegasus, Bristol Mercury. It was former Polskie Zakłady Skody - Polish Skoda Works, nationalized and renamed in 1936. In 1937-1939 an engine division works PZL WS-2 was built in Rzeszów.
PZL "Warszawa-Okęcie"
During World War II, the PZL factory in Warsaw was destroyed. It was rebuilt after the war, but the communist government wanted to break all connections with pre-war Poland, and the PZL WP-1 factory was renamed first CSS (Centralne Studium Samolotów, Central Aircraft Studies), then WSK-4 in 1950, and finally WSK-Okęcie in 1956 (WSK; Wytwórnia Sprzętu Komunikacyjnego, Communication Equipment Factory). Despite the new factory name, the aircraft brand PZL was still used in names, starting with the PZL-101 Gawron of 1958. The factory developed mainly light sports, trainer and utility aircraft. The best known designs are: utility aircraft PZL-104 Wilga, being the most numerous plane of the Polish design; and agricultural aircraft PZL-106 Kruk. After the fall of the communist system in 1989, the factory was given back its earlier, traditional name of PZL "Warszawa-Okęcie". In 2001 the factory was bought by Spanish EADS CASA and since then has known as EADS PZL "Warszawa-Okęcie".
WSK "PZL-Mielec" / PZL-Mielec
Main article: PZL-Mielec.
The former PZL WP2 factory in Mielec became a part of Heinkel works under German occupation. After the war the factory, named first PZL No.1 works, then in 1949 WSK-Mielec, and later WSK "PZL-Mielec", became the biggest Polish post-war aircraft producer. It manufactured mostly licensed Soviet planes, such as the transport biplane Antonov An-2 and jet fighters such as the MiG-15 (as Lim-1 and Lim-2) and MiG-17 (as Lim-5 and Lim-6). It also produced Polish-designed trainers: TS-8 Bies and jet trainer TS-11 Iskra, and the only jet agricultural plane in the world, M-15 Belphegor. Big numbers of aircraft were exported abroad, mostly to the USSR. From the 1970s it produces mostly its own developments of licensed civil aircraft, best known are the agricultural M-18 Dromader and light transport PZL M-28 Skytruck/Bryza. In 1998 the state factory WSK-Mielec was converted into a state-owned company Polskie Zakłady Lotnicze Sp.z o.o. (Polish Aviation Works), in short: PZL-Mielec.
On March 16, 2007, PZL-Mielec was purchased by the Sikorsky Aircraft Corporation, a unit of United Technologies Corporation (UTX). It is not known whether the brand name will be retained.
WSK "PZL-Świdnik"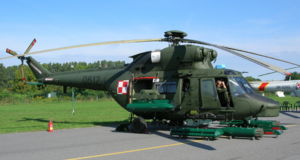 In 1951, a third national aerospace factory, WSK-Świdnik, was built in Świdnik, and in 1957 it was renamed to WSK "PZL-Świdnik". Since 1956 it has become one of the world's major helicopter manufacturers, producing helicopters such as the Mil Mi-1 and Mil Mi-2 under Soviet licence. Świdnik was the exclusive producer of the widely used Mi-2. Since the late 1980s, Świdnik has been producing a Polish-designed helicopter PZL W-3 Sokół. It also produces a light helicopter, the PZL SW-4 Puszczyk. After 1991 the state factory became a state-owned corporation (WSK "PZL-Świdnik" SA). It also produced the PW-5 and PW-6 gliders and cooperates widely with other nations' manufacturers, e.g., in the manufacture of Agusta A109 fuselages. Recently, the factory has entered talks with Sikorsky regarding licenced production of the UH-60 for the foreign and domestic market, should the Polish army procure the helicopters.
PZL-Bielsko
A glider manufacturer SZD (Szybowcowy Zakład Doświadczalny - Glider Experimental Works) created in Bielsko-Biała in 1948, was renamed to PZL-Bielsko in the 1990s. It was the main Polish producer of gliders, exported to many countries. Currently it is named Allstar PZL Glider Sp.z o.o.
WSK "PZL-Kalisz"
In 1952 engine manufacturer WSK-Kalisz was created. It manufactured mostly Soviet-licence engines, first of all piston Shvetsov ASh-82 and Ivchenko AI-14 and jet Klimov VK-1. It also produced Polish piston engines WN-3 and other equipment. In October 1996 it was renamed WSK "PZL-Kalisz" and became a corporation (SA).
WSK "PZL Warszawa II"
WSK Warszawa II was created in 1952 in Warsaw as a manufacturer of aircraft parts and military equipment parts. In 1995 it was changed from a state factory to a corporation WSK "PZL Warszawa II" SA.
See also
A list of aircraft designed or produced by PZL
A date of first prototype flight / serial production start is given ("-" for not flown or not produced aircraft)
PZL (before 1939)
PZL P.1
1-engine, fighter prototype, high-wing, 1929/-
PZL Ł.2
1-engine, liaison, high-wing, 1929/1930
PZL.5
1-engine, sport, biplane, 1930/1931
PZL P.6
1-engine, fighter prototype, high-wing, 1930/-
PZL P.7
1-engine, fighter, high-wing, 1930/1932
PZL P.11
1-engine, fighter, high-wing, 1931/1934
PZL.19
1-engine, sport, low-wing, 1932/-
PZL.23 Karaś
1-engine, light bomber, low-wing, 1934/1936
PZL P.24
1-engine, fighter, high-wing, 1933/1936
PZL.26
1-engine, sport, low-wing, 1934/-
PZL.27
3-engine, passenger prototype, high-wing, 1934/-
PZL.30 Żubr
2-engine, medium bomber, high-wing, 1936/1938
PZL.37 Łoś
2-engine, medium bomber, low-wing, 1936/1938
PZL.38 Wilk
2-engine, heavy fighter prototype, low-wing, 1938/-
PZL.43 Karaś
1-engine, light bomber, low-wing, developed from PZL.23
PZL.44 Wicher
2-engine, passenger plane prototype, low-wing, 1938/-
PZL.45 Sokół
1-engine, fighter prototype, low-wing, -/-
PZL.46 Sum
1-engine, light bomber prototype, low-wing, 1938/-
PZL.48 Lampart
2-engine, heavy fighter prototype, low-wing, -/-
PZL.49 Miś
2-engine, medium bomber prototype, low-wing, -/-
PZL.50 Jastrząb
1-engine, fighter prototype, low-wing, 1939/-
PZL.54 Ryś
2-engine, heavy fighter prototype, low-wing, -/-
PZL.62
1-engine, fighter project, low-wing, -/-
CSS -> WSK-Okęcie -> PZL "Warszawa-Okęcie"
CSS-13
1-engine, multirole biplane, 1948 (licence Polikarpov Po-2)
LWD Junak
1-engine, trainer low-wing, 1948/1951
Jak-12
1-engine, multirole high-wing, 1956 (licence Yakovlev Yak-12)
PZL-101 Gawron
1-engine, multirole (agricultural) high-wing, 1958/1960
PZL-102 Kos
1-engine, sport low-wing, 1958/1959
PZL-104 Wilga
1-engine, multirole high-wing, 1963/1964
PZL-105 Flaming
1-engine, multirole high-wing, 1989/-
PZL-106 Kruk
1-engine, agricultural low-wing, 1973/1977
PZL-110 Koliber
1-engine, trainer / sport low-wing, 1978 (licence SOCATA Rallye 100ST)
PZL-130 Orlik
1-engine, military trainer low-wing, 1984/1992
WSK-Mielec -> PZL-Mielec
LWD Szpak-4T
1-engine, utility / touring low wing, 1945/1948
TS-8 Bies
1-engine, military trainer low-wing, 1955/1957
M-4 Tarpan
1-engine, trainer low-wing prototype, 1961/-
An-2
1-engine, transport and multirole biplane, 1960 (licence Antonov An-2)
Lim-1
1-jet engine, fighter, 1953 (licence MiG-15)
Lim-2
1-jet engine, fighter, 1954 (licence MiG-15bis)
Lim-5
1-jet engine, fighter, 1956 (licence MiG-17)
Lim-6
1-jet engine, attack plane, 1961
PZL TS-11 Iskra
1-jet engine, military trainer, mid-wing, 1960/1963
M-15 Belphegor
1-jet engine, agricultural biplane, 1973/1976
M-18 Dromader
1-engine, agricultural low-wing, 1976/1978
M-20 Mewa
2-engine, multirole low-wing, 1979/1989 (licence Piper Seneca)
M-21 Dromader Mini
1-engine, agricultural low-wing, 1987/-
M-24 Dromader Super
1-engine, agricultural low-wing, 1987/-
M-25 Dromader Mikro
1-engine, agricultural low-wing, 1987/-
M-26 Iskierka
1-engine, trainer low-wing, 1986/?
PZL M-28 Skytruck / Bryza
2-turboprop engine, light transport / military high-wing, 1984 (developed Antonov An-28)
PZL I-22 Iryda
2-jet engine, military trainer, high-wing, 1985/1992 (small series built)
WSK "PZL Świdnik" -> PZL-Świdnik
PZL SM-1
light helicopter (3 seats), 1957 (licence Mil Mi-1)
PZL SM-2
light helicopter (1+4 seats), 1962
PZL Mi-2
helicopter (2+8 seats), 1966 (licence Mil Mi-2)
PZL Kania
helicopter (2+8 seats), 1979/1986
PZL W-3 Sokół
helicopter (2+12 seats), 1979/1987
PZL SW-4 Puszczyk
light helicopter (1+4 seats), 1996/2003?
Engines
PZL-3
7-cylinder radial
---