Agusta A109
From PlaneSpottingWorld, for aviation fans everywhere
The Agusta A109 is a helicopter manufactured by Agusta (now AgustaWestland) of Italy. It is a light-weight, twin engine, eight seat multipurpose helicopter.
The AgustaWestland A119 Koala is a single-engine development of the A109.
Variants
Agusta A109
A109A: The first production model, powered by two Allison 250-C20 turboshaft engines. It made its first flight on 4 August 1971.
A109A Mk II: Upgraded civilian version of the A109A.
A109B: Unbuilt military version.
A109C Hirundo (Swallow): Eight-seat civil version, powered by two Allison 250-C20R-1 turboshaft engines.
A109K: Military version.
A109K2: Civilian police, search and rescue version, for high altitude and high temperature operations.
A109M: Military version.

A109MAX: Aeromedical evacuation version.
A109KM: Military version for high altitude and high temperature operations.
A109KN: Naval version.
A109CM: Standard military version.
A109GdiF: Coast guard version.
A109LUH: Version created for the South African Air Force
A109BA : Version created for the Belgian Army.
A109E Power: Upgraded civilian version.

MH-68A Stingray: Eight A109E Powers used by the United States Coast Guard Helicopter Interdiction Tactical Squadron Jacksonville (HITRON Jacksonville) as short range armed interdiction helicopters.

A109S Grand: Lengthened upgraded civilian version with P&W 207 engines.
Agusta A119 Koala
CA109
Chinese version of A109,manufactured by Changhe Aircraft Industries Corporation under license.
Military Operators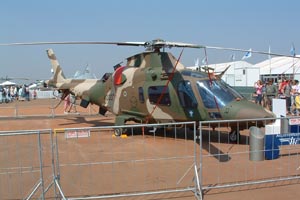 There are some indications that this helicopter, finished in a civilian colour scheme, may also be used by the United Kingdom's SAS.
Bribery scandal
The sale of the Agusta A109 to the Belgian armed forces in 1988 gave rise to a bribing scandal when it was revealed the company had given the Belgian Socialists over 50 million francs to get the sale. This scandal led to the resignation and conviction of NATO Secretary General Willy Claes.
Specifications (Agusta A109)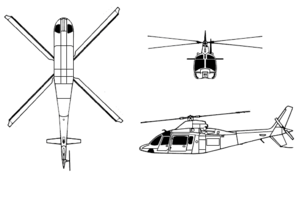 General characteristics
Crew: 1 or 2 pilots
Capacity: 7/6 passengers
Length: ft in (13.04 m)
Rotor diameter: ft in (11.00 m)
Height: ft in (3.50 m)
Disc area: ft² (m²)
Empty weight: lb (1,576 kg)
Loaded weight: 16,260 lb (7,375 kg)
Max takeoff weight: lb (3,000 kg)
Powerplant: 2× Pratt & Whitney Canada 206C or Turbomeca Arrius 2K1 turboshafts , hp (423 kW or 426 kW) each
Performance
Armament
Guns: possibilities include 12.7 mm machine gun (250 rounds) in pod, pintle mounted 7.62 mm machine gun, door gunner post 12.7 mm machine gun
Missiles: possibilities include 2 x TOW missile launchers (2 or 4 missiles each), unguided rockets in pods (2.75" or 81 mm rockets with 7 or 12 tubes per pod), rocket/machine gun pod (70 mm x 3 rockets and 12.7 mm machine gun (200 rounds))
Trivia
Fuselages of A109 are made by PZL Świdnik. In 2006 the 500th fuselage was delivered by this manufacturer.
Related content

Related development

Comparable aircraft

Designation sequence

U.S. Military:
AugustaWestland:
Related lists

de:Agusta A109 it:Agusta A109 pl:Agusta A109E Power sv:Agusta A109