PZL SW-4 Puszczyk
From PlaneSpottingWorld, for aviation fans everywhere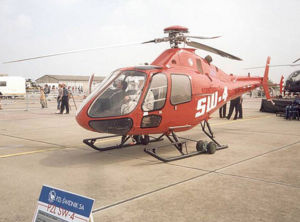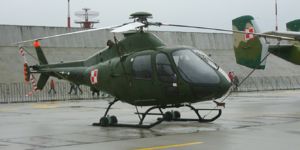 The PZL SW-4 is a Polish light single-engine multipurpose helicopter manufactured by PZL Świdnik.
Development
The origins of PZL Swidnik's SW4 five seat light utility helicopter date back to the early 1980s.
Swidnik began development of a new four/five place light utility helicopter in 1981. This original SW4 was to have been powered by a 300 kW (400 shp) PZL Rzeszow GTD350 turboshaft and was built in mockup form. It would have had a top speed of 240 km/h (130kt) and a max range with auxiliary fuel of 900 km (485nm).
The collapse of the Iron Curtain allowed Swidnik to substantially redesign the SW4, based around the Allison 250 turboshaft. Aside from the powerplant, design changes included a more streamlined fuselage and revised tail and tailboom.
The first prototype, a non flying ground test aircraft, was rolled out in December 1994. Two flying prototypes have been built, the first of which was completed in 1996 and first flew on October 26 that year.
PZL Swidnik aims to attain US FAA FAR Part 27 certification for the SW4 which will allow it to enter production in 1999. The program was delayed somewhat when PZL Swidnik decided to redesign the rotor head, enlarge the horizontal stabiliser and improve the hydraulic system.
Once the basic Allison powered SW4 is certificated and in production PZL Swidnik aims to offer a Pratt & Whitney Canada PW200 powered variant. A twin engine model is also planned to allow the helicopter to meet forthcoming European regulations which will restrict single engine helicopter operations under some conditions.
The SW4 is expected to be able to fulfil a range of utility missions ranging from executive transport to medevac and police roles. Border patrol and military pilot training are other planned missions.
Technical Data
Powerplants
One 335 kW (450 shp) (283 kW/380 shp max continuous rated) Allison 250C20R/2 turboshaft driving a three blade main rotor and two blade tail rotor. Option of one 460 kW (615 shp) Pratt & Whitney Canada PW200/9 turboshaft.
Performance
Allison engine - Max speed 232 km/h (125kt), normal cruising speed 200 km/h (108kt). Initial rate of climb 1973 ft/min. Service ceiling 17,820 ft. Max range with standard fuel and no reserves 860 km (464nm). Endurance 5hr 8min.
Weights
Allison engine - Empty 850 kg (1874 lb), max takeoff (internal load) 1600 kg (3527 lb), max takeoff with sling load 1800 kg (3968 lb).
Dimensions
Main rotor disc diameter 9.00 m (29 ft 6 in), length overall rotors turning 10.55 m (34 ft 8 in), fuselage length including tailskid 9.08 m (29 ft 9 in), height overall 3.05 m (10 ft 10 in). Main rotor disc area 63.6m2 (684.8sq ft).
Capacity
Standard seating for four or five (including pilot). In medevac configuration accommodation for one stretcher patient and two medical attendants. Max sling load 750 kg (1655 lb).
Specifications
General characteristics
Crew: one pilot
Capacity: four passengers
Length (with main rotor): 10.57 m (34 ft 8 in)
Main rotor diameter: 9.00 m (29 ft 6 in)
Height: 3.05 m (10 ft 0 in)
Main rotor area: 64 m² (684 ft²)
Empty: 1,050 kg (2,310 lb)
Loaded: 1,600 kg (3,520 lb)
Maximum takeoff: 1,800 kg (3,960 lb)
Powerplant: 1x Allison 250-C20R/2 turboshaft, 336 kW (457 shp)
Performance
Maximum speed: 260 km/h (162 mph)
Range: 790 km (493 mph)
Service ceiling: 5,200 m (17,056 ft)
Rate of climb: 618 m/min (2,027 ft/min)
Main rotor loading: 3.4 kg/m² (0.7 lb/ft²)
Power/Mass: 0.21 kW/kg (0.13 hp/lb)
Related content
External links
Related development:
Comparable aircraft:
Eurocopter Colibri - Schweizer 330 - Bell 206
Designation sequence:
PZL SM-1 - PZL SM-2 - PZL Mi-2 - PZL Kania - PZL W-3 Sokół - PZL SW-4 Puszczyk