de Havilland Canada Dash 8
From PlaneSpottingWorld, for aviation fans everywhere
The de Havilland Canada Dash 8 (sometimes abbreviated as -8) is a series of twin-engined, medium range, turboprop airliners introduced by de Havilland Canada (DHC) in 1984. They are now produced by Bombardier Aerospace, which purchased DHC from Boeing in 1992. Since 1996, the aircraft have been known as the Q Series, for "quiet" due to installation of the Active Noise and Vibration Suppression (ANVS) system designed to reduce cabin noise and vibration levels to less than those of jet airliners. Over 700 Dash 8s of all models have been built. Bombardier forecasts a total production run of 1,192 units of all -8 variants through the year 2016.[2]
Design and development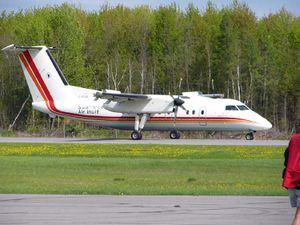 In the 1970s, de Havilland Canada had invested heavily in their Dash 7 project, creating what was essentially a larger four-engine version of their Twin Otter concentrating on excellent STOL (Short Takeoff And Landing) and short-field performance, their traditional area of expertise. Using four medium-power engines with large four-bladed propellers resulted in very low noise levels which, combined with its excellent STOL characteristics, made the Dash 7 suitable for operating from small in-city airports, a market DHC felt would be compelling. However, only a handful of air carriers employed the Dash 7 as most regional airlines were more interested in operational costs than short-field performance.
In 1980, de Havilland responded by dropping the short-field performance requirement and adapting the basic Dash 7 layout to use only two, more powerful, engines. Their favoured engine supplier, Pratt & Whitney Canada, developed the new PW100 series engines for the role, more than doubling the power from their PT6. Originally designated the PT7A-2R engine, it later became the PW120. When the Dash 8 rolled out on 19 April 1983, more than 3800 hours of testing had been accumulated over two years on five PW100 series test engines. Certification of the PW120 followed in late 1983.[3]
Distinguishing features of the Dash 8 design are the large T-tail intended to keep the tail free of prop wash during takeoff, a very high aspect ratio wing, the elongated engine nacelles also holding the rearward-folding landing gear and the pointed nose profile. First flight was on 20 June 1983, and the airliner entered service in 1984 with NorOntair. Piedmont Airlines, formerly Henson Airlines, was the first US customer for the Dash 8 in 1984.
The Dash 8 design had better cruise performance than the Dash 7, was less expensive to operate, and much less expensive to maintain due largely to having only two engines. The Dash 8 had the lowest cost per passenger mile of any feederliner of the era. It was a little noisier than the extremely quiet Dash 7, and could not match the superb STOL performance of its earlier DHC forebears, although still able to operate from small airports with 3,000 ft (1,000 m) runways, as against Template:Convert required by a fully loaded Dash 7.
Operational history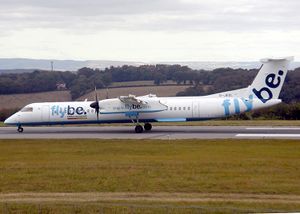 The Dash 8 was introduced at a particularly advantageous time; most airlines were in the process of adding new aircraft to their fleet as the airline industry expanded greatly in the 1980s. The older generation of feederliners from the 1950s and '60s was nearing retirement, leading to high sales figures. de Havilland Canada was unable to meet the demand with sufficient production.
In 1988, Boeing bought the company in a bid to improve production at DHC's Downsview Airport plants, as well as better position themselves to compete for a new Air Canada order for large intercontinental airliners. Air Canada was a Crown corporation at the time, and both Boeing and Airbus were competing heavily via political channels for the contract. It was eventually won by Airbus, who received an order for 34 A330 and A340 aircraft in a highly controversial move. The allegations of bribery are today known as the Airbus affair. Following their failure in the competition, Boeing immediately put de Havilland Canada up for sale. The company was eventually purchased by Bombardier in 1992.
The market demand for short-haul airliners was so great that Aerospatiale of France paired with Italy's Alenia to form ATR. Their once separate efforts combined to compete directly with the Dash 8. The resulting ATR 42 was even less expensive than the Dash 8, but de Havilland Canada responded with newer models to close the gap. Other companies competed with smaller or more tailored designs, like the Saab 340 and Embraer Brasilia, but these were not introduced until the market had already begun to saturate.
All Dash 8s delivered from the second quarter of 1996 (including all Series 400s) include an active Noise and Vibration Suppression (NVS) system designed to reduce cabin noise and vibration levels to nearly those of jet airliners. To emphasize their quietness, Bombardier has renamed the Dash 8 models as the Q Series turboprops (Q200, Q300 and Q400). The Dash 8-100 is no longer in production with the last Dash 8-102 built in 2005.
Regional jet competition
The introduction of the regional jet altered the sales picture. Although rather more expensive than turboprops airlines can operate passenger services on routes not suitable for turboprops. Turboprop aircraft have lower fuel consumption, can operate from shorter runways than regional jets, have higher engine maintenance costs, have shorter ranges, and give lower cruising speeds.[4]
The market for new aircraft to replace existing turboprops once again grew in the mid-1990s, and de Havilland responded with the introduction of the improved "Series 400" design.
When world oil prices drove up short-haul airfares in 2006, an increasing number of airlines that had bought regional jets began to reassess turboprop regional airliners, which use about 30% less fuel than regional jets. Although the market does not appear to be as robust as in the 1980s when the first Dash 8s were introduced, 2007 saw increased sales of the only two 40+ seat regional turboprops remaining in western production, Bombardier's Q400 and its competitor, the ATR series of 50-70 seat turboprops. The Q400 has a cruising speed close to that of most regional jets, and its mature engines and systems require less frequent maintenance, reducing its disadvantage.[5]
The aircraft breaks even with about 1/3rd of its seats filled (or 1/4 with more closely spaced seats), making it particularly attractive on routes with varying passenger numbers where many seats will be empty on some flights. For example, Island Air in Hawaii calculated that the use of a 50-seat Regional Jet would break even at 45 passenger seats compared to the Q400's 35-36 seats (around 55% breakeven load factor). Most short-haul routes are less than 350 miles (500 km), so the time spent on taxiing, takeoff and landing virtually eliminates a competing jet's speed advantage. As the Q400's 425 mph (685 km/h) cruise speed approaches jet speeds, short-haul airlines can usually replace a regional jet with a Q400 without changing their gate-to-gate schedules.[6]
Bombardier has singled out the Q400 for more aggressive marketing, launching a website centered around the aircraft.[7] The aircraft is also being considered for a further stretched version (currently designated Q400X) to compete in the 90-seat market range.[8]
Landing gear issues
On 12 September 2007, Bombardier recommended all Q400s with over 10,000 landings to be grounded for inspection of their landing gear after two non-fatal accidents within three days involving the landing gear of a Q400 series aircraft. Both incident aircraft were operated by Scandinavian Airlines, an early operator of the type.[9] This affects about 60 aircraft, out of 140 Q400s in service. In all, eight Q400s have had landing gear failures while landing during 2007: four in Denmark, one in Germany, one in Japan, one in Lithuania and one in South Korea; see section Notable incidents and accidents. Following the most recent incident at Copenhagen Airport, 27 October 2007, Scandinavian Airlines' executive board decided to cease operation of the Q-400 model, primarily out of concern for the company's reputation.[10][11]
Variants
There are a number of variants of the Dash 8:
Series 100: Original 37–40 passenger version that entered service in 1984. The original engine was the PW120A (CAA validated on 13 December 1985); later units used the PW121 (CAA validated on 22 February 1990). Rated engine power is 1800 shp (1343 kW).
Dash 8M-100 : Two aircraft for Transport Canada.
Series 200: Series 100 airframe with more powerful Pratt & Whitney Canada PW123 engines (rated at 2150 shp or 1604 kW) for improved performance also capable of carrying 37 to 39 passengers.
Series 300: Stretched 3.43 m (11 ft) over the Series 100/200, a 50–56 passenger version that entered service in 1989. Its engines are PW123 or PW123B or PW123E, rated at 2500 shp or 1865 kW.
Series 300A : Version of the Series 300 with increased payload.
Series 400: Stretched and improved 70–78 passenger version that entered service in 2000. Its 370 knots (585 km/h) cruise speed is 75 knots (140 km/h) higher than its predecessors. Powered by PW150A engines rated at 5,071 shp (3783 kW) at maximum power (4850 shp or 3618 kW maximum continuous rated). Maximum operating altitude is 25,000 ft (7,600 m) for the standard version, although a version with drop-down oxygen masks is offered, which increases maximum altitude to 27,000 ft (8,200 m).
CC-142 : Military transport version for the Canadian Forces in Europe.
CT-142 : Military navigation training version for the Canadian Forces.
E-9A : A USAF range control aircraft that operates out of Tyndall AFB, Florida to ensure that the military ranges in the Gulf of Mexico are clear of civilian boats and aircraft during live-fire tests and other hazardous military activities. Two airframes are assigned to the base for the support of training missions.
Q400 :
Q200 :
Q300 :
Q400 :
Q400-MR : Q400 adapted to the water bombing role for the French Sécurité Civile.
Operators
Current operators
Series 100
As of August 2006, 227 Dash 8 Series 100 aircraft remain in airline service, with 1 further order. Major operators include:
Some 21 other airlines operate smaller numbers of Dash 8 Series 100.[19]
Series 200
In August 2006, 72 Dash 8 Series 200 aircraft remain in airline service, with 2 further orders. Major operators include:
Some 14 other airlines operate smaller numbers of Dash 8 Series 200.[19]
Series 300
In August 2006, 214 Dash 8 Series 300 aircraft remain in airline service, with 13 further orders. Major operators include:
Some 11 other airlines operate smaller numbers of Dash 8 Series 300.[19]
Series 400
As of April 2007, 140 Q400 aircraft are in airline service, with 215 orders.
Major operators include:
Some 17 other airlines operate smaller numbers of Dash 8 Series 400.[19]
In February 2007, Pinnacle Airlines Corporation announced an order for 15 Q400s on behalf of its recently acquired subsidiary, Colgan Air. The aircraft will be operated in a "codeshare" agreement with Continental Airlines, under the Continental Connection banner out of their Newark, New Jersey hub.[21]
Coast guard and military operators
Coast Guard of the Netherlands Antilles and Aruba
Canadian Forces - as CT-142 Dash 8 "Gonzo" navigation trainer, CC-142 Dash 8 transport (now retired)
Coast Guard of the Netherlands Antilles and Aruba
Other applications
Two used Q400s, acquired from Scandinavian Airlines System, were modified by Cascade Aerospace of Abbotsford, British Columbia for France's Sécurité Civile as fire-fighting water bombers in the fire season and as transport aircraft off season. The Q400 Airtanker can drop 10,000 L (22,000 lb)[23] of water in this role compared to Bombardier's CL-415 dedicated water bomber which can drop 6,140 L. The latter, however, is amphibious and requires less infrastructure.
Neptune Aviation of Missoula, Montana have acquired a Q300 as a prototype for future Q200/Q300 water bombers to replace current P2V aircraft.[24]
Notable incidents and accidents
The official investigation by Air Transport regulators found that the pilot and co-pilot should have abandoned the approach and dealt with the gear failure before attempting a new approach.
Major landing gear incidents

9 September 2007: The crew of Scandinavian Airlines Flight 1209, en route from Copenhagen to Aalborg, reported problems with the locking mechanism of the right side landing gear, and Aalborg Airport was prepared for an emergency landing. Shortly after touchdown the right wing gear collapsed and the airliner skidded off the runway while fragments of the right propeller shot through the cabin and the right engine caught fire. Of 69 passengers and four crew on board, 11 were sent to hospital, five with only minor injuries.[25][26][27] The accident was filmed by a local news channel (TV2-Nord) and broadcast live on national television. The video footage can be seen at YouTube.[28] About a month earlier the same aircraft had had to return to Copenhagen 10 minutes after departure due to problems with the indicator lights of the landing gear.
12 September 2007: Scandinavian Airlines Flight 2748 from Copenhagen to Palanga had a similar problem with the landing gear, forcing the aircraft to land in Vilnius. No passengers or crew were injured.[29][30][31] Immediately after this incident SAS grounded all their 33 Dash-8/Q400 airliners and, a few hours later, Bombardier recommended that all Dash-8/Q400s with more than 10,000 flights be grounded until further notice.[32]
27 October 2007: Scandinavian Airlines Flight 2867 en route from Bergen to Copenhagen had severe problems with the landing gear during landing in Kastrup Airport. Right wing gear did not deploy properly (or partially), and the aircraft skidded off the runway in a controlled emergency landing. The Q400 was carrying 38 passengers, two infants and four crewmembers onboard. No injuries have been reported. The incident is being investigated by the civil aviation administration in Scandinavia and all Dash 8-400 aircraft within the SAS Group are grounded.[33][34][11] The preliminary Danish investigation determined this latest Q400 incident is unrelated to the airline's earlier corrosion problems, in this particular case caused by a misplaced O-ring found blocking the orifice in the restrictor valve.[35]
Specifications
From Bombardier Website: [36]
Aircraft dimensions
Q200
Q300
Q400
Overall length
22.3 m
25.7 m
32,81 m
Height (to top of horizontal tail)
7.49 m
Fuselage diameter
2.69 m
Maximum cabin width
2.03 m
Cabin length
9.1 m
12.6 m
18.8 m
Wingspan (geometric)
25.9 m
Wing area (reference)
54.3 m²
Basic operating data
Engines
two PW123C
Typical passenger seating
37 (1-Class
50 (1-Class)
68 (1-Class)
Range (w/max. passengers)
925 NM (1,713 km)
841 NM (1,558 km)
1,362 NM (2,522 km)
Cruising Speed
Mach 0.76 (333 mph, 290 knots, 537 km/h at 25,000 ft cruise altitude)
Maximum Cruise Speed
Mach 0.76 (333 mph, 290 knots, 537 km/h at 20,000 ft cruise altitude)
Takeoff run at MTOW
1,000 metres/3,280ft
1,178 metres/3,865 ft
1,402 metres/4,600 ft
Design weights
Maximum takeoff weight
16,466 kg
19,505 kg
29,257 kg
Maximum landing weight
15,649 kg
19,051 kg
28,009 kg
Maximum zero fuel weight
14,696 kg
17,917 kg
25,855 kg
Maximum fuel capacity
3,160 l
Typical operating weight empty
10,483 kg
11,791 kg
17,185 kg
Typical volumetric payload
3,407 kg
5,138 kg
8,670 kg
References
Notes
Bibliography
Hotson, Fred W. The De Havilland Canada Story. Toronto: CANAV Books, 1983. ISBN.
Kinsey, I. "Dash 8 is Born." Canadian Aviation magazine, June 1983.
External links
Related content

Related development

Comparable aircraft

Related lists

Template:US EW aircraft Template:De Havilland Canada Template:Bombardier Aerospace