ATR 42
From PlaneSpottingWorld, for aviation fans everywhere
The ATR 42 is a twin-turboprop, short-haul regional airliner built in France by ATR. The name "42" comes from the aircraft's seating, which varies from 40 to 50. The aircraft was the basis for the ATR 72.
History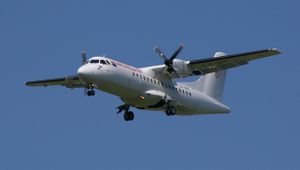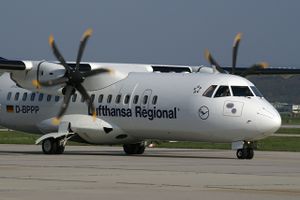 The ATR 42 was announced in 1981, making its maiden flight on 16 August 1984; French and Italian certification followed in September 1985 and its first revenue flight was in December of the same year with Air Littoral of France.[1]
As of January 2007, 390 ATR 42s had been delivered worldwide, with another 11 aircraft on order.[2]
Variants
There are three major variants of the ATR 42.
ATR 42-200/300
The -200 & -300 were the original ATR 42 aircraft, powered by Pratt & Whitney Canada PW120 engines rated at 2000 shp.[3]
ATR 42-320
The -320 was an improved version of the -300 powered by PW121 engines (2100 shp).[4]
ATR 42-400
The -400 is the official name for the passenger version of the ATR 42 "Surveyor". the -400 is an upgraded version of the -200/300/320 using six-bladed propellers on otherwise identical PW120/PW121 engines. The primary users of this aircraft type are Conviasa & CSA Czech Airlines.
ATR 42-500
The ATR-500 is the current production version. It is identical in appearance to earlier 42s with the exception of its six-bladed propellers turned by PW127E engines rated at 2400 shp for improved hot and high performance and greatly increased cruise speed. It also has an increased maximum takeoff weight, allowing for more cargo and greater range (up to 1,500 nm).[5]
ATR 42-600
On Tuesday 2 October 2007, ATR CEO Stéphane Mayer, announced the launch of the new -600 series aircraft at a Press Conference held in Washington, D.C.. The new ATR 42-600 and ATR 72-600 will feature the latest technological enhancements while building upon the well-known advantages of the current aircraft, namely its high efficiency, proven dispatch reliability, low fuel burn and operating cost. It will include the new PW127M as standard engine. The -600 series ATR aircraft will be progressively introduced during the second half of 2010.
Other
An STC exists to convert all ATR 42 variants to cargo-only transport aircraft.[6] FedEx, UPS, and DHL are major operators of the type.
The ATR 42 "Surveyor" is a maritime patrol version of the -500[7], and VIP transport and in-flight inspection versions of the -500 also exist.[8][9]
Major operators
Some 70 other airlines operate smaller numbers of the type.[10]
First Air operates 8 ATR 42-300 and is the first in the world to land an ATR on an ice runway.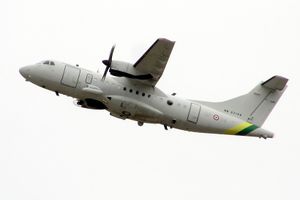 Accidents and incidents
On 15 October 1987, an Aero Transporti Italiani (ATI) ATR 42-300 crashed on Mt. Crezzo, Italy during flight from Milan-Linate to Köln, Germany. All 37 on board died. Icing conditions existed.[2]
On 11 October 1999, an Air Botswana captain boarded an ATR 42 aircraft and took off. Once in the air, he asked by radio to speak to President Festus Mogae (who was outside the country at the time), Air Botswana's general manager and others. In spite of all attempts to persuade him to land and discuss his grievances, he stated he was going to crash into some planes on the apron. After a flying time of about 2 hours, he did two loops and then crashed at 200 knots (230 mph) into Air Botswana's two other ATR 42s parked on the apron. The captain was killed but there were no other casualties. He had been grounded on medical reasons, refused reinstatement, and regrounded until February 2000. [11]
Specifications
General characteristics (ATR 42-500)
Wingspan: 24.57 m
Length: 22.67 m
Height: 7.59 m
Wing area: 54.5 m²
Powerplant: Pratt & Whitney Canada PW127E (1,790kW) × 2
Passengers: 44-50
Performance
Measurement
ATR 42
Accommodation
44-50
Range at max pax load
640 nm (ATR 42-300)
870 nm (ATR 42-500)
Wingspan
24.57 m
Length
22.67 m
Height
7.59 m
Maximum Take-Off Weight
16,700 kg (ATR 42-300/320)
18,600 kg (ATR 42-500)
Powerplant
Pratt & Whitney Canada
2 × PW120 @ 1800 SHP (ATR 42-300)
2 × PW121 @ 1900 SHP (ATR 42-320)
2 x PW127E @ 2160 SHP (ATR 42-500)
Other characteristics
Passengers board the aircraft using the rear door to avoid possible injuries from the blades of spinning propellers. The vast majority of commercial aircraft are boarded from the front.
The ATR aircraft does not have an Auxiliary Power Unit (APU), but has a propeller brake (referred to as "Hotel Mode") that stops the propeller on the #2 (right) engine, allowing the turbine to run and provide air and power to the aircraft without the propeller spinning. This eliminates the need for the added weight and expense of an APU.[12] Engines are periodically switched during maintenance to ensure equal wear.
References
External links
Related content

Related development

Comparable aircraft

Designation sequence