ATR 72
From PlaneSpottingWorld, for aviation fans everywhere
The ATR 72 is a twin-turboprop short-haul regional airliner built in France by ATR. It seats up to 72 passengers in a single-class configuration and is operated by a two-pilot crew. American Eagle Airlines, the primary regional airline for American Airlines and the largest operator of the type, refers to its ATR 72s as Super ATRs.
Development
The ATR 72 was developed from the ATR 42. ATR stretched the fuselage by 4.5 m (14 ft 9 in), widened the wingspan, added more powerful engines, and increased fuel capacity by approximately 10 percent. The 72 was announced in 1986,[1] and made its maiden flight on October 27 1988. Exactly one year after that, on October 27, 1989, Finnair became the first company to put the plane into service.[2]
As of January 2007, a total of 323 ATR 72s had been delivered worldwide, with orders pending for 113 more. [3]
Design
Passengers are boarded using the rear door (which is rare for a passenger plane) as the front door is used to load cargo. Finnair ordered their ATR 72s with front passenger door so they could use the jet bridges at Helsinki-Vantaa airport.[4]
A tail stand must be installed when passengers are boarding or disembarking to prevent the nose from coming off the ground.
The ATR aircraft does not have an Auxiliary Power Unit (APU), but it has a propeller brake (referred to as "Hotel Mode") that stops the propeller on the #2 (right) engine, allowing the turbine to run and provide air and power to the aircraft without the propeller spinning. This eliminates the need for the added weight and expense of an APU.[5] Engines are periodically switched during maintenance to ensure equal wear.
Variants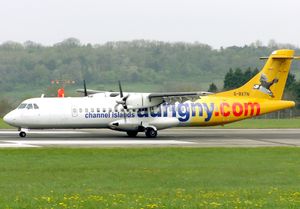 There have been three main variants of the ATR 72 produced and one new variant that has been recently launched.
ATR 72-200
The -200 was the original production version, powered by Pratt & Whitney Canada PW124B engines rated at 2400 shp.[6]
ATR 72-210 (212)
The -210, called the -212 by American Eagle, is a -200 with PW127 engines producing 2750 shp each for improved performance in hot and high-altitude conditions.
ATR 72-500 (210A/212A)
Originally named the -210A and called the -212A by American Eagle, the -500 is an upgraded version of the -210 using six-bladed propellers on otherwise identical PW127F engines. Other improvements include higher maximum weights and superior performance, as well as greater automation of power management to ease pilot workload.
ATR 72-600
On Tuesday 2 October 2007, ATR CEO Stéphane Mayer announced the launch of the new -600 series aircraft at a Press Conference held in Washington, D.C.. The new ATR 42-600 and ATR 72-600 will feature the latest technological enhancements while building upon the well-known advantages of the current aircraft, namely its high efficiency, proven dispatch reliability, low fuel burn and operating cost. It will include the new PW127M as standard engine. The -600 series ATR aircraft will be progressively introduced during the second half of 2010.
Other variants
ATR unveiled a large cargo door modification for all ATR 72 at Farnborough 2002, coupled with a dedicated cargo conversion. FedEx, DHL, and UPS all operate the type.[7]
A VIP version of the -500 is available with a luxury interior for executive or corporate transport.[8]
An anti-submarine warfare (ASW) variant of the -500 (itself a version of the maritime patrol variant of the ATR 42-500) is also in production[9] and has been selected by the Turkish Navy for ASW and anti-surface warfare (ASuW) duties. A total of ten aircraft will be delivered to the Turkish Navy by 2010. The aircraft will be armed with anti-surface missiles and torpedoes for ASuW and ASW missions. They will also be equipped with the AMASCOS (Airborne Maritime Situation and Control System) maritime surveillance system of Thales, as well as electronic warfare and reconnaissance systems, and will also be used for maritime search and rescue operations.
Major operators
Some 47 other airlines also operate the type in smaller numbers.
Major firm orders include:
Accidents and incidents
American Eagle Flight 4184 crashed due to icing on October 31, 1994 in Roselawn, Indiana. The accident had a significant effect on procedures for dealing with ATR in-flight icing as well as US airlines' utilization of ATR aircraft in specific geographical areas. After a period of mandatory grounding, American Eagle and Delta Connection permanently stopped using the plane on temperate routes.[11]
TransAsia Airways (TAA) cargo flight 79, an ATR 72-200, crashed due to icing on December 21, 2002 during flight from Taipei to Macau. Both crew members were killed. The plane encountered severe icing conditions beyond the icing certification envelope of the aircraft and crashed into sea 17 km southwest of Makung city. The Aviation Safety Council of Taiwan investigation found that the crash was caused by ice accumulation around the plane's major components, resulting in the aircraft's loss of control. The investigation identified that flight crew did not respond to the severe icing conditions with the appropriate alert situation awareness and did not take the necessary actions.[12]
American Eagle Flight 5401 crashed on landing in San Juan, Puerto Rico during a failed go-around attempt on May 9, 2004. Seventeen people were injured, but there were no fatalities.
On August 6, 2005, a Tuninter ATR 72 en route from Bari, Italy, to Djerba, Tunisia, ditched into the Mediterranean Sea about 18 miles from the city of Palermo. Sixteen of the 39 people on board died. The accident resulted from engine fuel starvation due to the installation of ATR 42 fuel quantity indicators in the ATR 72.
Specifications (72-500)
Data from ATR website[13]
General characteristics
Crew: 2
Capacity: 62-74 passengers
Length: 27.166 m (89 ft 2 in)
Wingspan: 27.050 m (88 ft 9 in)
Height: 7.650 m (25 ft 1 in)
Wing area: 61.00 m² (656.6 ft²)
Empty weight: 12,950 kg (28,550 lb)
Loaded weight: 22,970 kg (50,640 lb)
Useful load: 7,850 kg (17,306 lb)
Max takeoff weight: 22,800 kg (50,265 lb)
Powerplant: 2× Pratt & Whitney Canada PW127F 6 blade Hamilton Standard 568F, 1,846 kW (2,475 hp) each
Performance
Specifications
Measurement
ATR 72
Accommodation
62-74
Range at max pax load
930 nm (ATR 72-200)
820 nm (ATR 72-210)
Wingspan
27.1 m
Length
27.2 m
Height
7.7 m
Maximum Take-Off Weight
22,500 kg (ATR 72-2XX)
Powerplant
Pratt & Whitney Canada
2 x PW124 @ 2160 SHP (ATR 72-200)
2 x PW127 @ 2475 SHP (ATR 72-210)
References
External links
See also

Related development

Comparable aircraft

Designation sequence