Boeing B-50
From PlaneSpottingWorld, for aviation fans everywhere
The Boeing B-50 Superfortress was a post-World War II revision of the wartime United States B-29 Superfortress with larger Pratt & Whitney R-4360 radial engines, a taller vertical stabilizer, and other improvements.
Design and development
The B-50 program began life as the XB-44 Superfortress. One B-29A-5-BN (s/n 42-93845) was modified by Pratt & Whitney in 1944 to accept the larger engines; the resulting engine testbed first flew in May 1945. If the engine modification had been included in the B-29 program, the resulting model was to have been known as the B-29D. However, due to other structural changes that would also be necessary to address the increased power, weight and fuel consumption, it was decided to change its military designation to a new model. Since the B-44 program was only for the engine modification, that designation was not considered, and in December 1945 the program was named B-50 Superfortress.

Revisions to the B-50 (from its predecessor B-29) included:
Redesigned engine nacelles and engine mounts
Enlarged vertical tail and rudder (to maintain adequate yaw control during engine-out conditions)
Reinforced wing structure (required due to increased engine mass, larger gyroscopic forces from larger propeller, greater fuel load, and revised landing gear loading)
Revised routing for engine gases (cooling, intake, exhaust and intercooler ducts; also oil lines)
Upgraded fire-control equipment (to control remote turrets)
Landing gear strengthening (takeoff weight increased from 133,500 to 173,000 pounds)
Increased fuel capacity (this was largely addressed by adding underwing fuel tanks).
Revisions to flight control systems (the B-29 was already difficult to fly; with its increased weight the B-50 would have been much harder to hand-fly)

Officially, the aircraft's new designation was justified by the changes incorporated into the revised aircraft, but according to Peter M. Bowers, a long-time Boeing employee and aircraft designer, and a well-known authority on Boeing aircraft, "the redesignation was an outright military ruse to win appropriations for the procurement of an aeroplane that by its designation appeared to be merely a later version of an existing model that was being canceled wholesale, with many existing examples being put into dead storage."[1]
Operational history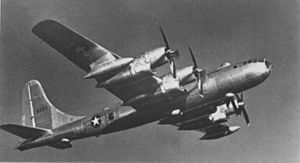 Boeing built 371 of the various B-50 models and variants between 1947 and 1953, some serving until 1965.
A reconnaissance variant, the RB-50B (a B-50B conversion) existed and played an important role in Cold War espionage.
An aerial refueling tanker conversion designated KB-50 was used in the Vietnam War.
In 1949, The Lucky Lady II, commanded by Captain James Gallagher, became the first airplane to circle the world nonstop. This was achieved by refueling the plane in flight.
Although constructed in relatively small numbers, the B-50 was the last member of the B-29 family and was one of the last piston-engined bombers built. The B-50 was retired from its main role as atomic bomber in 1955. A number were converted into KB-50 tankers and lasted long enough to be deployed to Southeast Asia in support of tactical operations.
B-50s were grounded and removed completely from inventory when wreckage of a KB-50 that broke up in flight in 1965 revealed corrosion problems in the fleet.
No flying examples exist today, although several can be found in various air museums.
The USAF Strategic Air Command had B-50 Superfortresses (B-50s and RB-50s) in service from 1948 through 1954.
Variants
XB-44: One B-29A was handed over to Pratt & Whitney to be fitted with the new Wasp Major 28-cylinder engines. Initially designated B-29D, this was eventually changed to B-50A in December 1945 . (x1, converted)
B-50A--First production version of the B-50. It had new wings that were stronger and lighter than the units on the B-29. It also had taller vertical tail than the B-29. (x60)
B-50B--Increase in gross weight over the A model, from 168,480 lb (76,420 kg) to 170,400 lb (77,290 kg). Also included a new type of lightweight fuel cell. (x45)
B-50D--Definitive production version of the B-50. The 7-piece nose cone window was replaced by a single plastic cone and a flat bomb-aimer's window. Many included the new boom-type refueling system. (x222)
DB-50D--Drone director conversion of a B-50D, to be used with the GAM-63 RASCAL missile. (x1, converted)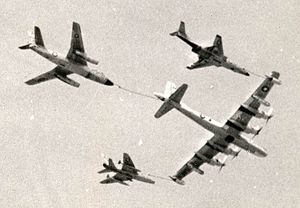 EB-50B--Single conversion of a B-50B to be fitted with a track-tread undercarriage. (x1, converted)
KB-50--Air to air refueling tanker conversions of the bomber. (x134, converted)
KB-50J--Tanker B-50s with improved performance, via two extra General Electric J47 turbojets under the outer wings. (x112, converted)
KB-50K--Tanker conversions of the TB-50H trainer aircraft. (x24, converted)
RB-50B--All but one of the B-50Bs were converted into the recon role. These were fitted with nine cameras in four stations, weather instruments, and a bomb bay capsule holding the extra crew members. (x44, converted)
RB-50E--Special photographic conversions of the RB-50B, modified at Wichita. (x14, converted)
RB-50F--Conversions of the RB-50B, fitted with SHORAN navigation radar for special missions. (x14, converted)
RB-50G--Conversions of the RB-50B, fitted with electronics countermeasures statios along with the SHORAN radar. (x15, converted)
TB-50A--Trainer conversion of the B-50A. (x11, converted)
TB-50D--Trainer conversion of the B-50D. (x11, converted)
TB-50H--Newly built trainer planes. (x24)
WB-50 --Weather reconnaissance conversion of the B-50.
WB-50D--Weather reconnaissance conversions of outdated B-50Ds, fitted with meteorological equipment. (x36, converted)
YB-50C--Version to be fitted with the Variable Discharge Turbine version of the R-4360 engine. None were built.
B-54A--Proposed version of the YB-50C.
RB-54A--Proposed reconnaissance version of the YB-50C.
Boeing B-50 Survivors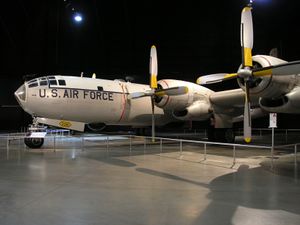 B-50A-5BO 46-10, "Lucky Lady II", Planes Of Fame, Chino, California (D)
B-50D-125BO 49-372, ex-KB-50J, " 372 ", Pima Air Museum, Tucson, Arizona (D)
B-50D-125BO 49-389, ex KB-50J," 48-014 ", MacDill AFB, Tampa, Florida (D)

note: On 46-10 " Lucky Lady II " it has been reported that nose section is not original to this airframe
Operators
Specifications (B-50D)
General characteristics
Crew: 8: Pilot, co-pilot, flight engineer, radio/electronic countermeasures operator, two side gunners, top gunner and tail gunner
Wingspan: 141 ft 3 in (43.1 m)
Height: 32 ft 8 in (10.0 m)
Wing area: 1736 ft² (161.3 m²)
Empty weight: 80,610 lb (36,560 kg)
Loaded weight: 121,850 lb (55,270 kg)
Max takeoff weight: 173,000 lb (78,470 kg)
Powerplant: 4× Pratt & Whitney R-4360 radial engines, 3,500 hp (2,600 kW) each
Performance
Armament
Guns:

Bombs:


20,000 lb (9,100 kg) internally
8,000 lb (3,600 kg) on external hardpoints
References
See also

Related development

Comparable aircraft

Designation sequence

Related lists

Template:USAF bomber aircraft Template:Boeing combat aircraft
cs:Boeing B-50 Superfortress de:Boeing B-50 fr:Boeing B-50 Superfortress it:Boeing B-50 ja:B-50 (爆撃機) no:Boeing B-50 Superfortress pl:Boeing B-50 Superfortress