Yakovlev Yak-54
From PlaneSpottingWorld, for aviation fans everywhere
The Yakovlev Yak-54 is a Russian acrobatic aircraft that first flew 23 December 1993.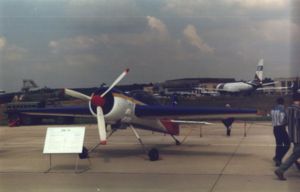 New generation acrobatic aircraft of Yakovlev design bureau, breaking long line of aircraft started in 1937 with UT-2/AIR-10. It is a development of Yak-55M. Produced by Saratov Aviation Facility in cooperation with JSV "Gorky U-2".
Variants
Yak-54M - Also known as Yak-56 and Yak-152.
Specifications (Yak-54)
General characteristics
Crew: one
Length: 6.91 m ()
Wingspan: 8.16 m ()
Height: ()
Empty weight: 2,120 lb (962 kg)
Loaded weight: 2,500 lb (1,130 kg)
Useful load: 2,870 lb (1,300 kg)
Powerplant: 1× M-14X , (360 hp)
Performance
The initial version of this article was based on material from aviation.ru. It has been released under the GFDL by the copyright holder.