Yakovlev Yak-112
From PlaneSpottingWorld, for aviation fans everywhere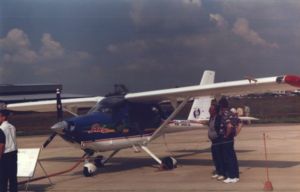 The Yakovlev Yak-112 is a Russian/Soviet civil utility aircraft that first flew in early 1990s.
3 seats.
Estimated price USD130K.
Ready for serial production (50..70 "firm" orders awaited to begin).
Specifications (Yak-112)
General characteristics
Crew: One pilot, 2 passengers
Length: 6.96m (ft)
Wingspan: 10.25m (ft)
Height: 2.9m (ft)
Wing area: 16.96m² (ft²)
Empty weight: 950 kg (2,094 lb)
Loaded weight: 1,300 kg (2,866 lb)
Max takeoff weight: 1,520 kg (3,351 lb)
Powerplant: 1× Textron Lycoming IO-540 air-cooled piston engine, 191 kW (260 hp)
Performance
Related content
The initial version of this article was based on material from aviation.ru. It has been released under the GFDL by the copyright holder.