SH-60 Seahawk
From PlaneSpottingWorld, for aviation fans everywhere
The Sikorsky SH-60/MH-60 Seahawk (or Sea Hawk) is a twin turboshaft engine, multi-mission United States Navy helicopter based on the airframe of the United States Army/Air Force UH-60 Black Hawk.
The U.S. Navy uses the H-60 airframe under the model designations SH-60B, SH-60F, HH-60H, MH-60R, and MH-60S. Able to deploy aboard any air-capable frigate, destroyer, cruiser, fast combat support ship, amphibious assault ship or aircraft carrier, the "Seahawk" can handle antisubmarine warfare (ASW), undersea warfare (USW), anti-surface warfare (ASUW), naval special warfare (NSW) insertion, search and rescue (SAR), combat search and rescue (CSAR), vertical replenishment (VERTREP) and medical evacuation (MEDEVAC). All Navy H-60s carry either the Lucas Western or Breeze Eastern rescue hoist for SAR/CSAR missions.
Models and missions
SH-60B Seahawk (Bravo)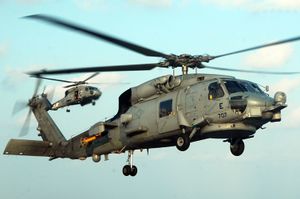 The SH-60B Light Airborne Multi-Purpose System (LAMPS Mk III) deploys primarily aboard frigates, destroyers and cruisers, and, prior to the fleet introduction of the MH-60R "Romeo," was considered the Navy's most advanced helicopter. The primary missions of the Bravo are surface warfare and antisubmarine warfare, which it accomplishes through a complex system of sensors carried aboard the helicopter including a towed Magnetic Anomaly Detector (MAD) and air-launched sonobuoys. Other sensors include the APS-124 search radar, ALQ-142 ESM system and optional nose-mounted forward looking infrared (FLIR) turret. It fires the Mk-46 or Mk-50 torpedo, AGM-114 Hellfire missile, and a single cabin-door-mounted M60D or GAU-16 machine gun. A standard crew for a Bravo is one pilot, one ATO/Co-Pilot(Airborne Tactical Officer) and an enlisted aviation systems warfare operator (sensor operator). Operating Bravo squadrons are designated Helicopter Antisubmarine Light (HSL). HSL-47, an SH-60B squadron based at Naval Air Station North Island in Coronado, California, participated in the Navy's humanitarian relief operations during the Indonesian Tsunami and Hurricane Katrina. [1]
SH-60F Seahawk (Foxtrot)
The SH-60F is the carrier-based version of the Bravo, having replaced the SH-3 Sea King as the carrier battle group's primary antisubmarine warfare (ASW) and search and rescue (SAR) aircraft. It hunts subs with the AQS-13F dipping sonar, not the Bravo's MAD detector, and carries just 14 sonobuoys, instead of the Bravo's 25. The Foxtrot carries the Mk-46 torpedo and a choice of cabin-mounted machine guns, including the M60D, M240 and GAU-16, for defense. A standard crew for the Foxtrot is one pilot, one copilot, one enlisted tactical sensor operator (TSO) and one enlisted acoustic sensor operator (ASO). Foxtrot squadrons are designated Helicopter Antisubmarine (HS), but as squadrons shift from the SH-60F to the MH-60R beginning in 2008, they will be redesignated Helicopter Sea Combat (HSM).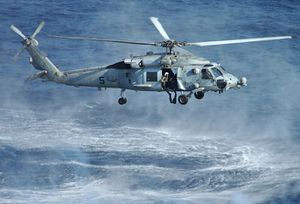 HH-60H "Rescue Hawk" (Hotel)
The HH-60H is the primary combat search and rescue (CSAR), naval special warfare (NSW) and anti-surface warfare (ASUW) helicopter. It carries a variety of defensive and offensive sensors making it one of the most survivable helicopters in the world. Sensors include a FLIR turret with laser designator and the Aircraft Survival Equipment (ASE) package including the ALQ-144 Infrared Jammer, AVR-2 Laser Detectors, APR-39(V)2 Radar Detectors, AAR-47 Missile Launch Detectors and ALE-47 chaff/flare dispensers. Additionally, airframe improvements in engine exhaust deflectors provide infrared thermal reduction reducing the threat of heat-seeking missiles. The Hotel can carry up to four AGM-114 Hellfire missiles on an extended wing using the M-299 launcher and a variety of cabin and port window mounted guns including M60D, M240, GAU-16 and GAU-17 machine guns. The standard crew for a Hotel is one pilot, one copilot and two "door gunner" crewmen. Hotels are operated in Helicopter Antisubmarine (HS) squadrons with a standard dispersal of four Foxtrots and three Hotels.
MH-60S Knight Hawk (Sierra)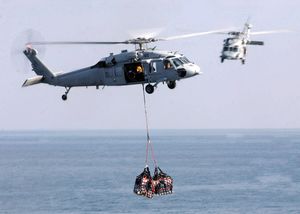 The MH-60S was developed after the Navy decided to phase out the venerable CH-46 Sea Knight helicopter. The Sierra is deployed aboard amphibious assault ships and fast combat supply ships. It has two missions- troop transports and vertical replenishment (VERTREP) but can also perform search and rescue (SAR). The Sierra has no offensive sensors but can carry the ALQ-144 Infrared Jammer. The Sierra will, in the near future, deploy with the AQS-20A Mine Detection System and an Airborne Laser Detection system for identifying submerged objects in littoral waters. However, the Sierra is the first US Navy helicopter to field the "glass cockpit" where-by the flight data information is relayed to pilots using four digital screens rather than electromechanical gauges and dials. The primary means of defense is with the M60D, M240 or GAU-17, though a 'batwing' refit based on the Army's UH-60L Blackhawk is in development which will accommodate Hellfire or Penguin missiles, or larger guns and cannon. MH-60S was unofficially known as the Knighthawk, reflecting its role as the designated successor of the Sea Knight, but this name was formally disapproved allowing the MH-60S to retain the Seahawk name. A standard crew for the Sierra is one pilot, one copilot and two crewmen. With the retirement of the Sea Knight the squadron designation of Helicopter Combat Support Squadron (HC) was also retired from the navy. Operating Sierra squadrons were re-designated Helicopter Sea Combat (HSC).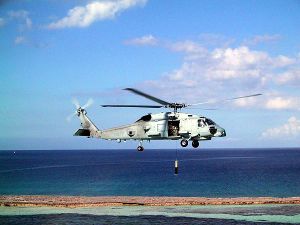 MH-60R Seahawk (Romeo)
As of 2007, the MH-60R is undergoing final testing for incorporation into the fleet. The first operational fleet squadron to receive the Romeo will be HSM-71 in fiscal year 2008. The Fleet Replacement Squadron (FRS), HSM-41, received the Romeo aircraft in December 2005 and has begun training the first set of pilots. It is designed to replace Foxtrots and Bravos and be a true multi-mission helicopter. Its sensors include the ASE package, FLIR, an advanced airborne fleet data link, and a more advanced airborne active sonar. It does not carry the MAD suite. Pilot instrumentation will be based on the Sierra's "glass cockpit" using several digital monitors instead of the complex array of dials and gauges in Bravo and Foxtrot aircraft. Offensive capabilities are improved by the addition of new Mk-50 air-launched torpedoes and Hellfire missiles.
Foreign service
The SH-60 is in service with numerous allied naval forces including the Fleet Air Arm of the Royal Australian Navy, the Hellenic (Greek) Navy and the Spanish Navy under the designation S-70. The Taiwanese ROCN also operates the SH-60 under the designation of S-70C.
General characteristics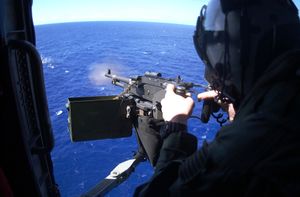 Crew: 2 Pilots, 1-3 Aircrew, depending on variant and mission
Capacity: 8 passengers or slung load of 6,000 lb. for -B, -F and -H models and 11 passengers or slung load of 9,000 lb for -S
Length (rotors turning): 19.76 m ( 64 ft 10in)
Rotor diameter: 16.35 m (53 ft 8 in)
Empty: 6191 kg (13,648 lb)
Maximum takeoff: 9926 kg (21,884 lb)
Powerplant: Two 1260-kW General Electric T700-GE-401C turboshaft engines each providing 1,662 shaft horsepower
Fuel Quantity: Main 590 gallons; -F Internal Auxiliary 105 gallons; Right External Auxiliary 120 gallons; Left External Auxiliary 120 gallons
-F totals: 935 gallons -H totals: 830 gallons
Performance
Maximum speed: 233 km/h (145 mph)
Service ceiling: 5790 m (19,000 ft)
Rate of climb: 213 m/min (700 ft/min)
Cost
SH-60B $36 million USD
SH-60F $39 million USD
HH-60H $32 million USD
MH-60S $28 million USD
MH-60R $44 million USD
SH-60B
SH-60F/HH-60H
MH-60S
MH-60R
References
A1-H60CA-NFM-000 NATOPS Flight Manual Navy Model H-60F/H Aircraft
Sikorsky Aircraft Corporation. "Sikorsky MH-60R Seahawk: United States Navy Multimission Shipbased Helicopter". Retrieved Feb. 8, 2006.
Sikorsky Aircraft Corporation, (2004). "MH-60S Testing New Mine Sensing Gear". Retrieved January 1, 2006.
GlobalSecurity.org. "HH-60H/SH-60F". Retrieved December 14, 2005.
Related content

Related development

Designation sequence

Related lists

Template:Active military aircraft of the United States See also