Robinson R44
From PlaneSpottingWorld, for aviation fans everywhere
The Robinson R44 is a small, light, four-seat, piston-driven civilian helicopter produced by the Robinson Helicopter Company since 1992.
While resembling the company's earlier Robinson R22, the R44 is larger and faster than its predecessor. It also features boosted flight controls, a feature not found on the R-22. The Astro model incorporates electric cyclic trim, whilst the Raven models have hydraulically assisted cyclic and collective controls.
Tail rotor direction of rotation on the R44 is reversed compared to the R22 for improved yaw control authority. On the R44 the advancing blade is on the bottom.
History
The R44, designed during the 1980s by company president Frank Robinson and his staff of engineers, first flew on March 31, 1990. It was awarded an FAA Type Certificate in December 1992, with the first deliveries taking place shortly thereafter. Originally, the R44 Astro was the main production model, but was dropped in favour of the hydraulically-assisted R44 "Raven" in 2000. The Raven II model (2002 onwards) used a fuel injected engine, tuned induction, Optional Air conditioning, Optional Nigth VFR, 28V electrical system, and extended-chord blades for increased performance.
Variants
Astro
This was the main production model from 1992 to 2000
Raven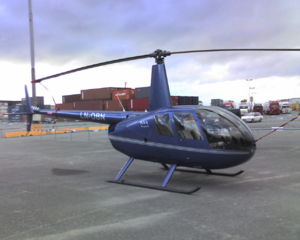 This is the current main production model, featuring hydraulic controls. Available as carburated engine (Raven) and fuel injected (Raven II). The Raven II includes the option for Aircon and Night VFR.
Clipper
A Raven or Astro, modified with pop-out floats, for water-borne operations. The floats, when activated, inflate in approximately 1.3 seconds from a gas supply tank under the passenger seat. The floats are activated via a lever with an arming pin and breakaway shear pin on the collective.
Police
A law enforcement modification of one of the main production models, with a belly-mounted searchlight, a nose gimbal FLIR system, and enlarged windows. Due to weight limiations, the right-rear seat is replaced with an aluminum panel and the helicopter is usable only as a 3-seat aircraft when equipped as a Police variant.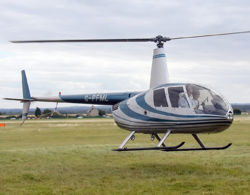 Newscopter
An ENG (Electronic News Gathering) version of the main production model, modified with a gyro-stabilized nose camera and air-to-ground video transmission capability. Due to weight limitations, the right-rear seat is replaced with an aluminum panel and the helicopter is usable only as a 3-seat aircraft when equipped as a Newscopter variant.
Specifications (R44 Raven II)
General characteristics
Performance
The R44 can use either 100 low lead fuel or 100/130. Main tank holds 30.6 US gallons usable (116 liters), Aux tank holds 18.3 US gallons usable (69 liters). Tail rotor has a diameter of 4 ft 10 in (1.5 m) and the total length of the helicopter from rotor tip to tail is 38 ft 4 in (11.7 m)
External Links
Related content
Related development

Comparable aircraft

Designation sequence
R22 Alpha - R22 Beta - R22 Beta II - R44 Astro - R44 Raven - R44 Raven II
Sources
Information listed in the Specifications section is from the Robinson R44 Raven II Pilot's Operating Handbook and FAA approved rotorcraft flight manual, dated June 13, 2005.
da:Robinson R44 de:Robinson R44 fr:Robinson R44 pt:Robinson R44 sv:Robinson R44