Piper PA-38 Tomahawk
From PlaneSpottingWorld, for aviation fans everywhere
Piper PA-38 Tomahawk
Type
Civil Personal & Training Aircraft
Manufacturer
Piper
Introduced
1978
Produced
1978-1982
Number built
2,484
The Piper PA-38-112 Tomahawk is a two-seat, fixed tricycle gear general aviation airplane, originally designed for flight training, touring and personal use.
Development
The Tomahawk was Piper's attempt at creating an affordable two-place trainer. Before designing the aircraft Piper widely surveyed flight instructors for their input into the design. Instructors requested a more spinnable aircraft for training purposes, since other two-place trainers such as the Cessna 150 or Cessna 152 were designed to spontaneously fly out of a spin. The Tomahawk's NASA[1] GA(W)-1 Whitcomb airfoil addresses this requirement by requiring specific pilot input in recovering from spins, thus allowing pilots to develop proficiency in dealing with spin recovery.
Another characteristic of the Piper Tomahawk that favours its suitability as a primary trainer is that the flight control forces mimic those of a much heavier aircraft. As a result, student pilots that learn to fly in a Tomahawk transition much more successfully to larger aircraft, hence the popularity of the Tomahawk with U.S. Air Force flying clubs.
Production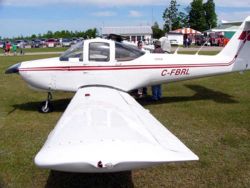 The Tomahawk was introduced in 1977 as a 1978 model. The aircraft was in continuous production until 1982 when production was completed, with 2,484 aircraft built.
The 1981 and 1982 models were designated as the Tomahawk II and incorporated improved cabin heating and windshield defroster performance, an improved elevator trim system, improved engine thrust vector, 100% airframe zirconium anti-corrosion treatment, better cockpit soundproofing, larger 6" wheels and tires for greater propeller ground clearance and improved performance on grass and dirt runways, among other enhancements.
Safety record
According to the Aircraft Owners and Pilots Association Air Safety Foundation, which published a Safety Highlight report on the Piper Tomahawk, the Piper Tomahawk has a one-third lower accident rate per flying hour than the comparable Cessna 150/152 series of two-place benchmark trainers. However, the Tomahawk has a higher rate of fatal spin accidents per flying hour. With proper training and an understanding of the aircraft's more advanced flying characteristics, these problems can easily be avoided.
An early Airworthiness Directive which added an additional pair of stall strips to the wing's inboard leading edge improved the stall/spin characteristics and there has been a dramatic reduction in spin-related accidents throughout the entire fleet as a result.
Because of its originally aggressive "wing drop" spin entry and spinning characteristics, the PA-38 earned the nickname "Traumahawk" from some pilots and instructors.
Roles
Besides being a widely used primary trainer, it is also an effective budget cross-country aircraft for two persons with its spacious and comfortable cabin. Though it shares similar performance and costs of operation to the Cessna 152, the PA-38 has more shoulder room. It also has good cabin ventilation, using automotive-style air ducts. Common cruise speeds range from 90 to 110 knots (167 to 204 km/h).
Specifications (PA-38-112 Tomahawk)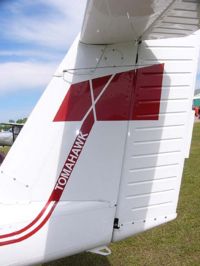 General characteristics
Crew: 1
Capacity: 2
Length: 7.04 m (23 ft 1 in)
Wingspan: 10.36 m (34 ft 0 in)
Height: 2.77 m (9 ft 1 in)
Wing area: 11.6 m² (125 ft²)
Empty weight: 512 kg (1,128 lb)
Max takeoff weight: 757 kg (1,670 lb)
Powerplant: 1× Avco Lycoming O-235-L2A (Bendix magnetos) & O-235-L2C (Slick magnetos) , 112 hp (85 kW)
Performance
References
External links
Related content
Comparable aircraft:
Designation sequence: PA-32 - PA-34 - PA-36 - PA-38 - PA-39 - PA-42 - PA-44