North American Sabreliner
From PlaneSpottingWorld, for aviation fans everywhere
The North American Sabreliner (later sold as the Rockwell Sabreliner) was developed by North American Aviation in response to the U.S. Air Force's Utility Trainer Experimental (UTX) program. Due to similarity of the wing and tail to North American's F-100 Super Sabre, it was dubbed "Sabreliner."[1] Military variants, dubbed T-39 Sabreliner, were used by both the U.S Air Force and U.S. Navy after the Air Force placed an initial order in 1959. [3]
The Sabreliner was later developed into a commercial variant. After North American was acquired by Rockwell, production continued until termination in 1982. The next year, Rockwell, sold the Sabreliner division to a private equity firm which formed Sabreliner Corporation, the support organization for continuing operators.[1]
The Sabreliner was powered by two Pratt and Whitney J60 turbojet engines mounted on the aft fuselage. The most prevalent Air Force version was designated T-39B. The Navy version, the T3J-1 (T-39D after the 1962 re-designation), was fitted with the radar system from the F3H-1 Demon all-weather fighter and used as a radar trainer for pilots of that aircraft. The military transport version of Saberliner is CT-39. The T-39N and T-39G are currently used in the Advanced Jet syllabus in training Naval Flight Officers and USAF and foreign navigators. Foreign students also train in the T-39 in place of the T-1 during the Intermediate Jet syllabus.
Over 800 Sabreliners were produced, of which 200 were T-39s.[2] As of 2007, fifty-one examples have been lost in accidents.[4]
Specifications (T3J-1/T-39D)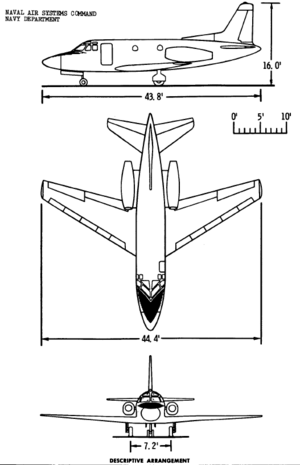 Data from Boeing (successor to North American) [1]
General characteristics
Crew: 4-5
Capacity: 5-7 passengers
Length: 44 ft (13.41 m)
Wingspan: 44 ft 6 in (13.56 m)
Height: 16 ft (4.88 m)
Wing area: 342.1 ft² (31.79 m²)
Empty weight: 9,257 lb (4,199 kg)
Loaded weight: 16,340 lb (7,412 kg)
Max takeoff weight: 17,760 lb (8,056 kg)
Powerplant: 2× Pratt & Whitney J60-P-3 turbojet, 3,000 lbf (13.3 kN) each
Performance
References
Related content
Comparable aircraft

Designation sequence

Related lists
Template:Active military aircraft of the United States See also