McDonnell Douglas MD-11
From PlaneSpottingWorld, for aviation fans everywhere
The McDonnell Douglas MD-11 is a three-engined medium to long-range widebody airliner, with two engines mounted on underwing pylons and a third engine at the base of the vertical stabilizer. It is based on the DC-10, but featuring a stretched fuselage, increased wingspan with winglets, refined aerofoils on the wing and tailplane, new engines and increased use of composite materials. It features an all-digital glass cockpit that decreases the crew to two from the three required on the DC-10.
History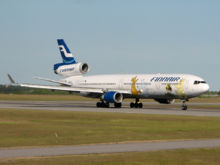 The MD-11 program was launched on December 30 1986, with orders and commitments for 92 aircraft from 12 airlines and leasing companies. Assembly of the MD-11 began on March 9 1988, with the first flight of an MD-11F (freighter version) on January 10 1990. FAA certification was achieved by November 8 1990.
The first MD-11 was delivered to Finnair on December 7 1990. Finnair's revenue service with the MD-11 took place on December 20 1990, when the aircraft carried passengers from Helsinki to Tenerife in the Canary Islands. First MD-11 service in the U.S. was inaugurated by Delta Air Lines, also in 1990. It was during this period that flaws in the MD-11's performance began to become apparent. It failed to meet its targets for range and fuel burn. American Airlines in particular was unimpressed, as was Singapore Airlines, who cancelled its order for 20 aircraft. The airline cited problems with the performance of the airframe and the Pratt & Whitney PW4000 engines selected for its use as reasons of the cancellation.[1] The figures revealed exclusively to Flight International show that, based on pre-flight estimates, the P&W-powered MD-11 should have been capable of a 12,950km (7,000nm) range with a 27,680kg (61,000lb) payload. Even with the Phase 1 drag reduction in place then, the aircraft could only have achieved its full range with a 22,000kg payload, or a reduced range of 12,025km with a full payload.[2] Although improvements were made and the aircraft did eventually perform as designed, the damage was done.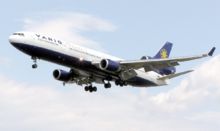 The MD-11 was one of the first commercial designs to employ a computer-assisted pitch stability augmentation system that featured a fuel ballast tank in the tailplane, and a partly computer-driven horizontal stabilizer. Updates to the software package have achieved a situation where the plane's handling characteristics in manual flight are comparable to the DC-10, despite a much greater fuel efficiency achieved by the lessened drag of the smaller tailplane.
After McDonnell Douglas merged with Boeing in 1997, the new company announced that MD-11 production would continue, as a freighter. However, in 1998 Boeing announced it would end MD-11 production after filling current orders.[3] The last MD-11 was delivered to Lufthansa Cargo on February 22 2001. Production ended because of lack of sales, due to internal competition from comparable aircraft, such as the Boeing 777 and external competition from the Airbus A330/A340. Also, two engines are generally less expensive to operate and maintain than three. Since there was a large demand for cargo aircraft and because there was no 777 cargo version available at the time, many airlines using the MD-11 were anxious to switch to the 777 as they had no problems selling their used MD-11s to cargo operators.
McDonnell Douglas and later Boeing performed studies on the feasibility of removing the tail engine and making it a two engine plane, but nothing came of it.[4][5]
McDonnell Douglas originally projected that it would sell more than 300 MD-11 aircraft, but only a total of 200 planes were built. The MD-11 was assembled at McDonnell Douglas's Douglas Products Division in Long Beach, California (later Boeing's). In August 2006 a total of 191 MD-11 aircraft remain in airline service.[6]
Design
The MD-11 is a medium to long-range widebody airliner, with two engines mounted on underwing pylons and a third engine at the base of the vertical stabilizer. It is based on the DC-10, but featuring a stretched fuselage, increased wingspan with winglets, refined aerofoils on the wing and tailplane, new engines and increased use of composites.
The MD-11 features a two-crew cockpit that incorporates six interchangeable liquid-crystal-display units and advanced Honeywell VIA 2000 computers. The cockpit design is called Advanced Common Flightdeck (ACF) and is shared with the Boeing 717. Flight deck features include an Electronic Instrument System, a dual Flight Management System, a Central Fault Display System, and Global Positioning System. Category IIIb automatic landing capability for bad-weather operations and Future Air Navigation Systems are available.
The MD-11 incorporates hydraulic fuses not included in the DC-10 design, to prevent catastrophic loss of control in event of a hydraulic failure.
A total of 200 MD-11s were manufactured in five versions: passenger (131), extended range (5), freighter (53), convertible freighter (6) and combi (5), where passengers and freight are carried on the main deck with additional freight carried below the deck.
Operators
American Airlines and Delta Air Lines used MD-11s for intercontinental flights during the 1990s, but have since sold their fleets to FedEx. El Al flew MD-11s for a short while to and from Amsterdam, but these were rented and the airline has returned them. As of September 2006, the only airline with its long distance passenger fleet based on the MD-11 is Finnair with 7 planes serving Asian and North American routes. Other operators of the 191 aircraft include China Cargo Airlines (6), EVA Air Cargo (10), Saudi Arabian Airlines (4), Shanghai Airlines (2), Transmile Air Services (4), Alitalia (5), FedEx Express (58), KLM Royal Dutch Airlines (10), Lufthansa Cargo (19), Martinair (7), Gemini Air Cargo (4), Varig (2), United Parcel Service (31), and World Airways (14).[6] Most of these operators use the MD-11 for cargo and non-scheduled passenger transport. On October 2006, TAM Linhas Aéreas announced an order of four 777-300ER, expected to be delivered in 2008. Meanwhile, TAM will operate leased (3) MD-11s.
Previous operators
(With numbers of airframes for each)
Accidents
As of February 2007, there have been five MD-11 hull-loss accidents.
FedEx lost an MD-11 (N611FE) during a landing incident at Newark International Airport when Flight 14 crashed on July 31, 1997. The aircraft flipped onto its back and subsequently burned, following a landing attempt from an unstabilized flare.
Swissair Flight 111, an MD-11 (HB-IWF), crashed on September 2, 1998. The cause of the crash was determined to be a fire caused by improper wiring of Swissair-added passenger entertainment system units. The fire started at the front of the aircraft and quickly grew uncontrollable, attributed partly to the poor flame retardant properties of its metalized mylar insulation.
Korean Air MD-11F HL7373 crashed shortly after take off April 15, 1999 while operating cargo flight KE6316 from Shanghai Honqiao Airport airport to Seoul. After take off, the first officer contacted Shanghai Departure, which cleared the flight to climb to 1500 meters (4900 feet): "Korean Air six three one six now turn left direct to November Hotel Whiskey climb and maintain one thousand five hundred meters." When the aircraft climbed to 4500 feet in the corridor, the captain, after receiving two wrong affirmative answers from the first officer that the required altitude should be 1500 feet, thought that the aircraft was 3000 feet too high. The captain then pushed the control column abrubtly and roughly forward causing the MD-11 to enter a rapid descent. Both crew members tried to recover from the dive, but were unable.[7]
China Airlines Flight 642 crashed August 22, 1999 while landing at Hong Kong airport during a typhoon that exceeded the plane's crosswind specifications, also flipping onto its back and burning. Three passengers were killed on flight 642.
FedEx MD-11F N581FE was written off after landing at Subic Bay International Airport October 17, 1999. The aircraft was operating flight 87 from Shanghai Honqiao Airport. Upon landing, the aircraft rolled down the whole length of the runway before plunging into the bay where it was completely submerged except fot the cockpit. An excessive approach and landing speed was pointed out as probable cause of the accident.[8]
Specifications
MD-11
(Passenger)
MD-11CF
(Convertible Freighter)
MD-11F
(Freighter)
MD-11C
(Combi)
MD-11ER
(Extended Range)
Passengers
(1 class)
410
410
-
-
-
Passengers
(2 class)
323
350
-
204
-
Max takeoff weight
630,500 lb (285,990 kg)
630,500 lb (285,990 kg)
630,500 lb (285,990 kg)
630,500 lb (285,990 kg)
630,500 lb (285,990 kg)
Max range
6,840 nm (12,655 km)
Pass: 6,840 nm (12,655 km)
Freight: 3,950 nm (7,310 km)
3,950 nm (7,310 km)
6,720 nm (12,435 km)
7,240 nm (13,408 km)
Max cruising speed
.88 Mach (945 km/h / 520kt)
Length
200 ft 10 in (61.21 m)
Wingspan
169 ft 6 in (51.66 m)
Tail height
57 ft 9 in (17.60 m)
Engines (3x)
Pratt & Whitney PW4460 - 60,000 lbf (267 kN)
PW4462 - 62,000 lbf (276 kN)
General Electric CF6-80C2D1F - 61,500 lbf (274 kN)
References
External links
Related content

Related development

Comparable aircraft

Related lists

See also
Template:Douglas Airliners
da:McDonnell Douglas MD-11 de:McDonnell Douglas MD-11 es:McDonnell Douglas MD-11 fr:McDonnell Douglas MD-11 it:McDonnell Douglas MD-11 ms:McDonnell Douglas MD-11 nl:McDonnell Douglas MD-11 ja:MD-11 no:McDonnell Douglas MD-11 pl:McDonnell-Douglas MD-11 pt:McDonnell Douglas MD-11 ru:McDonnell Douglas MD-11 sr:Мекдонел Даглас МД-11 fi:McDonnell Douglas MD-11 sv:McDonnell Douglas MD-11 zh:麥道MD-11