PlaneSpottingWorld welcomes all new members! Please gives your ideas at the Terminal.
Airbus A300
From PlaneSpottingWorld, for aviation fans everywhere
This article is about the airliner. For information on the bomber, see Aero A.300.
The Airbus A300 is a short to medium range widebody aircraft. Launched in 1972, it was the first twin-engined widebody in the world, and the first aircraft created by the Airbus consortium of European aerospace companies, which is now fully owned by EADS. The A300 (along with the A310) will cease production in July 2007. Freighter sales are to be fulfilled by a new A330-200F derivative.[1]
By the end of June 2006 a total of 561 A300 had been ordered and 552 delivered.
Development history
The mission requirements were given by Frank Kolk, an American Airlines executive, in 1966, for a Boeing 727 replacement on busy short to medium range routes such as US transcontinental flights. His brief included a passenger capacity of 250 to 300 seated in a twin-aisle configuration and fitted with two engines, with the capability of carrying full passengers without penalty from high altitude airports like Denver. American manufacturers responded with widebody trijets, the McDonnell Douglas DC-10 and the Lockheed L-1011 Tristar, as twinjets were banned from many routes by the FAA.
French president Charles de Gaulle resented the US domination of civil aviation and wanted a European airliner that could compete with American designs. Concorde was part of the answer, designed for intercontinental routes; the other was the A300, designed to meet Kolk's US domestic requirements.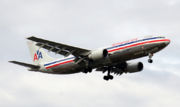 In September 1967 the British, French and German governments signed a Memorandum of Understanding (MoU) to start development of the 300 seat Airbus A300. An earlier announcement had been made in July 1967 but had been complicated by the British government's refusal to back British Aircraft Corporation's (BAC) proposed competitor, a development of the BAC 1-11, and instead supported the Airbus aircraft.
In the months following this agreement both the French and British governments expressed doubts about the aircraft. Another problem was the requirement for a new engine to be developed by Rolls-Royce, the RB207. In December 1968 the French and British partner companies (Sud Aviation and Hawker Siddeley) proposed a revised configuration, the 250 seat Airbus A250. Renamed the A300B the aircraft would not require new engines, reducing development costs. To attract potential US customers, American General Electric CF6-50 engines powered the A300 instead of the British RB207. The British government was upset and withdrew from the venture: however, the British firm Hawker-Siddeley stayed on as a contractor, developing the wings for the A300, which were pivotal in later versions' impressive performance from short domestic to long intercontinental flights.(Years later, through British Aerospace, the UK reentered the consortium.)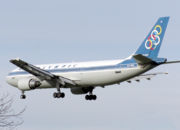 Airbus Industrie was formally set up in 1970 following an agreement between Aérospatiale (France), the antecedents to Deutsche Aerospace (Germany) (joined by CASA of Spain in 1971). Each company would deliver its sections as fully equipped, ready-to- fly items.
In 1972 the A300 made its maiden flight. The first production model, the A300B2, entered service in 1974. Initially the success of the consortium was poor but by 1979 there were 81 aircraft in service. It was the launch of the A320 in 1981 that guaranteed Airbus as a major player in the aircraft market - the aircraft had over 400 orders before it first flew, compared to 15 for the A300 in 1972.
The A300 is the first airliner to use just-in-time manufacturing techniques. Complete aircraft sections were manufactured by consortium partners all over Europe. These were airlifted to the final assembly line at Toulouse-Blagnac by a fleet of Boeing 377-derived Aero Spacelines Super Guppy aircraft. Originally devised as a way to share the work among Airbus's partners without the expense of two assembly lines, it turned out to be a more efficient way of building airplanes (more flexible and reduced costs) as opposed to building the whole airplane at one site. This fact was not lost on Boeing, which, over thirty years later, decided to manufacture the Boeing 787 in this manner, using outsized 747s to ferry wings and other parts from Japan.
The A300 cemented European cooperation in aviation. Its first flight was commemorated on a French three-franc stamp.
Technology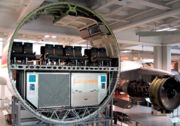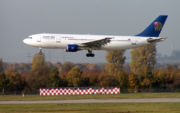 Airbus partners employed the latest technology, some derived from the Concorde. On entry into service, in 1974, the A300 was very advanced and influenced later subsonic airliner designs. The technological highlights include:
Advanced wings by de Havilland (later BAE Systems) with:
222-inch diameter circular fuselage section for 8-abreast passenger seating and wide enough for 2 LD3 cargo containers side-by-side
Structures made from metal billets, reducing weight
First airliner to be fitted with wind shear protection
Advanced autopilots capable of flying the aircraft from climb-out to landing
Electrically controlled braking system
Later A300s incorporate other advanced features such as
2-man crew by automating the flight engineer's functions, an industry first
glass cockpit flight instruments
Extensive use of composites for an aircraft of its era
Center-of-gravity control by shifting around fuel
The first airliner to use wing fences for better aerodynamics
All these made the A300 a perfect substitute for the widebody trijets such as McDonnell Douglas DC-10 and Lockheed L-1011 for short to medium routes. On the early versions, Airbus even used the same engines and similar major systems as the DC-10.
In-service
After the launch, sales of the A300 were weak for some years, with most orders going to airlines that had an obligation to order the locally-made product - notably Air France and Lufthansa. At one stage, Airbus had 16 "whitetail" A300s - completed but unsold aircraft - sitting on the tarmac.
Indian Airlines was the world's first domestic airline to purchase the A300. Some are still flying today for the airline.
In 1977 U.S. carrier Eastern Air Lines leased four A300s as an in-service trial. Frank Borman, ex-astronaut and the then CEO, was impressed as the A300 consumed 30% less fuel than his fleet of Tristars and then ordered 23 of the type. This was followed by an order from Pan Am. From then on, the A300 family sold well, eventually reaching the current total of 858 on order or delivered.
The aircraft found particular favour with Asian airlines, being bought by Japan Air System, Korean Air, Thai Airways International, Singapore Airlines, Malaysia Airlines, Philippine Airlines, Garuda Indonesia, China Airlines, Pakistan International Airlines, Indian Airlines, Trans Australia Airlines and many others. As Asia was not restricted by the FAA 60-minutes ruling for twin-engine airliners which existed at the time, Asian airlines used A300s for routes across Bay of Bengal and South China Sea.
By 1981 Airbus was growing rapidly, with over 300 aircraft sold and options for 200 more planes for over forty airlines. This fact was not lost to Boeing which responded with the Boeing 767.
The A300 provided Airbus the experience of manufacturing and selling airliners competitively. The basic fuselage of the A300 was later stretched (A330 and A340), shrunk (A310), or modified into derivatives (A300-600ST Beluga Super Transporter).
The A300 is reaching the end of its market life and is now mainly sold as a dedicated freighter. The largest freight operator of the A300 in the United States is Federal Express, which, at January, 2006, had 95 A300/310 aircraft. United Parcel Service (UPS) also has started using freighter versions of the A300. The current version is the A300-600R and is rated for 180-minute ETOPS. The A300 has enjoyed renewed interest in the secondhand market for conversion to freighters. The freighter versions - either new-build A300-600s or converted ex-passenger A300-600s, A300B2s and B4s - account for most of the world freighter fleet after the Boeing 747 freighter.
In March 2006 Airbus announced the closure of the A300/A310 line making them the first Airbus aircraft to be discontinued. The final airframe (a A300-600) is expected to be delivered in July 2007 and Airbus has announced a support package to keep A300s flying commercially until at least 2025.
Variants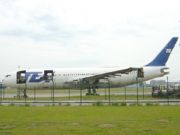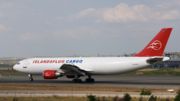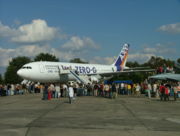 A300B1 Only two were built: the first prototype, and a second aircraft which was later sold for airline service and has now been scrapped. It has accommodation for 259 passengers with a maximum weight of 132,000 kg and two General Electric CF6-50A engines of 220 kN thrust.
A300B2 The first production version. Powered by CF6 or Pratt & Whitney JT9D engines of between 227 and 236 kN thrust, it entered service with Air France in May 1974.
A300B4 The major production version. Features a center fuel tank for increased fuel capacity (47,500 kg). Production of the B2 and B4 totaled 248.
A300B4-203FF, -220FF, or A300B2-203FF An A300 with a "forward-facing" crew compartment. The world's first 2-crew widebody airliner. Includes some of the -600's digital avionics. First saw service with Garuda, VASP, Tunisair and Karair/Finnair.
A300B10 (A310) Introduced a shorter fuselage, a new, higher aspect ratio wing, smaller tail and two crew operation. It is available in standard -200 and the extended range -300 with 9,600 km range in both passenger and full cargo versions. It is also available as a military tanker/transport serving the Luftwaffe. Sales to date total 260.
A300C4: Convertible freighter version, with a large cargo door on the port side.
A300-600: Referred to during development as the A300B4-600, this version is the same length as the B2 and B4 but has increased space because it uses the A310 rear fuselage and tail. It has higher power CF6-80 or Pratt & Whitney PW4000 engines and entered service in 1988. It is available in both passenger and freight versions. A total of 330 A300-600s have been sold.
A300-600ST: Commonly referred to as the Beluga or "Airbus Super Transporter," these five airframes are used by Airbus to ferry parts between the company's disparate manufacturing facilities, thus enabling workshare distribution. They replaced the four Aero Spacelines Super Guppys previously used by Airbus.
A300-600R: The increased range -600, achieved by an additional trim fuel tank in the tail.
A300-600 Convertible Passenger/cargo version.
Specifications
Measurement
A300B4
A300-600R
A300-600F
Seats 2-class
266
Length
54.08 m or 177' 3"
Span
44.85 m or 147' 2"
Height
16.62 m or 54' 6"
Max cabin width
5.28 m
Fuselage diameter
5.64 m
Weight empty
90,060 kg or 198,132 lb
81,900 kg or 180,700 lb
MTOW
165,000 kg or 364,980 lbs.
170,500 kg or 375,100 lb
Cruising speed
mach 0.78
Maximum speed
mach 0.86
Range fully loaded  
6,670 km or 5,300 nm
2,950 nm
Max. fuel capacity  
18,000 USG or 68,150 litres
Engines
CF6-50C2 or JT9D-59A
CF6-80C2 or PW4156
Cockpit Crew
Three
Two
A300 Deliveries
|  2006  |  2005  |  2004  |  2003  |  2002  |  2001  |  2000  |  1999  |  1998  |  1997  |  1996  |  1995  |  1994  |  1993  |  1992  |  1991  |  1990  |  1989  |
| --- | --- | --- | --- | --- | --- | --- | --- | --- | --- | --- | --- | --- | --- | --- | --- | --- | --- |
| 4 | 9 | 12 | 8 | 9 | 11 | 8 | 8 | 13 | 6 | 14 | 17 | 23 | 22 | 22 | 25 | 19 | 24 |
|  1988  |  1987  |  1986  |  1985  |  1984  |  1983  |  1982  |  1981  |  1980  |  1979  |  1978  |  1977  |  1976  |  1975  |  1974  |  1973  |  1972  |  1971  |
| 17 | 11 | 10 | 16 | 19 | 19 | 46 | 38 | 39 | 26 | 15 | 15 | 13 | 8 | 4 | 0 | 0 | 0 |
Incidents
External links
References
Related content

Related development

Comparable aircraft

See also

cs:Airbus A300 da:A300 de:Airbus A300 el:Airbus A300 es:Airbus A300 eu:Airbus A300 fr:Airbus A300 gl:Airbus A300 id:Airbus A300 it:Airbus A300 he:איירבוס A300 hu:Airbus A300 ms:Airbus A300 nl:Airbus A300 ja:エアバスA300 no:Airbus A300 pl:Airbus A300 pt:Airbus A300 ru:Airbus A300 sr:Ербас А300 fi:Airbus A300 sv:Airbus A300 zh:空中客车A300