XB-33 Super Marauder
From PlaneSpottingWorld, for aviation fans everywhere
The Martin B-33 Super Marauder (Martin Model 190) was conceived by Martin as a high-altitude derivative of the Martin B-26 Marauder, that might eventually replace it. The design was different in many ways, most notable in its twin tail (the B-26 had a single tail). It also featured pressurised crew compartments.
XB-33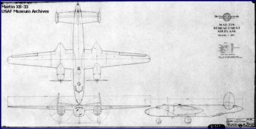 The first version of the B-33 design, the XB-33, was a twin-tailed medium bomber with two Wright R-3350 engines and pressurised crew compartments; its design began in 1940. It would carry around 4,000 lb (1,800 kg) of bombs. Soon after design of the XB-33 began, Martin engineers decided it would be more productive to make a drastic overhaul to the design than to continue polishing it. This resulted in the XB-33A. For this reason, no XB-33s were built.
Specifications (as designed):
Length: 71 ft 0 in (22 m)
Wingspan: 100 ft 0 in (30 m)
Height: 22 ft 6 in (6.86 m)
Engines: 2× Wright R-3350 radial engines of 1,800 hp (1,300 kW) each
XB-33A
As design progressed, it became clear that a two-engine aircraft would not achieve the performance requested by the army. Instead of refining its original design, Martin engineers chose a major alteration of the design, increasing the number of engines to four, and the size of the aircraft was increased to that of the B-29 Superfortress; its bombload was to have been 12,000 lb, as much as that of the B-24 Liberator, the heaviest bomber flown in combat prior to the B-29. This new design, dubbed the XB-33A, was impressive enough that the Army Air Force ordered two prototypes.
Where the original XB-33 was to be powered by the Wright R-3350, the redesigned XB-33A was to use less powerful Wright R-2600 engines. The main reason for this was that the R-3350 was needed for production of the B-29, one of the most highly valued projects of the Army Air Forces.
On 1942 January 17, the Army Air Force placed an order for 402 B-33A Super Marauders. They were to be produced at the government-owned plant in Omaha, Nebraska operated by Martin. However, the entire B-33 project was cancelled on November 25 1942, with the goal of allowing the Martin-operated Omaha plant to concentrate on manufacturing the B-29.
Specifications (B-33A, as designed)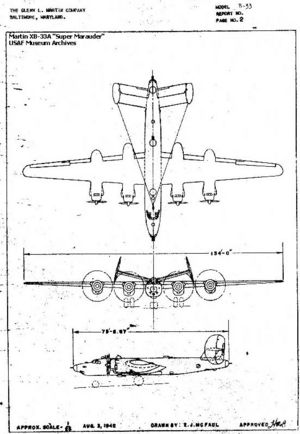 General characteristics
Crew: 7
Length: 79 ft 10 in (24.3 m)
Wingspan: 134 ft (40.8 m)
Height: 24 ft (7.32 m)
Wing area: 1,646 ft² (153 m²)
Empty weight: 85,000 lb (39,000 kg)
Loaded weight: 95,000 lb (43,000 kg)
Powerplant: 4× Wright R-2600-15 radial engines, 1,800 hp (1,300 kW each) each
Performance
Armament
Guns: 8× .50 in (12.7 mm) machine guns
Bombs: 10,000 lb (4,500 kg)
References and links
Related content
Related development

Designation sequence

Related lists